Container Vessel
Kongsberg Maritime's integrated solutions including power, auxiliary systems, navigation, monitoring & control and digitalisation products are key to equipping next-generation container vessels for the challenges ahead.
Container shipping is the lifeblood of our global economy, with over a billion tonnes of cargo carried annually in containers. But despite its inherent efficiency, the scale of container operations makes it a key area of interest in the global effort to reduce emissions and improve the sustainability of worldwide commerce.
Kongsberg Maritime's innovative solutions based on our integrated product portfolio and digital applications for the container fleet deliver savings in efficiency, fuel use and emissions, helping to meet new and future industry challenges and regulations.
Kongsberg Maritime's fully integrated solutions span bridge, propulsion, navigation, planning, reporting and maintenance systems. This, with real-time monitoring and management of parts, energy, power and propulsion, secures long-term operational and overall fleet management performance.
Research carried out by Kongsberg Maritime shows that, by using LNG fuel and taking a holistic view of onboard power generation, potential OPEX savings of up to 20% are achievable compared with a typical 14,000 TEU container vessel operating on MGO. Taking into account methane slip, fuel and pilot fuel use, these measures also deliver CO2 equivalent emissions reductions up to 24%, making them a significant contributor to operational sustainability and regulatory compliance whilst still delivering economic savings of around 3% when CAPEX is amortised over 10 years.
Future proof – Efficient solutions to transition from LNG to future zero emission fuels, allowing shipowners to upgrade now whilst being confident that there is a clear path to adopting next-generation fuels and bunker infrastructure.
Increased operational efficiency – Digitally enabled vessel optimisation reduces running costs, while smart condition monitoring and maintenance tools eliminate downtime through optimal task management.
Enhanced fleet management – Greater insights over entire vessel operation are achieved by uniting multiple systems on a single platform. This enables better real-time and long-term decision making – both at sea and on shore.
"THE NEW INTEGRATED SOLUTIONS ENGINEERED BY KONGSBERG MARITIME TAKE A HOLISTIC APPROACH WHICH BALANCES CAPEX AND OPEX WHILE TAKING INTO CONSIDERATION UPCOMING EMISSION REGULATIONS. THIS ENSURES FUTURE-PROOF, EFFICIENT OPERATIONS FOR THE CONTAINER INDUSTRY."
Explore
Integrated Solutions for Container Vessels
- MEETING THE CHALLENGE OF SUSTAINABLE INDUSTRY
KONGSBERG products work together to deliver enhanced performance and sustainability. It is only by taking a holistic view of every aspect of a ship's operation and systems that peak efficiency can be achieved: KONGSBERG solutions optimise fuel and energy use, whilst monitoring onboard systems to facilitate condition-based maintenance and minimal downtime.
LNG-fuelled propulsion is a prudent step for the future, providing a clear upgrade path to next-generation fuels as they become available while delivering compelling environmental advantages today.
Key figures:
Benefits of LNG vs MDO:
CO2 emissions reduced by up to 24%
SO2 reduced by around 99%
NOx reduced by around 87%
Negligible particulate matter emissions
KONGSBERG can help you establish and implement effective short- and long-term strategies and choose the best solutions for your vessels.
"By uniting operations, energy and handling solutions, KONGSBERG creates integrated vessel concepts that unlock powerful benefits."
"As we know, digitalisation is not a blueprint for what the maritime industry will look like in the end. It's constantly developing: every month there's something new. It's growing really fast, and container companies need to address this now if they are to remain competitive, compliant and relevant."
CONNECTING WITH THE FUTURE TODAY
Multiple systems, one platform, limitless potential
By uniting operations, energy and handling solutions, KONGSBERG creates integrated vessel concepts that unlock powerful benefits.
The result is greater efficiency, reduced costs, intelligent asset management and a continual cycle of learning and improvement. Data is shared, understanding is enhanced and better realtime and long-term decisions are made possible, both at sea and on land.
Marine operations is integrated, the future is KONGSBERG.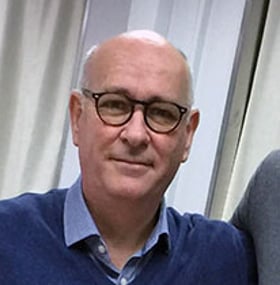 We're here to help and answer any question you might have. Please get in touch and our expert team will answer all your questions. We look forward to hearing from you! LEIF KRISTIAN WEUM, Senior Sales Manager, Kongsberg Maritime
Products & Solutions FOR Container Vessel