Ship design and hydrostatics / stability package, ShipShape
Finding the right vessel to match the specific transport requirement will always be crucial for the success of a ship owner, both when new-buildings and existing vessels are considered. Whereas the Yard standard design will do nicely for many owners, some will always have the need to specify a vessel that is not in the standard catalogue – where conversions are in question there will be no yard standards to choose from at all.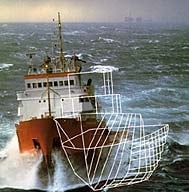 ShipShape is ideal for a wide range of situations where fast and flexible reconfiguration of the vessel model is needed or the way of calculation must be changed.
Imagine for instance a grounding incident: The Salvage Master is faced with a vessel that has sustained severe damages to the foreship: Will the vessel float when pulled off the shoal, how will its floating position be, what measures should be taken to minimise stresses and prevent her from breaking up?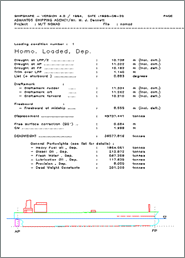 Or perhaps you are the ship designer that is requested by an Owner to prepare stability calculations and documentation for Marine Authority or Class approval for his vessel. There is no computer model available from any Yard, so you need to prepare all the geometry files from scratch based on drawings and prior documentation.
In both the situations outlined above, the ShipShape Ship Design program will provide answers and results to the user within a minimum amount of time. ShipShape comprises all modules and functions required for vessel geometry modelling (and remodelling), intact and damage stability calculations, tonnage, load line, loading conditions, and more. The program is ideal for early design / feasibility studies where its parametric design features will enable swift changes in the vessel configuration and allow for the proper evaluation of the relevant design alternatives.
True interactivity and integration
With ShipShape, there are no batch files, no jumping in and out of programs and processors to arrange files, and no external modules or programs to be run: It is all contained within the same executable and well hidden away behind the scenes.
Intuitive and authoritative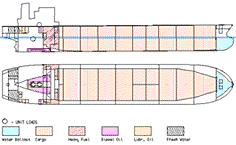 The ShipShape system was initially developed as an in-house tool for R&D and Educational use at the Norwegian Institute of Technology / Norwegian Maritime Technology Research Institute (Marintek) in Trondheim, Norway. This high-tech heritage has had a major bearing on the system ever since, with the continuous addition of new features and advanced functions. This includes special functions for offshore vessels, barge grounding / submersion calculations, fishing vessels, and more – obviously in addition to all the "standard" functions you would expect to find.
Today, the ShipShape system is popular with students and educational institutions due to the intuitive use and configuration, as well as the powerful and flexible functions that will cater for even the whims of the creative designer… or a student.
Basis tool for onboard solutions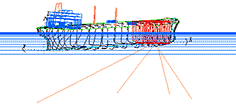 Another feature of ShipShape is that it is the shore-based counterpart to ShipLoad and Lodic – the onboard Loading Instrument (LI) or Loading Computer for ships and offshore rigs respectively. This means that all vessels with a ShipLoad LI will have a corresponding database that can be manipulated and tweaked ashore for instance to evaluate special projects or conversion purposes. Furthermore, the ShipShape Emergency Response capabilities will allow shore staff to assist and provide advice to the Vessel in case of an incident or emergency.
Detailed specification
General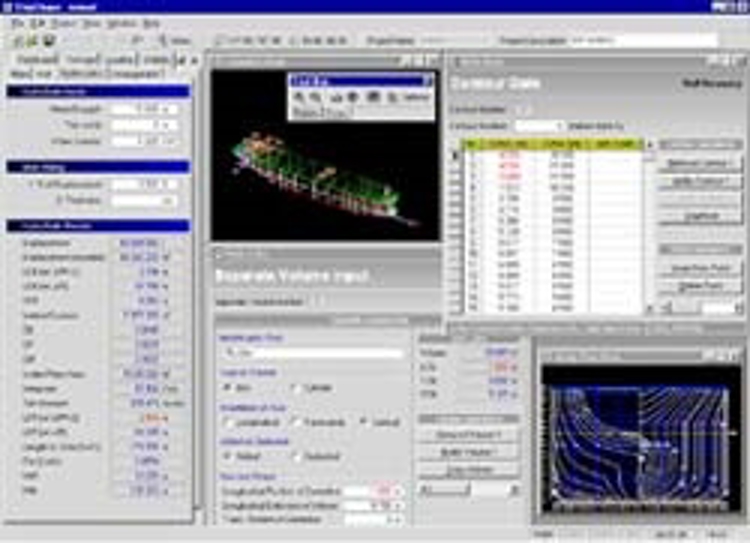 Windows™ application for Windows 2000/XP platforms.
Integrated and interactive application without batch programming, complicated command modes or external project files.
Full electronic reporting options (PDF – requires Adobe Acrobat).
Several versions available, including "small craft version" (hull modelling and intact stab only), basic version, full version and educational version.
Basic version functions
Intact stability calculation and reporting.
Advanced reporting options for hydrostatics, bonjean curves, hull lines, hull external and internal definitions, etc.
Lines import/export from/to systems such as NAPA, AutoShip, AutoGHS, Tribon/Autokon (tracur), Foran, and others.
Compatible with hydrodynamic software packages and advanced resistance / propulsion tools (Marintek).
Graphical Export Routines to DXF.
Module for Digitiser Input for easy hull lines definition.
DW scale
Very powerful routines for deck and superstructure definition.
Topological geometry definitions to facilitate easy design changes.
Tonnage calculations.
Load Line Calculations.
Damage Stability analysis for a single damage set (not full DamStab calculations for documentation purposes).
Beaching and grounding calculations.
KY (cross curves) and KGmax calculations based on a parametric and fully customizable set of stability criteria, a.o. including IMO Wind and Rolling and MODU Code.
Advanced Loading Condition handling.
Full Grain Loading functionality.
Local flooding / outflow calculations with corresponding step in GZ curve.
Water on deck calculations.
Full version
Full damage stability functionality with reporting for Class / Authority approval.
Probabilistic and deterministic calculations.
Floodable length calculations.
Resistance calculation of a line set or just based on hull parameters.
Propulsive efficiency and propeller calculations.
Speed/power curve calculations (e.g. Holtrop).
Light Ship Estimation module based on regression formulas (Watson).
Services and support
24/7 Technical support

Our 24/7 technical support team is there to help at any time, day or night, wherever your vessel is.

Conversions, retrofit and refit

We understand the importance of having the right parts, available in the right place, at the right time.

Training

Ensure that your crew is properly and thoroughly trained. This will reduce operational risk, downtime and maximise return on asset investment.