Wind farm support vessel design - UT 540 CD
Wind farm support vessels (SOV / CSOV)
The UT range of wind farm service operation and construction support vessels provides a comfortable an operational efficient platform for wind turbine support operations. The vessels feature a high DP capability as well as optimised propulsion and power system for the specific operations they perform.
Main Dimensions
Length: 83.00 m
Breadth: 17.00 m
Technicians: Up to 40
Total persons on board: Max. 60
Deadweight: 1500 DwT
The SOV / CSOV range
Versions for operation as well a construction support
Technician capacity from 20 to above 120 persons
High comfort level and high-standard living environment
Optimum operational and hotel logistics
Optimum motions for comfort and transfer operations
Energy efficient power generation system with energy storage solutions
Designs suitable for wide range of gangway systems
Crane (with or without 3D motion compensation) with large lifting height and outreach
One or more daughter crafts with efficient deployment and recovery systems
Flexible design for specific needs
Side
Aerial
Front
Aft
INTEGRATION OF EQUIPMENT
Integrated systems tailored to your needs
Innovation underpins everything we do. Our world-leading technology, coupled with decades of operational experience, enables us to design, build, deliver and support fully integrated system solutions for the marine industry.
These bespoke systems, developed in close co-operation with our customers, are designed to deliver lower life-cycle costs and reduce the environmental impact of operations.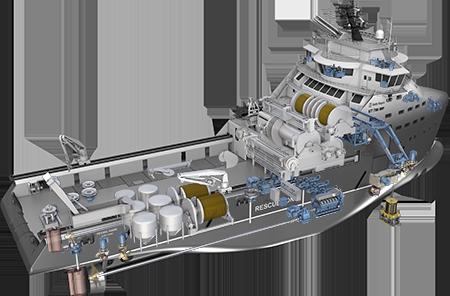 Services and support
24/7 Technical support

Our 24/7 technical support team is there to help at any time, day or night, wherever your vessel is.

CONVERSIONS, RETROFIT AND REFIT

We understand the importance of having the right parts, available in the right place, at the right time.

Training

Ensure that your crew is properly and thoroughly trained. This will reduce operational risk, downtime and maximise return on asset investment.