Subsea construction vessel design - UT 7623
The UT-range of subsea construction vessels provides a comfortable, safe and efficient platform for a wide diversity of subsea construction operations. The vessels features high DP capability, as well as optimised propulsion and power system for the specific operations the vessel platform shall perform.
Special focus has been made on operability in regards to motion characteristics which benefit the crew comfort, crew changes with helicopters and the operational limits given by different topside installations which has it's limits in regards to accelerations.
Main characteristics
Length : 124.00 m
Breadth : 23.00 m
Persons on board : 120
Deadweight (w.250 crane) : 8 900 DwT
Deckload (w/250t crane, winch below deck) : 4 500 tonnes
The subsea construction range
Vessel designs can be supplied in all size-ranges, and according to specific customer needs
High comfort level and high-standard living environment
Optimum operational and hotel logistics
Our redundant thruster solution for maximized DP capability
Energy efficient power generation system with energy storage solutions
Crane(s) with backback or winch system(s) below deck
Crane(s) with fibre rope or wire
Work moonpool(s)
ROV Systems in hangar through moonpool(s) and/or the over side.
Optimum motion characteristics
High pay load / deck load capacity
Easy built hull form/accommodation module with a minimum of curvatures.
Possibility for winterization and ice-class
Optimised fuel efficient hull form based on comprehensive experience through testing and Computational Fluid Dynamic - CFD analysis
INTEGRATION OF EQUIPMENT
Integrated systems tailored to your needs
Innovation underpins everything we do. Our world-leading technology, coupled with decades of operational experience, enables us to design, build, deliver and support fully integrated system solutions for the marine industry.
These bespoke systems, developed in close co-operation with our customers, are designed to deliver lower life-cycle costs and reduce the environmental impact of operations.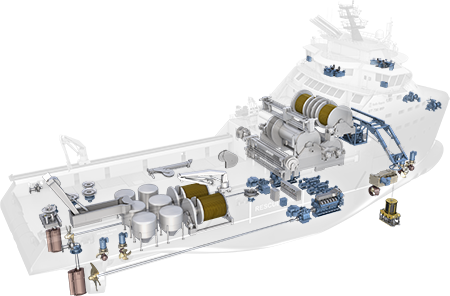 Services & aftermarket support
Our support teams, located worldwide, are committed to helping you manage the vital balance between operational availability and cost. Wherever your vessel is located, our support is close at hand.
Services and support
24/7 Technical support

Our 24/7 technical support team is there to help at any time, day or night, wherever your vessel is.

CONVERSIONS, RETROFIT AND REFIT

We understand the importance of having the right parts, available in the right place, at the right time.

Training

Ensure that your crew is properly and thoroughly trained. This will reduce operational risk, downtime and maximise return on asset investment.