Anchor handling vessel design - UT 786 CD AHTS
Specially equipped multifunctional anchor handler. This versatile vessel is specially equipped to handle a range of anchors and mooring lines.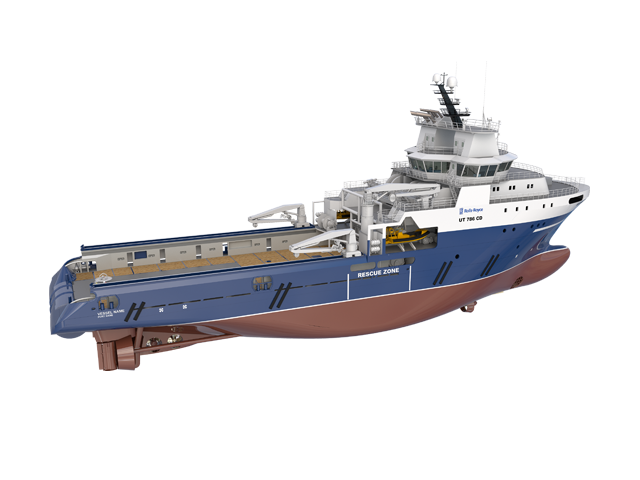 Equipped for a range of tasks from tanker loading to towing
UT 786 CD is a multifunctional anchor handling tug supply and service vessel with a bollard pull of 205 tonnes and winch capacity of up to 400 tonnes. Besides undertaking supply duties between land base and drilling sites the vessel can undertake operations such as towing, assisting during tanker loading and establishing towing of threatening objects. The vessel is specially designed and equipped for handling of anchors and mooring lines consisting of wire, chain and / or synthetic rope in water depth up to approx. 2000 m. The vessel is designed and outfitted for firefighting I, II and III and can accommodate 33 persons.
Specially equipped multifunctional anchor handler
Side
Aerial
Front
Aft
INTEGRATION OF EQUIPMENT
Integrated systems tailored to your needs
Innovation underpins everything we do. Our world-leading technology, coupled with decades of operational experience, enables us to design, build, deliver and support fully integrated system solutions for the marine industry.
These bespoke systems, developed in close co-operation with our customers, are designed to deliver lower life-cycle costs and reduce the environmental impact of operations.
Services & aftermarket support
Our support teams, located worldwide, are committed to helping you manage the vital balance between operational availability and cost. Wherever your vessel is located, our support is close at hand.
Services and support
24/7 Technical support

Our 24/7 technical support team is there to help at any time, day or night, wherever your vessel is.

CONVERSIONS, RETROFIT AND REFIT

We understand the importance of having the right parts, available in the right place, at the right time.

Training

Ensure that your crew is properly and thoroughly trained. This will reduce operational risk, downtime and maximise return on asset investment.