Ro-Pax vessel design - NVC 253 LNG Ro-Pax
Maximising efficiency and comfort. Bringing efficiency to North Sea operations year round thanks to gas-fuelled RO-PAX design.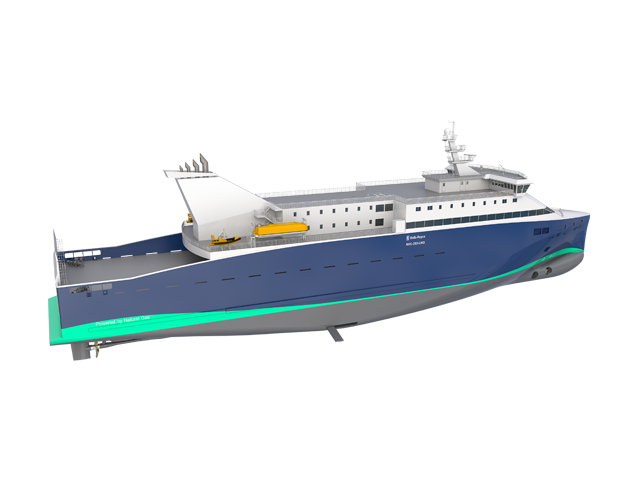 Combining excellent passenger comfort with efficient RO-RO handling.
NVC 253 LNG is optimised for efficient RO-RO cargo handling with 3,3000 TDW and designed for excellent comfort for passengers and crew. This gas-fuelled RO-PAX design makes for efficient year-round North Sea operation with a service speed of 19KN. The vessel ensures optimal performance thanks to its design and the integrated system solution maximising efficiency across all on-board systems. The integrated system solution selected for this vessel ensures optimal performance together with the design. The vessel can accommodate up to 400 passengers and has a 1,800 NM endurance without refilling.
Maximising efficiency and comfort
Side
Aerial
Front
Aft
Services & aftermarket support
Our support teams, located worldwide, are committed to helping you manage the vital balance between operational availability and cost. Wherever your vessel is located, our support is close at hand.
Services and support
24/7 Technical support

Our 24/7 technical support team is there to help at any time, day or night, wherever your vessel is.

Contact us:

Spares

We understand the importance of having the right parts, available in the right place, at the right time.

Training

Ensure that your crew is properly and thoroughly trained. This will reduce operational risk, downtime and maximise return on asset investment.