Cruise vessel design - NVC Explorer
The perfect blend of technology and luxury. We're crafting reliable mega yachts benefitting from our proven platform design developed for merchant shipping.
Combining proven platform design and integrated systems solutions.
We've combined our proven platform design developed over decades in merchant shipping with integrated system solutions to deliver efficient and reliable mega yachts. By working in close partnership with yacht stylists, we can ensure the perfect balance between technical excellence and luxury. The NVC Explorer is designed to accommodate Large Yachts II Code and Ice Class 1B and has an endurance of 11,000 NM. The diesel electric machinery and the Azipull propulsion system gives excellent manoeuvrability and can obtain a service speed of 16KN.
The perfect blend of technology and luxury
Side
Aerial
Front
Aft
INTEGRATION OF EQUIPMENT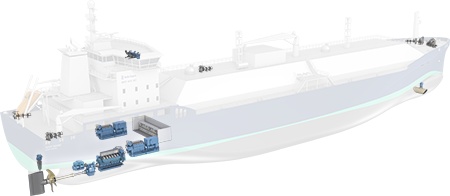 In addition to ship designs we provide fully integrated system packages tailored to your needs. As the largest marine technology specialist organisation in the world we offer innovative technology, coupled with decades of operational experience. To give users better situational overview our systems communicate with each other, sharing information and sensors. Common style user-interfaces simplifie operation providing more time for decission-making.
We design, build, deliver and support systems that gives you the full picture. We make them efficient with lower life-cycle costs, and eco-friendly to reduce the environmental impact of operations.
Services & aftermarket support
Our support teams, located worldwide, are committed to helping you manage the vital balance between operational availability and cost. Wherever your vessel is located, our support is close at hand.
Services and support
24/7 Technical support

Our 24/7 technical support team is there to help at any time, day or night, wherever your vessel is.

CONVERSIONS, RETROFIT AND REFIT

We understand the importance of having the right parts, available in the right place, at the right time.

Training

Ensure that your crew is properly and thoroughly trained. This will reduce operational risk, downtime and maximise return on asset investment.