Cargo vessel design - NVC 405 LNG cargo
Delivering efficiency and speed. General cargo / RO-RO / container with four cargo decks fully equipped for rapid cargo handling.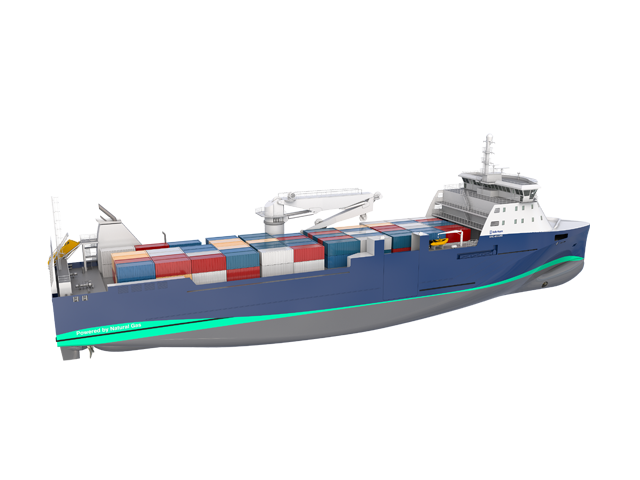 A high speed, high ice class versatile vessel with optimised weather deck
NVC 405 LNG is a general cargo / RO-RO / container vessel of 5,000 TDW, containing four cargo decks, one stern ramp, fixed interior ramps, side door with two cargo lifts and a deck crane for rapid and flexible cargo handling. The NVC 405 is built on the Environship concept, which incorporates a range of our technologies to deliver efficiency savings for ship owners. These include a Bergen gas engine fuelled by LNG, the Promas integrated rudder and propeller, a hybrid shaft generator (HSG) to optimise electrical power generation and propulsion system efficiency, together with the patented wave-piercing hull design. The design is suitable for trailers, road trailers, MAFI trailers, pallets, cassettes and STO-RO, with an optimised weather deck for containers. The deck area is 5,000 sq.m and the reefer hold is 4,200 cu.m. The vessel is also capable of high speed and has a high ice class. The NVC 405 has a 3,500 NM endurance without refilling.
INTEGRATION OF EQUIPMENT
Integrated systems tailored to your needs
Innovation underpins everything we do. Our world-leading technology, coupled with decades of operational experience, enables us to design, build, deliver and support fully integrated system solutions for the marine industry.
These bespoke systems, developed in close co-operation with our customers, are designed to deliver lower life-cycle costs and reduce the environmental impact of operations.
Delivering efficiency and speed
SERVICES & AFTERMARKET SUPPORT
Our support teams, located worldwide, are committed to helping you manage the vital balance between operational availability and cost. Wherever your vessel is located, our support is close at hand.
Services and support
24/7 Technical support

Our 24/7 technical support team is there to help at any time, day or night, wherever your vessel is.

Contact us:

Spares

We understand the importance of having the right parts, available in the right place, at the right time.

Training

Ensure that your crew is properly and thoroughly trained. This will reduce operational risk, downtime and maximise return on asset investment.