MDM 500
Marine Data Management
The MDM 500 is the thrid generation of Kongsberg's general purpose logging system.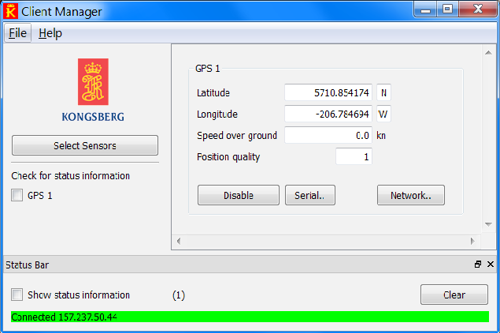 The main purpose for the MDM 500 is to be installed on a survey vessel and provide a centralized storage system for many different types of sensor on board, such as CTD, weather stations, magnetometer, thermo-salilnograph etc.
Each sensor can be attached to a PC either using RS232 serial line or Ethernet connection. This PC can be located anywhere on the boat as long as it is connected to he ship's network. The MDM 500 Client Manager will then provide the operator with a nice user interface to configure the connection to the instrument.
Data from the instrument is displayed on the PC it is connected to, and also on any other PC in the network where the MDM 500 Client Display is installed.
The Survey Manager contains a Microsoft SQL Database Server where it stores all the data from all instruments attached to all Clients. This makes data handling easy as all data can be transferred from ship to shore simply by moving the database as one single item.
When updating the MDM 500 system with new functionallity or new instrument drivers, only the Server Manager needs to be updated. The Clients are automatically updated over the network.
Data from each instrument is also available on the network in near real time, so any scientist can use the data while it is still being properly stored in the database.
Features:
Centralized storage for all attached sensors.
Easy data handling.
Distrubuted display of sensor data.
Distribution of sensor data on the network allows for real time data processing while the data is being logged.
Microsoft © SQL Server used for data storage which allows the operator to use Microsoft © tools for data handling.
Alarm systems monitor the instruments, and alarms can be displayed on remote computers.
Report Manager provides the operator with a tool to extract data from the database and make a report out of it.
Very easy installation. Only the MDM 500 server requires a CD/DVD/file, then the MDM 500 Client Manager is installed on any client PC by using the Internet Explorer ©.
Services and support
24/7 Technical support

Our 24/7 technical support team is there to help at any time, day or night, wherever your vessel is.

Conversions, retrofit and refit

We understand the importance of having the right parts, available in the right place, at the right time.

Training

Ensure that your crew is properly and thoroughly trained. This will reduce operational risk, downtime and maximise return on asset investment.