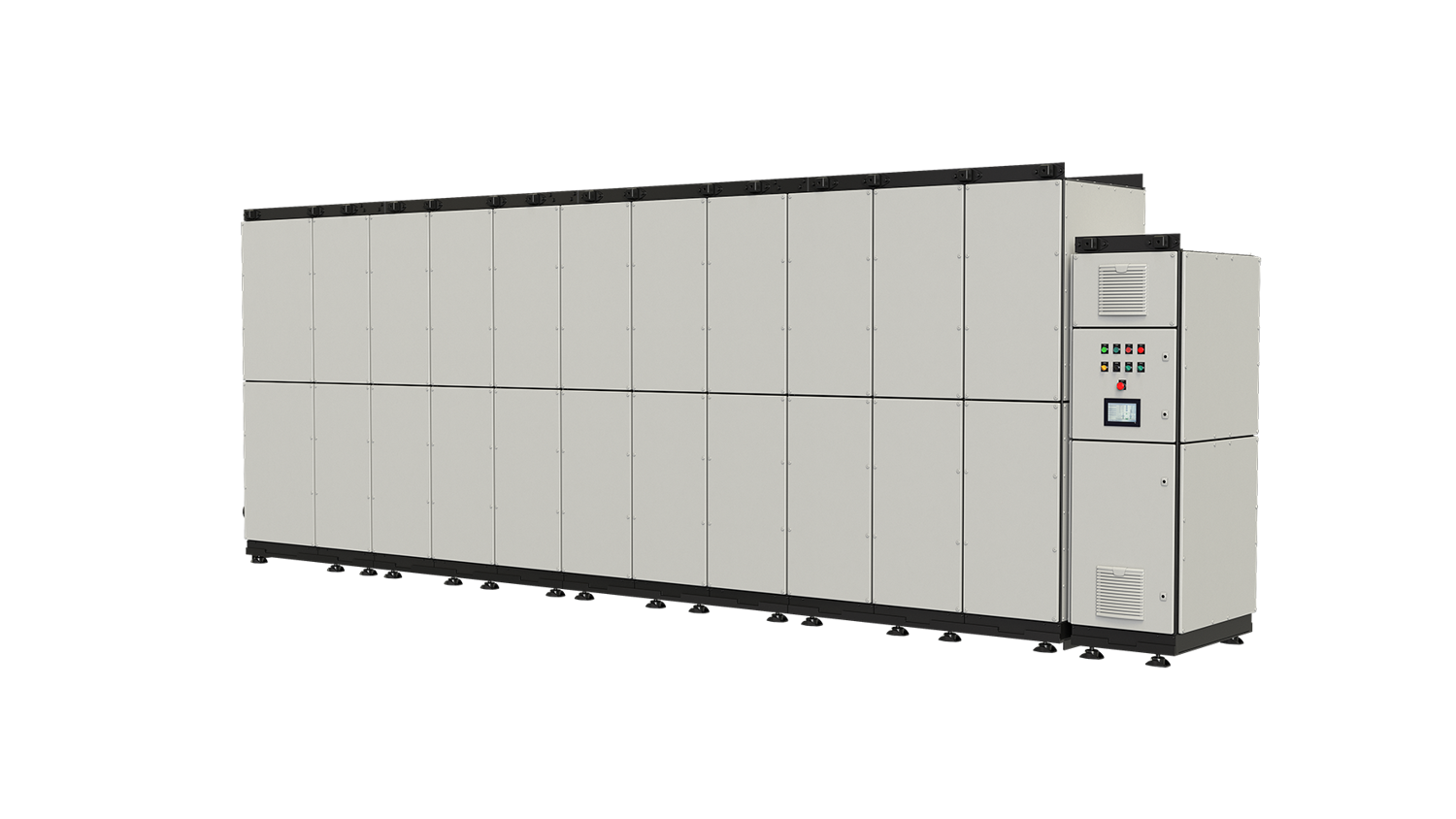 Energy Storage Unit
Energy Storage Unit has a modular design to enable highly cost efficient, standardised and scalable solutions. The sealed cabinet has a liquid thermal management system which ensures that the battery cells is safely and efficiently cooled to deliver the calculated life-time of the application
Energy storage unit
The energy storage unit is pre-assembled and transported in sections for simple installation. Modules within the energy storage unit can easily be mounted after the cabinet structure is in place to avoid heavy lifting of the sections, and also to avoid damage during a ship's construction period. The cabinet structure protects against solid foreign objects and ingress of water.
BMS and active balancing
The Battery Management System (BMS) is developed to meet the highest requirements for maritime applications. The cells are monitored and logged for voltage, temperature and current. The redundant safety controller developed by KONGSBERG constantly monitors the temperature and has an independent safety shutdown. In addition, the BMS features active balancing during cycling, for optimal energy storage and battery life.
Safety
Energy Storage Unit embraces the KONGSBERG multiple safety barrier principle. In case of thermal runaway in a cell or multiple cells, the safety systems prevents propagation. The propagation is limited and controlled by use of passive heat isolation, active air and liquid cooling. No flammable or toxic gasses are vented into the ambient space, but lead to open air or to a safe location with an independent ducting system. The first safety barrier is a passive heat insulation between cells to avoid thermal runaway propagation inside a battery module. The second barrier is automatic air cooling system that further enhances heat insulation between cells, preventing cell-to-cell propagation. The third barrier is a water cooled system which prevents module-to-module propagation if a malfunction in the other safety barriers occur. This multi-barrier safety approach ensures that the KONGSBERG energy storage system can safely be installed in maritime applications.
Water cooling – Ensures accurate, efficient and safe cooling of the energy storage unit
Isolated internal environment – Ambient environment is isolated from the internal environment, simplifies integration
Safety – A Multi-barrier safety approach to ensure that the system can safely be installed in maritime applications
Life cycle cost – Designed for demanding maritime applications that are primarily energy capacity driven, at an optimal life-cycle cost
Services and support
24/7 Technical support

Our 24/7 technical support team is there to help at any time, day or night, wherever your vessel is.

Conversions, retrofit and refit

We understand the importance of having the right parts, available in the right place, at the right time.

Training

Ensure that your crew is properly and thoroughly trained. This will reduce operational risk, downtime and maximise return on asset investment.