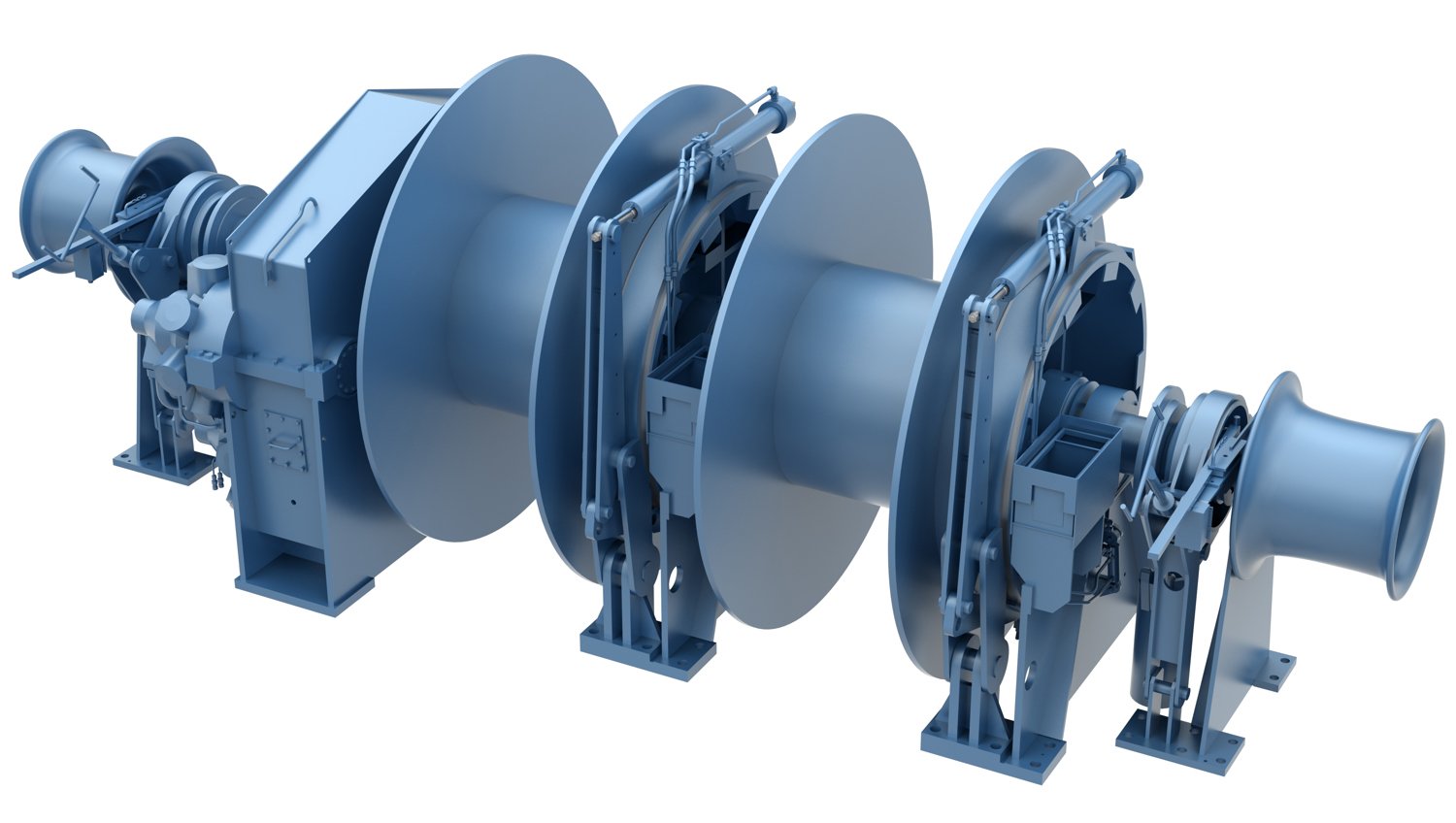 Anchor handling and towing winches for anchor handling vessel
Our anchor and towing winches are made with capacities of more than 600 tonnes pull, and with drums capable of spooling wire rope for the deepest water moorings.
Safer and more efficient operations
Anchor handling / towing winches for offshore vessels is one of our specialties. They are built in many sizes and configurations to more than 600 tonnes direct pull, and are designed to handle moorings in the deepest waters. Winch dimensions and capacities are normally tailored to the specific vessel and its operation. These winches and their associated Towcon RT control systems are suitable for all sizes of anchorhandlers. In view of the very high loads, anchorhandling / towing winches have to be tightly integrated into the structure of the vessel so the winches are tailored to the specific vessel and its operations. They are offered with three drive systems, LP hydraulic, AC electric or PM (permanent magnet motor) electric. Low pressure hydraulic AHT winches are established favourites because of their sensitive control, especially with the new E26 proportional pressure compensated valve. Permanent Magnet motors have the same high torque and controllability for customers who prefer all-electric systems. Towing and anchorhandling drum pulls and wire capacities are tailored to suit operating depths. Chain wheels for rig chain cover all link sizes and a remote cable lifter changer can be specified for a safe and remote controlled on-board change to different chain sizes.
Main winches are complemented by secondary and storage winches for synthetic fibre rope, which is playing an increasing part in deep water moorings. Stern rollers are supplied with single or twin drums and safe working loads up to 800 tonnes.
Services and support
24/7 Technical support

Our 24/7 technical support team is there to help at any time, day or night, wherever your vessel is.

Conversions, retrofit and refit

We understand the importance of having the right parts, available in the right place, at the right time.

Training

Ensure that your crew is properly and thoroughly trained. This will reduce operational risk, downtime and maximise return on asset investment.