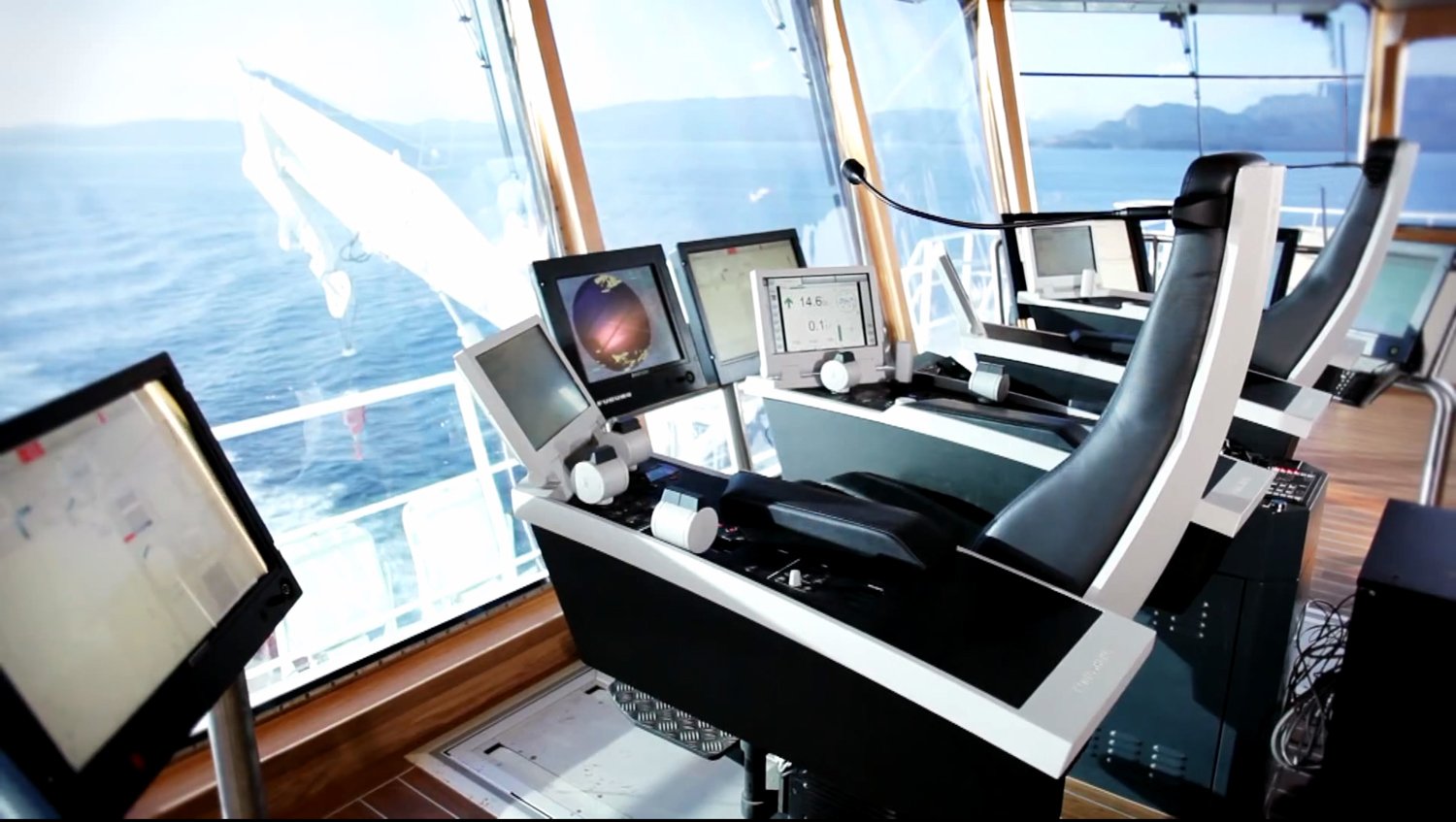 Integrated workstation for ships bridges - K-Master
K-Master provides a common user interface for a wide variety of vessel control functions and subsystems.
Designed for safety and efficiency
KONGSBERG has a long and distinguished history of designing bridge systems that meet and surpass maritime safety standards. Our experience has shown us the importance of functional integration and of intuitively arranged controls for vessel machinery, navigation and maneuvering.
We recognize that the user interface – including a harmonized style, look and feel across sub-systems and functions - provides significant advantages for safe vessel operation.
K-Master - a complete working environment
With K-Master bridge solutions KONGSBERG sets the standard, for integrating navigation, automation and maneuvering functions. Strict ergonomic considerations for the operability and arrangement of workplaces and instrumentation govern all our designs.
In a comprehensive K-Master bridge installation there is a common user interface for the following systems: dynamic positioning (DP) and the independent DP joystick, manual propulsion and thruster control, alarm monitoring and remote machine control, Bridge Alarm Management (BAM), ECDIS, radar, sonar, autopilot, conning, and bridge auxiliary systems.
The common user interface is intuitive and logical. It is the product of a user-centered design process and is presented using high quality graphics on touch-sensitive screens.
The solution for complex operations
K-Master bridge solutions provide working environments for bridge operators on a wide range of vessels types. Originally designed for the aft bridge on offshore support vessels, the K-Master concept has been widened to cover the navigation bridge on OSVs, merchant vessels and yachts. The high level of integration achieved makes K-Master solutions particularly suitable for vessels with limited space on the bridge, or for multi-purpose vessels whose bridge configuration needs to be adapted dynamically to the needs of different operators at different times.
Workstations for navigation, ship handling, and aft-support
K-Master bridge solutions provide platforms for excellent operational awareness and bridge team performance.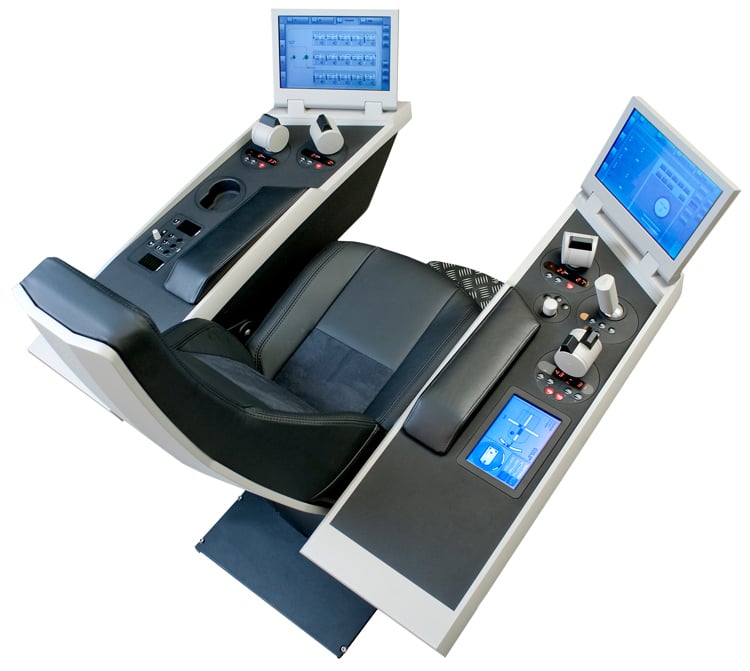 The K-Master aft bridge workstation has a compact combination of maneuvering controls, control panels and radio communication equipment all built into a chair whose seat is electrically adjustable for the operator's comfort. Touch-sensitive control panels are located conveniently on the chair arms, while several larger screens surrounding the chair provide easily viewable state information from the various sub-systems.
The K-Master is well adapted for vessels that require the NAUT-OSV class notation, because these vessels must have both ship-handling and aft-support workstations installed. K-Master with its flexible configuration possibilities support both well.
When configured for ship handling, using K-Pos dynamic positioning (DP), the aft bridge workstation is designed with redundant power supplies and user-interface devices. This means that a single chair can be used as a dual DP operator station.
A less comprehensively equipped chair is available for the forward bridge. Controls for navigation using the K-Bridge ECDIS, Radar, Conning and Autopilot, are built into the armrests. The design is also easily extended to include the K-Pos dynamic positioning system and the K-Chief alarm, monitoring and control systems. The operator interacts with all the different systems through the touch-sensitive control panels and the large information displays surrounding the chair.
K-Master chairs can be complemented by a wide range of consoles and display pedestals. The components can also be delivered for installation into customized bridges designed by independent suppliers or by the shipyard.
K-Master bridge solutions are designed to be integrated into bridge systems complying with nautical safety class notations from the leading classification societies.
Simplicity is the art of technology
K-Master workstations feature touch-sensitive control panels on which graphical representations of input devices complement the content on the information displays.
As each workstation can be in simultaneous control of multiple sub-systems, the operator is free to configure the contents of the information displays so that data from the most immediately important systems is directed to the most convenient displays.
K-Master bridge solutions represent a generation of control equipment that combines simple and easy-to-use touch controls with structured access to large amounts of vessel information. Hardware buttons and switches are reserved for critical functions or for back-up.
Ergonomics for demanding operations
Safe execution of demanding vessel operations requires workstations that are well adapted to the convenience of the operator. Great effort has therefore been made to ensure that levers, controls and displays are located intuitively and logically. The solutions have been designed in consultation with users and industry experts, and the aim has been to increase operational awareness while reducing causes of operator fatigue. For example, intricate operations associated with ballast control and fluid-cargo handling have been automated to ensure quicker and safer operation.
Configured for the task
With K-Master, the operators always have the information required to make the right decisions – they have The Full Picture.
Versatile vessels are assigned a wide range of tasks, and each task has its own set of requirements for successful execution. K-Master bridge solutions allow the operators to focus on key performance indicators whatever the task – this is because of the unique flexibility of the system in calling up the precise information required from the different vessel systems. Together, the touch-sensitive control panels and information displays enable both operator and vessel to perform at their best.
Purpose-built systems – maintained to last
Solid in-house expertise in system design and user requirements enables us to provide solutions that are both fit-for-purpose and operationally efficient.
A common base technology ensures a robust system design based on few - and reliable - parts. It provides an excellent and economical foundation for the design of diverse vessel systems.
Our systems also have a distributed, modular, and open architecture. They employ industry-standard
communications networks, and – combined with the use of the same standard hardware components for multiple applications – this results in:
Increased reliability
Competitive life-cycle support
Easy up-grade solutions
Frequent updates
We offer continuous hardware and software upgrades to keep your vessel operating at maximum efficiency. Our modular designs make it easy to add new functionality to systems without replacing existing equipment. We can therefore offer frequent upgrades to keep your system evergreen.
Training
Qualified personnel are a major asset. We offer training courses so that you can help your employees
to keep their skills and qualifications up to date. Courses are available covering all major aspects of
vessel operation using Kongsberg systems.
Supported by professionals
Service contracts are available from KM that offer global support from local service and support facilities.
These facilities are placed at strategic locations worldwide, and each is equipped with its own inventory of spare parts.
Work is carried out by expert field-service engineers under the direction of a dedicated technical account manager.
The technical account manager works closely with your personnel to maximize system up-time and performance. This involves anticipating necessary maintenance work and scheduling it at the optimal time in the operating life of the system. As well as maximizing system up-time, this gives you improved cost control by allowing you to plan (and budget) for maintenance ahead of need. It also enables KM to serve you better by developing a detailed understanding of your needs.
Main features
Bridge Workstation
Touch Control Panel
Subsystem integration
Main benefits
Common user interface for all bridge functions and sub-systems
Operation and monitoring of discrete sub-systems from touch panels on a single workstation
Integration of 3rd party equipment
Flexible workstation arrangements
24:7 global support
Services and support
24/7 Technical support

Our 24/7 technical support team is there to help at any time, day or night, wherever your vessel is.

Conversions, retrofit and refit

We understand the importance of having the right parts, available in the right place, at the right time.

Training

Ensure that your crew is properly and thoroughly trained. This will reduce operational risk, downtime and maximise return on asset investment.