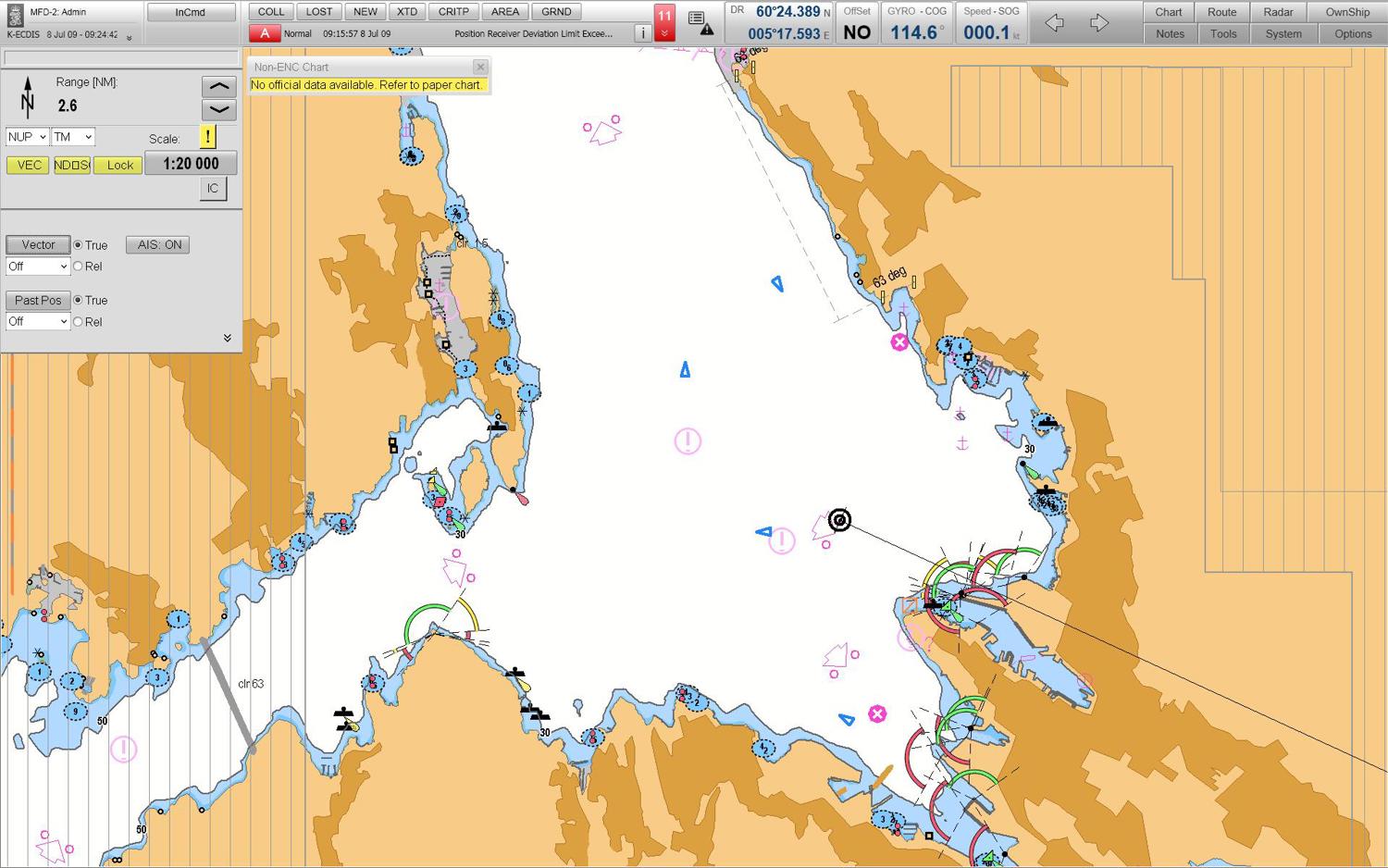 K-Bridge ECDIS display
The K-Bridge Electronic Chart Display and Information System - ECDIS system, is a fully compliant and easy to operate ECDIS for new builds and retrofit installations

ECDIS functions
Radar video overlay from K-Bridge ARPA radar
Autopilot control with simplified "curved EBL"
"Active lights" display for simplified visual position confirmation
Docking function provides prediction of ship movement
Full route planning and validation functions
Continuous monitoring of own ship in relation to route plan and waters
Displays up to 100 Automatic Radar Plotting Aid (ARPA) tracked targets
Displays targets and information from AIS - Automatic Identification System
EBL / VRM gives the correct range and bearing from own ship
Remote control of K-Bridge autopilot providing track-keeping functions
Echo sounder monitoring and recording of chart depth information
Voyage recording and replay
Navtex interface
IMO defined functions
Type approved
Chart types
The ECDIS system uses official vector charts and accepts CM-93 vector charts from C-Map, and is compatible with ARCS from The United Kingdom Hydrographic Office. This means a world-wide coverage of electronic charts. K-Bridge is a fully compliant and easy to operate ECDIS system for new builds and retrofit installations.
ECDIS chart formats
C-Map CM 93 edition 2
C-Map CM 93 edition 3
C-Map ENC
S-57 edition 3
S-63 including Primar and IC-ENC (encrypted S-57 charts)
DNC (Digital Nautical Charts) available as an option
Options
Slave displays with dedicated operator panel
ECDIS display
26" TFT display: 1920 x 1200 pixels - console mounted or drop in kit
Standards applied
The equipment is designed to conform to the following standards:
IEC 61174 Ed.2.0 ECDIS Operational and Performance Requirements. Method of Testing and Required Test Results
IMO Resolution A.817 (19), Performance Standard for Electronic Chart Display and Information Systems
IEC 60945 Ed.3.0 Marine Navigational equipment, General Requirements. Methods of Testing and Required Test Results
NMEA 0183 version 2.30 Standard for interfacing Marine Electronic Devices
IEC 61162 Ed.2.0 Maritime navigation and radio communication equipment and systems - Digital interfaces
IEC 529 Second edition (1989-11), Degrees of protection provided by enclosures (IP code)
AIS interface is compatible with ITU-R M.1371 and IEC 61993-2
Dimensions
| | | | | |
| --- | --- | --- | --- | --- |
| | Height | Width | Depth | Weight |
| Slim | 1200mm | 650mm | 859mm | ≈61kg |
| Deep | 1150mm | 650mm | 1100mm | ≈65kg |
Electrical
Input voltage: 115/230 VAC +/- 10%
Frequency: 50/60 Hz +/- 5%
Power consumption: 340 W
Environmental specifications
The K-Bridge ECDIS is in compliance with IEC 60945.
Services and support
24/7 Technical support

Our 24/7 technical support team is there to help at any time, day or night, wherever your vessel is.

Conversions, retrofit and refit

We understand the importance of having the right parts, available in the right place, at the right time.

Training

Ensure that your crew is properly and thoroughly trained. This will reduce operational risk, downtime and maximise return on asset investment.