Reclaiming the seaways
Trucks have replaced ship after ship along the coast. Now is the time for revenge.
–In theory, cargo can be brought into every private jetty along the coast, says Ørnulf Rødseth.
His vision is for a transport revolution along the lines of the Norwegian Hurtigruten coastal mail steamers that arrived 125 years ago. The time it took to carry mail from south to north Norway was reduced from weeks to days. Activities along the coast gradually increased. In the 1960s, Hurtigruten began to carry fresh fish south. Over the last decade, trailers, buses and trucks have taken over more and more of the goods and passenger traffic. But now the sea can take its revenge. Rødseth is convinced that, over the course of the next few years, technology will make it quicker and easier to take goods and passenger traffic along the coast. He is a senior researcher at Sintef and one of Norway's leading experts on maritime technology. The key is cutting voyage time.
–The sailing time to the container port at Orkanger is an extra five hours from the main sea lane. Automating the transport from the main sea lane and into towns and urban districts will allow coastal traffic to save both time and money, argues Rødseth.
He points out that container ports are already located outside cities. Harbours can now be moved closer to the sea lane, while a network of autonomous shuttle boats can go in traffic between future ports on the main sea lane and the urban areas.
–While ships currently just dock at one port, the small shuttle boats can serve many more ports, says Rødseth. It is still a long way off. But the gains will be so great that Harald Solberg, CEO of the Norwegian Shipowners' Association, also predicts a revolution. He is convinced that we will see a renaissance for coastal shipping.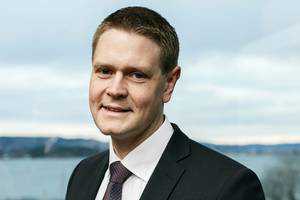 The development means that previous estimates about transferring 5–7 million tonnes from land transport to sea transport are well within reach. The projections came from the roadmap for green coastal shipping launched in 2016. The new solution allows us to envisage even more goods being transported by sea.
– At sea you don't have any space conflicts or queue problems. Scaling the business goes quickly. And the infrastructure—the water—is there, with only a minimal investment in it needed, says Solberg.
the first autonomous Rout
–We are confident about the technology", says An-Magritt Tinlund Ryste.
She is the Program Manager for Autonomy at the Kongsberg Group and co-ordinates the company's development activities within autonomous surface vessels, in other words ships that sail themselves. She points out that Kongsberg began to develop autonomous vessels in partnership with the FFI (Norwegian Military Research Institute) as early as the 1990s.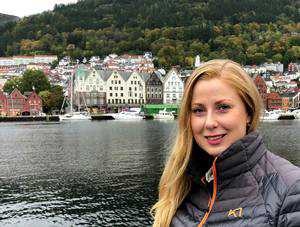 Today, most of the technology has been thoroughly tested and industrialised. The greatest challenge is seamless integration of the technology, and getting the necessary permits for unmanned voyages. There are no current regulations governing unmanned vessels. The first milestone will be the launch of Yara Birkeland in early 2020. The container ship will sail with a crew for two years before the autonomous functions are gradually implemented, and it will be able to sail unmanned in 2022.
–There is an enormous amount of interest in this. We have weekly visits from delegations from all over the world who want to understand how our technology can help them, Ryste tells us.
She points out that common to all of these enquiries is the fact that autonomy is only a means to reach a larger target in the future.
–Our task with Yara Birkeland is to improve Yara's logistics chain. Autonomy is only a tool for achieving greater efficiency and a smaller environmental footprint, says Ryste, who adds that the automated tasks on board mean better support for decisions, improved safety and optimised operation.
The greatest test for Yara Birkeland is how it will fit in as a natural part of the local community.
–How will Yara Birkeland signal that it is an autonomous vessel? Does it need to? What will the vessel do if an accident occurs or another vessel requires assistance? asks Ryste, pointing out a number of social and legal issues to take into account.
She is confident that good solutions will be found before Yara Birkeland's first unmanned sailing in 2022. In addition, the local community are very positive. When the Yara Birkeland starts to sail, loads from 40,000 lorries will be moved from roads to the sea each year.
–This will reduce the impact on the local environment and therefore ensure that the local community are curious and positive to the project, says Tinlund Ryste.
En ny shippingverden
The Norwegian coastline stretches for 103,000 km from Grense Jacobselv in the north to the Swedish border in the southeast. There is only one country in the world that has a longer coastline and that is Canada.Today's coastal steamers, Hurtigruten, call at 34 ports on their 4,000-km voyage from Bergen to Kirkenes. And for every port that Hurtigruten calls at, there are many urban communities that it sails past. Currently, almost 80 per cent of Norway's population live along its coast. This would, for example, provide opportunities for autonomous shuttle vessels into the Sogne Fjord.
–Sailing in and out of Sogne Fjord takes 12 hours, explains Ryste, who envisages this as a market for autonomous vessels.
In the long term, Rødseth thinks that international container traffic will also change.
–The huge container ships traffic between a few, large ports. This may prove to be sub-optimal in the future. Amazon and the major Chinese operators are large enough to develop their own transport systems, says Rødseth.
This is a vision that Tom Eystø shares. He is the head of a new company that will be responsible for the operation of autonomous vessels. The company is a joint venture between the Kongsberg Group and the Wilhelmsen shipping group.
–If large companies that are not necessarily in shipping today decide to fill all of the world's fjords with autonomous vessels that are carrying all cargo out to the main shipping lanes, it will disrupt our current logistics systems, says Eystø.
He thinks that both the Yara Birkeland case and wholesaler Asko's work of replacing trailer transport with autonomous shipping across the Oslo Fjord would be interesting assignments. At the moment his work at Massterly is about developing the routines required for autonomous operation of the vessels.
Fast forward five years, and he envisages more autonomous ships being built in the shipyards.
– Then we hope that we will have more vessels at sea, and have begun operating in several lands outside Norway, says Eystø.
He is convinced that this will contribute to far better logistics and distribution.
–In southern Europe, you can regularly see lorries standing in queue by the side of rivers and canals. Our task is to create systems that are so good that we can move this heavy goods traffic from the roads to the sea, adds Eystø.