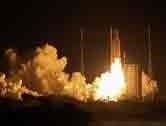 On 11 August, the European-developed Ariane 5 carried a record-heavy payload into outer space. The 6.5-tonne telecommunications satellite Thaicom 4 (Ipstar) was launched into geostationary orbit over the Pacific. As usual, Kongsberg Defence & Aerospace delivered the attachment and separation mechanisms.
100 per cent successful The launch from ESA's launch site in French Guiana in South America was 100 per cent successful. Thaicom 4 is the heaviest commercial satellite an Ariane 5 rocket has ever carried into outer space. It will be used for data transmission and Internet traffic for customers in Asia, New Zealand and Australia.
Powerful forces
The attachment and separation mechanisms developed by Kongsberg Defence & Aerospace connect the powerful solid fuel booster rockets to the main hull of the Ariane 5. The attachment mechanisms are designed to tolerate the strong vibrations and huge torsion forces that build up when 370 tonnes of thrust are transferred to the accelerating launcher in the first 130 seconds after launch. Once the booster rockets' 460 tonnes of fuel are burned off, the attachment and separation mechanisms made by Kongsberg Defence & Aerospace ensure that the two 30-metre long booster rockets are released within 5 milliseconds.
Read more about the launch on Norwegian Space Centre's website (Norwegian)
Read more aboout the launch on www.arianespace.com