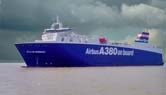 The new high heavy lift vehicle carrier, designed to carry the massive parts for the new Airbus A380 super jumbo, was delivered to Airbus Industries, on May 3rd 2004. The ship, Ville de Bordeaux, is fitted with KONGSBERG alarm, monitoring and control system.
Five operator stations The system consists of five operator stations, three in the engine control room, one in the cargo control room and one on the bridge. The one hundred and fifty distributed processing units installed throughout the vessel handle more than 4200 signals to make sure everything works properly.
Fully redundant system Ville de Bordeaux has two main engines, controllable pitch propellers and two shaft generators. Our power management system is divided into two separate systems connected to the port and starboard side of the main switchboard. This gives a fully redundant system. Diesel generator safety is handled by the power management system with double safety modules for each engine, making this a fully redundant safety system.
Special features for the Elbe River The power management system has build-in one touch sequence modes with a special sequence for the Elbe River where the ship will sail to the Airbus factory in Hamburg. By choosing this mode the RPM on both main engines are adjusted from nominal 155 RPM to 122 RPM with corresponding adjustment of the propeller pitch. This makes the transition from sea/maneuver mode to Elbe River mode fully automatic. The system also controls the ballast system, HFO/MDO system, sea water system, bilge system, cargo and engine room ventilation and all other systems related to the propulsion of the vessel.
Built in China Ville de Bordeaux was built at Jinling Shipyard in Nanjing China and will carry sections of the new Airbus 380 super jumbo between Hamburg, Cadiz, Mostyn, St. Nazaire and Bordeaux. It has a full width stern ramp and is able to carry a complete fuselage or wing sections of the 555-passenger aircraft, due to enter commercial service in 2006.