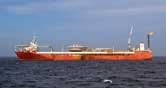 In April 2003 KONGSBERG received a challenging upgrade project, Gryphon Alpha. Gryphon was the first purpose-built floating production storage and offloading facility (FPSO) operating in the North Sea, delivered in 1993.
Our scope was to do a hot upgrade/replacement of the:
DP/PM system
The marine automation system
The thruster control system
The marine emergency shut down system and, install a new network onboard. The challenges were many, including upgrading of the systems including the power management system without downtime of the production of oil and gas.
Scope of work:
Engineering
Production of new parts and replacement kits
Installation, rebuilding of operator stations, data network and process stations (2.600 IO's)
Cable pulling (approximately 6000 meters)
Commissioning
The received words from Keer McGee (Gryphon Alpha owner) tells it all:
"The 'Gryphon A Upgrade' project is characterized by a fast track project schedule with very ambitious milestones. Limited time was allowed for the preparatory engineering phase as well as for the installation and testing phase on board of the vessel. The project was successful as the full scope as well as the quality of the work has been accomplished within the stringent boundaries of the pre-defined project schedule. Project teams of both Kongsberg Simrad and KMG worked closely together and were very flexible and pro-active to cope with changes to the project plan, always heading to minimize risks related to the project schedule. The project preparation work, enabling a fast installation on board of the vessel, was one of the main contributors to the project's success. This included engineering preparation as well as cable pulling work on board of the vessel. The involvement of vessel personnel was essential for this achievement. One of the reasons for the project's success was due to the very high commitment of all persons involved with the project. Furthermore, project team members, vessel-personnel and subcontractors were very well qualified for the work performed."
The project was successfully completed with signed COC's in December 03 zero (0) downtime as a result of the system upgrades.
The project manger Olav Stein Liavaag and his team did en excellent job.