Kongsberg Maritime Ship Systems (KMSS) launced their Maritime-eCampus.com at Europort 2001 in Amsterdam.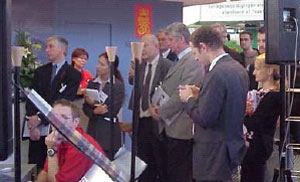 From the Maritime-eCampus press conference.
Maritime-eCampus.com is a global Internet portal providing a complete e-learning solutionfor maritime schools, training centres and ship owners worldwide.
With the new we site, KMSS has made a major commitment to Internet and distance learning. They have developed the e-learning solution in co-operation with leading maritime training establishments in the USA, Scandinavia and Singapore.
KMSS e-maritime web Customers of Maritime-eCampus. com will receive their own e-learning web site where they will be able to deliver courses and training to their students wherever they might be in the world. Each customer's web site will include a complete set of simulation modules based on KMSS' existing simulators.
A Learning Management System (LMS) developed by KMSS will also enable instructors to keep track of their students' progress and to interact with them.
In addition course publishing tools provided by KMSS will allow maritime training establishments to develop and adapt course material specifically for the Internet. "More and more maritime training is taking place outside the traditional classroom, and we are convinced that e-learning is the future for the maritime industry. KMSS' turnkey e-learning solution allows maritime training centres to provide courses that students can take at times that suit them, whether at home or at sea," commented KMSS president, Per Branstad.
The Maritime-eCampus.com was officially presented at a press conference on the Europort exhibition on November 14th. The conference was hosted by Roy Larsen. It was held on the KMSS stand on the exhibition, an open solution inviting visitors to work on computers connected to an intranet, providing product and other information.
Related links Maritime-eCampus.com Kongsberg Maritime Ship Systems