Kongsberg Maritime Ship Systems - KMSS - has been awarded a very important contract by the Royal Norwegian Navy. The order is for radar simulators featuring the same navigation equipment as will be delivered for the new Norwegian frigates. The contract was won in the face of strong international competition.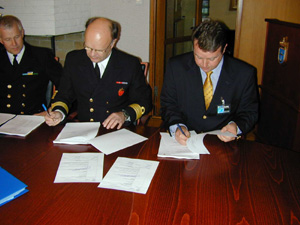 From the left: Chief of the Royal Norwegian Navy Materiel Command Jens Chr. Egenæs (SFK), Head of the Naval College Commander Atle Karlsvik, and Jan Roger Lie from KMSS.
The contract is one of a number of similar orders. For example, last week KMSS received an order for the delivery of 63 Navigational Part Task Trainers to the Canadian Navy. The contract with the Naval College is based on the same the product concept, i.e. Norcontrol POLARIS.
For nearly 30 years, the simulator unit at KMSS has been a leading supplier of maritime simulators for military and civilian clients the world over. Strategically speaking, KMSS is actively adapting its standard training simulators for military applications. It is expected that the company will land a number of naval contracts in 2001.