Kongsberg Defence & Aerospace has signed a contract with the Boeing Company of Chicago, USA, for deliveries for the next generation of Boeing's Airborne Early Warning and Control System.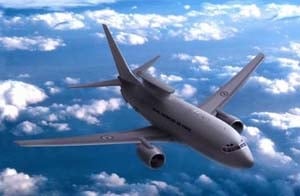 Kongsberg will be providing software for the operator stations
onboard in Boeing 737 aircraft.
The system will be installed on a special version of Boeing's 737 aircraft, which will be equipped with a novel new radar system for monitoring airspace. The contract is worth roughly MNOK 50 and the first delivery of the system will be to the Australian Air Force.
Kongsberg will be providing software for the operator stations onboard. The computer screens will display a complete overview of the airspace monitoring situation at all times. On a world-wide basis, there is a huge demand for such systems, making this a target area for Boeing. Kongsberg sees this contract as an important step in long-term co-operation with Boeing.
"The foundation for this contract was laid in 1997, when Boeing chose Kongsberg to develop and deliver similar software for the modernisation of NATO`s AWACS aircraft. The contract was landed in the face of strong international competition. Based on industrial participation, Norway's financial contributions to NATO's AWACS programme were instrumental in ensuring that Kongsberg got a chance to demonstrate its technology and competence. As a result, both Kongsberg and Boeing will now have export opportunities of great importance for Kongsberg's efforts to develop technology for aircraft-related projects", comments President Tom Gerhardsen of Kongsberg Defence & Aerospace.