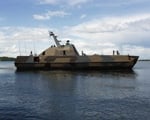 In connection with parliamentary deliberations on Report No. 45 (2000-2001) to the Storting, "Restructuring the Armed Forces from 2002 to 2005", the decision taken by the Storting today means the Norwegian Navy will be commissioning a total of five of the new Skjold Class missile torpedo boats (MTBs) to supplement the one already built. The new vessels will be phased in from 2003.
Kongsberg Defence & Aerospace, one of Kongsberg Gruppen's two main business areas, is already involved in upgrading Hauk Class missile torpedo boats in co-operation with DCNI of France. This contract contains elements which are also part of Skjold Class MTBs.
If, in co-operation with DCNI of France, Kongsberg Gruppen were to be given the main responsibility for developing command and control systems, systems integration and weapons delivery systems onboard the MTBs, the Storting's decision would open up contract opportunities worth approximately NOK 1.5 billion. This figure includes new anti-ship missiles - NSMs - which will be the main weapon deployed onboard the MTBs.