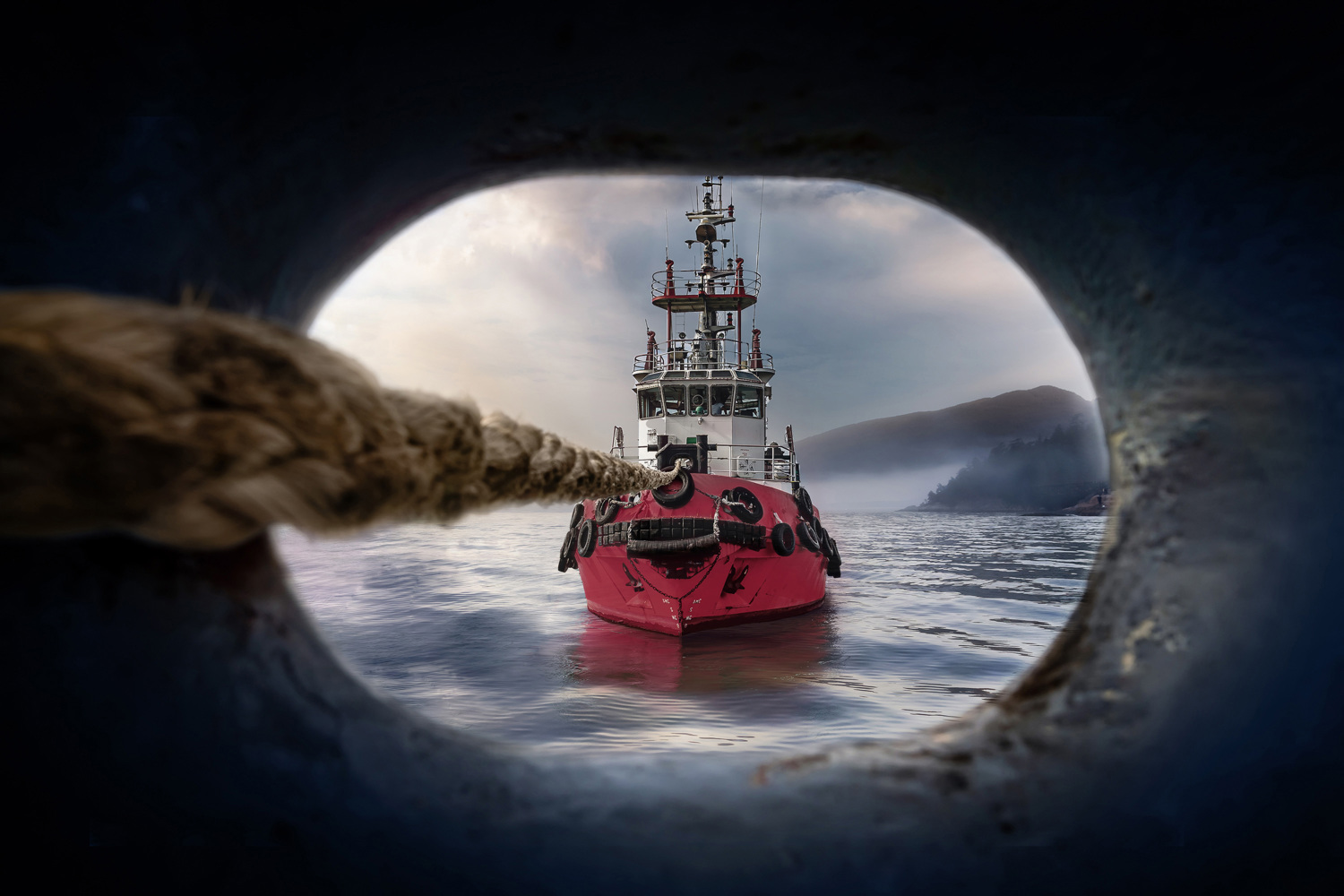 TUGS that work today and tomorrow
Power, reliability and efficiency – job done – every time, every weather. Tugs and workboats are critically important to the efficient and profitable Maritime industry.
Precise, safe and sustainable manoeuvring in some of the busiest of the world's harbours and passageways has to meet the increasing demand from customers, ports and international legislators to reduce emissions and energy efficient movement of good and vessels.
Kongsberg Integrated Tug technology – powering today and transforming tomorrow.
By uniting operations, optimising energy usage and innovating handling solutions, KONGSBERG's tugboat concepts unlock powerful benefits and build-in unrivalled performance, integration, efficiency and adaptablilty.
Driven by 30 years unique knowledge and expertise in the Tug sector, our highly efficient mechanical, digital solutions allow designers and owners to build workboat vessels that not only exceed today's operational and environmental standards, but are ready to adapt to meet the demanding performance, compliance and requirements of the future.
Intelligent asset management

Better real-time and long-term decisions both at sea and on land
Integrated systems, equipment and technology for harbour, escort, pusher and coastal TUGS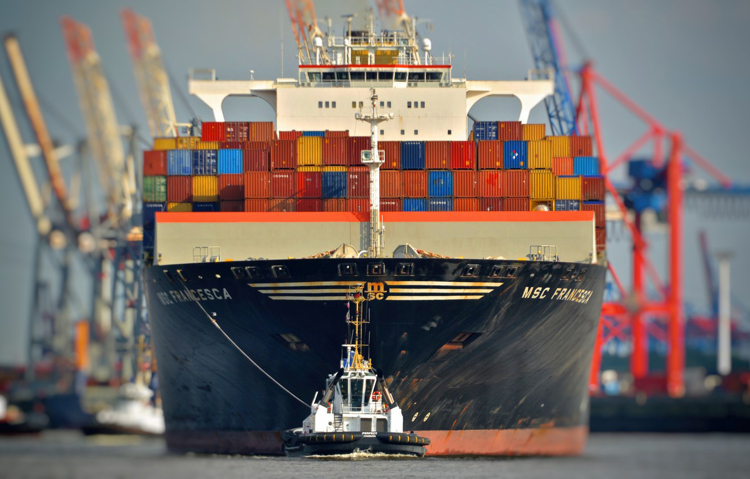 Our extensive market-specific portfolio of integrated technology solutions and individual equipment spans the entire range of tug and workboat applications including the latest in hybrid and electric vessels. Products which can be installed individually or as combined systems and backed by lifetime support.
TUGS
Connected bridge, control, monitoring, high thrust Azimuth propulsion, power and deck systems deliver efficient, integrated operation, with data-driven solutions for streamlined task planning, performance management and condition-based maintenance to extend service life. Modular thruster design and flexible configurations give you the capability to optimise reduced emission operations on your existing fleet.
A wide range of thruster variants and design options, coupled with flexibility in the thruster system's architecture enable an optimal fit with the vessel's set-up.
HYBRID TUGS
Minimise emissions and get ready for the future. Integrating next-generation electric solutions with traditional power sources, our hybrid technology brings sustainable, efficient operation with reduced /low fuel consumption. High-torque electric thrusters maximise bollard pull for towing operations.
E-TUGS
Zero emission tug operations are today's reality with our integrated, fully electric system with Port docking and Charging stations. Optimised energy transfer converts stored power to thrust as efficiently as possible, ensuring long endurance between charging cycles and maximising operation time. Tugboats that deliver value for decades
In a competitive market facing tough regulations, tugboat owners need to know their investments in new tugs and technology will stand the test of time.
KONGSBERG TUG SOLUTIONS – your passageway to future sustainable success
As the industry faces the need to meet or exceed increasingly more stringent global regulations and the IMO focus on reducing GHG emissions with 2030 and 2050 targets, investment in vessels needs to be future-proof too with the ability to adapt to the zero-emissions horizon.
Our integrated hybrid solutions provide different operational modes to ensure optimised services. By combining diesel engines, electric motors, and batteries, we offer our customers efficiency, environmental compatibility, and flexibility in the propulsion system, which can be tailored to specific real-time operational needs.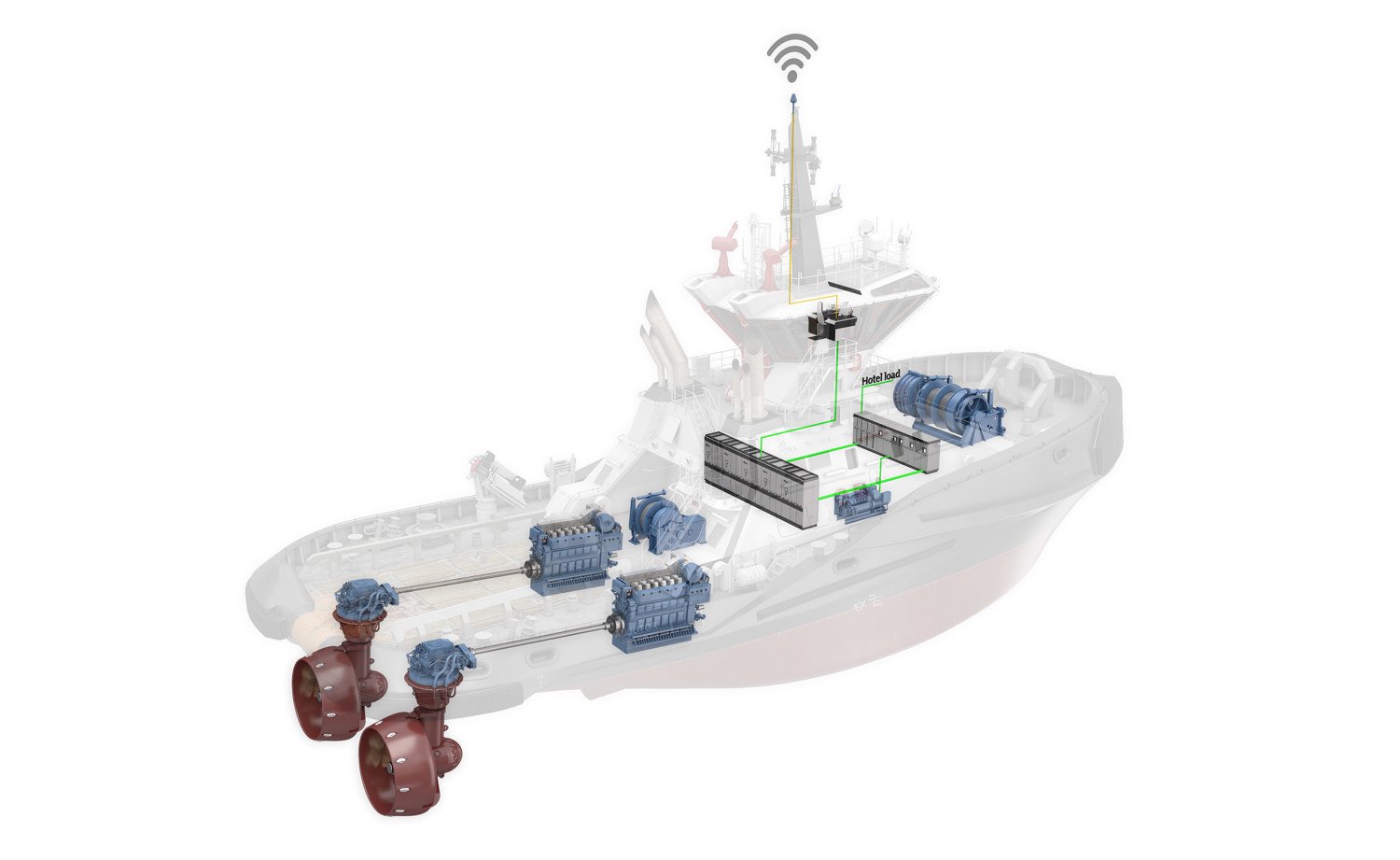 Integration of state-of-the-art Propulsion units, deck machinery, control and safety systems delivers exceptional performance and efficiency with strategic low cost of ownership from concept to life-time deployments.
Reducing power requirements, freeing-up space, enabling greater operational flexibility to provide improved fuel efficiency and reduced emissions.
Design

Enables tailored solutions for specific designs and customer requirements with our expertise. Using integrated solutions will free up space and reduce weight.

Build and maintenance

Significantly reducing costs and risk with fully integrated system engineering and installation with, remote support, energy management and equipment condition monitoring on a common user platform.

Operations

Owner and operators will optimise capabilities while reducing OPEX and environmental footprint due to the potential for significant fuel savings, enhanced maintainability and environmental compliance. The ability to upgrade to a modern thruster shipset featuring latest technologies and improvements for superior manoeuvrability and increased bollard pull – provides benefits to vessel fleets 'today' not just in the future.
Let´s pull together!
We take on responsibility for our systems lifelong reliability to secure your vessel's availability over the entire programme's period. KONGSBERG's Extended Fleet Care™ covers urgent response and planned maintenance, backed by a service team you know you can trust.
Long-term predictability and visibility,
Optimal docking and maintenance planning
Peace of mind in unforeseen events
Lifecycle cost reduction

Give your vessel a new lease of life
Our global team of experts is available to help and guide you, whether you need a refit, retrofit, upgrade, or conversion. For our full range of lifecycle services and support, please do not hesitate to contact us.
Prolonged service life
Capability enhancement
Power for greener operations
Environmental upgrades
Safety improvements
Vessel conversion
Product & solutions for TUGS