Merchant vessel ship designs
We offers a wide range of NVC design for merchant vessels including tankers, cargo carriers, RoPax vessels, cruise vessels and explorer yachts. For best possible performance comfort and safety, our designs are optimised against owners operational philosophy and real sea conditions from intended operational areas.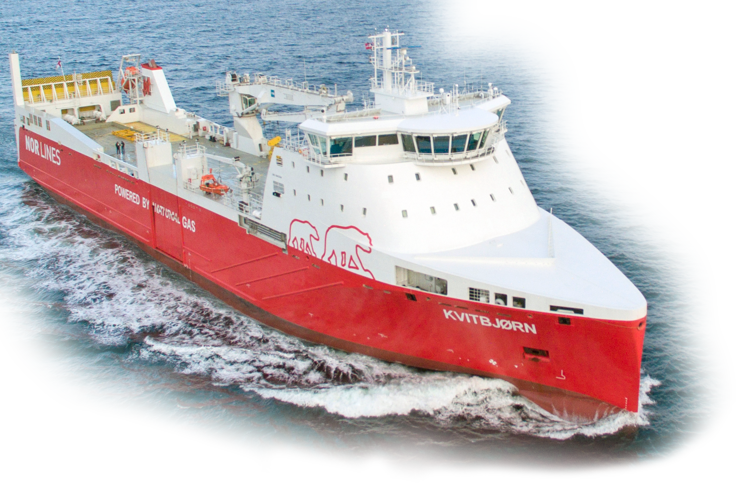 CASE STUDY
Gas-powered innovation
The Nor Lines fleet renewal programme is showing the way forward for Europe's coastal and short sea cargo fleet.
Background
When it came to updating its fleet to meet current and future needs with minimum environmental impact, Nor Lines enlisted our ship design skills, along with our leading gas engine and propulsion technology to realise its goals. Efficiency was at the heart of Nor Lines' requirements, and is also at the heart of everything we do, from design to systems integration.
Minimising emissions while still hitting the required service speed of 14.3 knots means using the least possible amount of energy when transporting cargo. To do that, the hull propulsion and engine efficiencies must all be high, and clean fuel is used to power the vessels. We've made significant investments to do just that, optimising hull lines for least resistance, developing world-leading gas engines and developing a new bow design, among many other features. The investment has paid off, with a study on its operation profile showing a reduction in CO² emissions of around 40 per cent compared to conventional vessels.
"This project, will provide Nor Lines with an improved tool for future operations, both with regards to energy consumption and emissions, as well as handling efficiency."
Toralf Ekrheim, CEO of Nor Lines
Challenge
Shipping company Nor Lines needed vessels to meet its current and future needs. Operating in Emission Control Areas, efficiency and reducing exhaust emissions were vital, but the vessels still needed to be capable of travelling at their required service speed. What's more, Nor Lines carries a great variety of cargo, from offshore construction equipment to frozen goods, meaning the new fleet had to maximise efficiency in handling any cargo type.
Solution
Nor Lines commissioned two vessels to be built to our NVC 405 LNG design. Among many optimised features the vessels are powered by a single Bergen B35:40 V12 lean burn gas engine, reducing CO² by around 22 per cent and NOx by over 90 per cent in comparison to liquid fuel engines. The engine can operate at variable load and speed and mechanically drive the propeller, meaning both can be run at their design conditions for maximum efficiency, while the design of the gas supply system means the engine can be installed in an ordinary engine room.