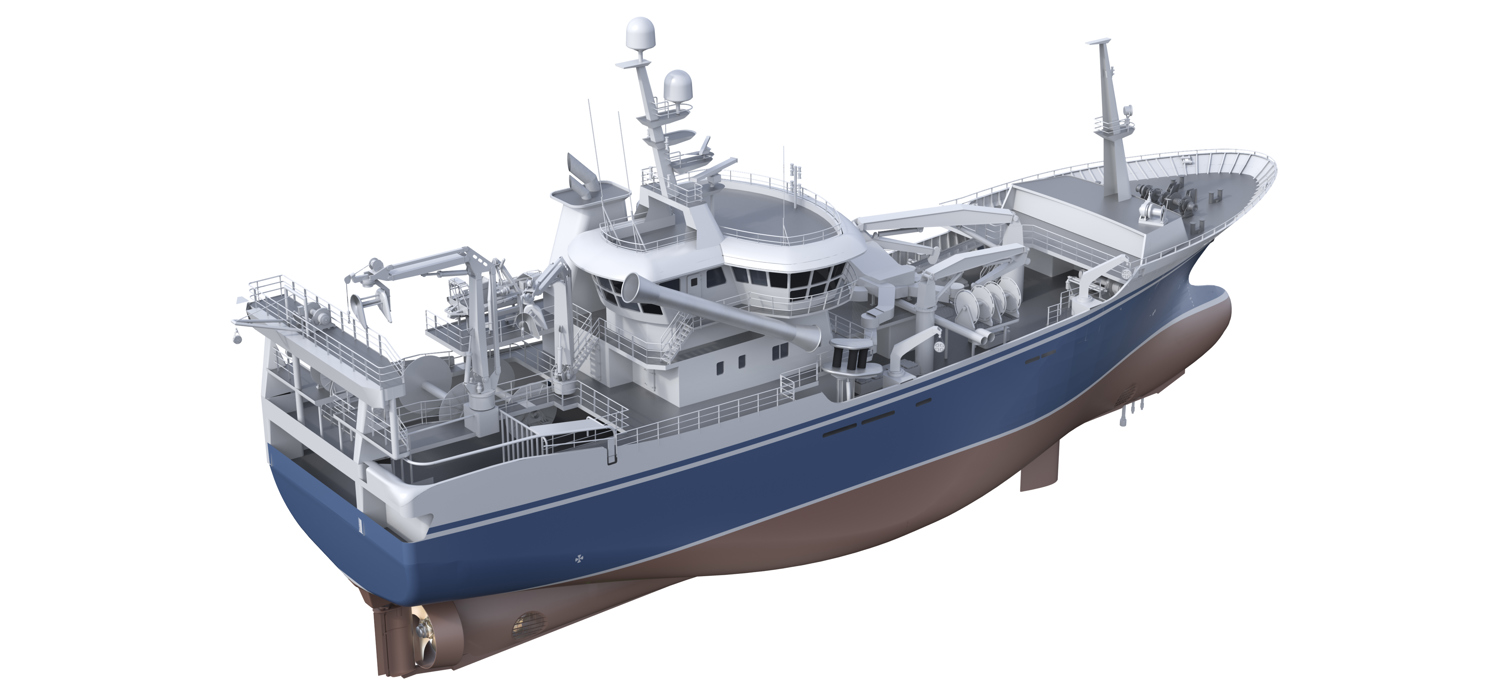 Fishing vessel ship designs
Our NVC design range of fishing vessels is developed to provide optimal fuel consumption, fish handling and working conditions at sea. Safe working conditions are guaranteed on an optimal freeboard, and modern fish handling solutions are included in the designs.
CASE STUDY
Maximising efficiency with hybrid propulsion
Prestfjord AS's new 65m factory trawler is built to our NVC 368 design, offering maximum efficiency while minimising emissions thanks to hybrid propulsion.
BACKGROUND
Built by Freire Shipyard, Prestfjord AS's new vessel, Prestfjord, replaces the company's existing fishing trawler of the same name. At the heart of the new vessel is the Bergen B33:45L9P main engine, producing 5,400 kW at 750 rpm, giving a top-speed of around 14 knots.
The full on-board factory includes two 25m3 receiving bins at the aft end, and a 1,235m3 freezing hold. The winches are AC electric units, and the vessel can carry out both pelagic and bottom trawling with single or double trawls. Prestfjord was built to DNV 1A1 ice EO Stern Trawler notation with ice class 1A* on the hull, and meets the Norwegian Havfiske II requirements.
"The new Prestfjord is a 65m trawler, built to our NVC 368 design, and we've also supplied all the vessel's major systems and equipment."
CHALLENGE
Prestfjord AS needed an energy efficient stern trawler to replace its existing vessel. The vessel had to be fully equipped with an on-board factory that would have low fuel consumption in all modes, a seakindly hullform and safe working conditions, plus accommodation for the crew of up to 33 people.
SOLUTION
Built to our NVC 368 design, the new vessel hits all of Prestfjord AS's requirements. The design has a low resistance hullform with a bulbous bow and numerous innovative features, such as a curved bridge with side-wings to maximise sight angles. The hybrid propulsion system means the vessel can operate with maximum efficiency and minimise emissions in transit and when towing trawls at full power, as well supplying electrical power to the winches and fish processing plant.