K-Fleet Voyage, Voyage and environmental data reporting system
Accurate voyage reporting. Make quality shipping your brand, with focus on low emissions and high accuracy reporting.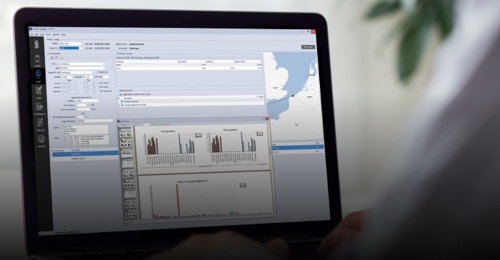 K-Fleet Voyage / MRV module enables easy reporting of important data to shore office. This covers departure information, noon reports, reason for call, condition, stoppages, arrival information and more.
Easy to use
Voyage is available both for shipboard and for main office use. Daily transfer of data enables the office to collect necessary information about the position and status for each vessel.
Great flexibility
Voyage is part of the K-Fleet software system. The modular approach ensures that system solutions can be tailored to the requirements of each particular vessel type. A user friendly interface makes it quick and easy to use for the operator.
Sales, installation, commissioning and service support is provided by KONGSBERG's worldwide network.
Key features
Vessel routes and positions presented on a map
Planning of voyages with registration of ports and berths. Ports can be chosen from a searchable UN locations list
Registration of Voyage data and an approved solution for EU-MRV
Noon reporting with position, sailed distance, speed, FO/DO consumption etc
Can collect data from K-Chief 600, using Ship@Web
Trend reports
User-defined reports and graphical charts
Synchronization of data between the vessel and the office
Digital forms and document attachments
Filtering and reporting with the option of exporting to different formats (pdf, xls, xml, ods, tif etc.). Customizable email templates for reporting
Benefits
Automatic and accurate data collection
Intuitive user interface
Reporting with graphics and charts
Daily data transfer to main office
Integrated with K-Fleet logbook
Environmental accounting
Calculation of vessel fuel performance, and reporting e.g. Energy Efficiency Operational Index (EEOI)
Calculation of emissions to air (NOX, SOX ,CO2 etc.) based on IMO guidelines
Calculations of consumed chemicals, etc.
Environmental accounting for releases to land and to sea from vessels and fleet
Customizable for types of releases based on categories set by the main office and relevant authorities
Services and support
24/7 Technical support

Our 24/7 technical support team is there to help at any time, day or night, wherever your vessel is.

Conversions, retrofit and refit

We understand the importance of having the right parts, available in the right place, at the right time.

Training

Ensure that your crew is properly and thoroughly trained. This will reduce operational risk, downtime and maximise return on asset investment.