K-Fleet Provision, Vessel provision inventory system
Have the right supplies for your crew and your wallet. A satisfied and healthy crew performs better. K-Fleet Provision makes sure you have control of all your consumable provisions on-board.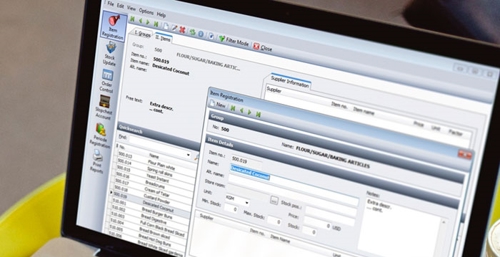 A system for vessel provision ordering, inventory and stock control.
Easy to use
The Provision system enables the vessel to have a complete overview and control of consumable provisions onboard.
A two-way flow of data with Spares (onboard) and Purchase (office) support a transparent procurement and supply process.
The Slop chest module enables printing of Slop chest price lists, as well as registration of sales to crew. All requisitions and periodical reports can easily be printed.
Great flexibility
Provision is part of the K-Fleet software system. The modular approach ensures that system solutions can be tailored to the requirements of each particular vessel type. A user friendly interface make it quick and easy to use for the operator.
Sales, installation, commissioning and service support is provided by KONGSBERG's worldwide network.
Key features
Manage database of food products
Easy updating of quantities and prices of products
Creating orders supported by the office or local suppliers
Support the canteen. Individual settlement of each of the members of the crew
Periodic food cost reports
Printing Reports
A complete handling system for onboard provisions, including easy ordering and stock control
Logs multiple supplier item information for each provision item, with unit prices in local currencies
Allows attaching documents to inquiries and orders
Control of provision stock (actual, max/min) with critical stock reminder
History of previous orders with search and copy facilities
Full history for previously ordered items
Strong search and sort capabilities
Filtering of order list with individual definition of filters
Stock transaction history for each provision item
Exchange of order information between the vessel and the office, with the ability of adding comments and attaching documents
Comparing order with the original requisition
Slop chest module with price lists, registration of sales to crew and periodical reports
Calculating provision accounts with control against budget
Filtering and reporting with the option of exporting to different formats (pdf, rtf, xls, xml, ods, tif etc.)
Benefits
Database of food products
Slop chest module
Easy ordering and stock control
Cost reporting
Integrated with K-Fleet Purchase
Services and support
24/7 Technical support

Our 24/7 technical support team is there to help at any time, day or night, wherever your vessel is.

Conversions, retrofit and refit

We understand the importance of having the right parts, available in the right place, at the right time.

Training

Ensure that your crew is properly and thoroughly trained. This will reduce operational risk, downtime and maximise return on asset investment.