K-Fleet Budget, Cost control, budget and reports
Cost control made easy. Budgeting and expense control doesn't have to be complex.
K-Fleet Budget is a cost control system, with budget and voucher management, and summary reporting.
Easy to use
The Budget application is a cost control system designed to fully cover the process ranging from budget estimation to continuous supervision of expenses occurring. It enables a two-way flow of data between fleet managers and the vessels.
The close link with all transactions taking place in Spares onboard and Purchase in the main office provides both vessel and purchaser with a continuous follow up and cost control of actual expenses versus budget.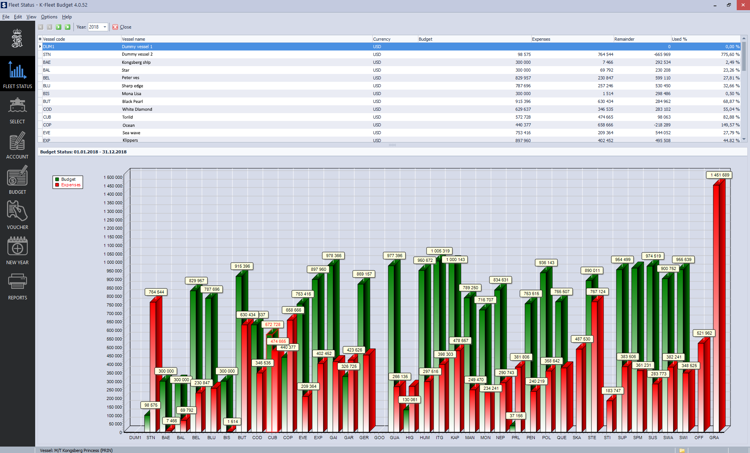 Great flexibility
The modular approach ensures that system solutions can be tailored to the requirements of each particular vessel type. A user friendly interface make it quick and easy to use for the operator.
Sales, installation, commissioning and service support is provided by KONGSBERG's worldwide network.
Key features
Structuring the major accounts and sub-accounts (displayed as a tree)
Create an annual budget in terms of the proposals from the ship, together with comments and calculation
Automatic / manual creation of vouchers for every order
Expandable up to multiple invoices to one voucher
Easy transfer of the entire budget for the new calendar year in terms of the percentage increases
Printing the finished report across all issues related to the current budget
Calculation of proposals for next year's budget based on previous budgets and status reports
Modifications of next year's budget is possible onboard and in the main office prior to final agreement and approval, with automatic update between locations
Complete control and overview of the budget and costs for the vessels with seamless integration with Spares (onboard) and Purchase (office)
Budget status reports according to specified dates or years
Budget status reports, with overview budget, expenses and remainder, for all levels in the account plan
Budget history for all years recorded and all accounts, with numerical and graphical presentation
Sub-calculations, with comments, for each account
Supplier status specified by date or per year
Strong search capabilities
Filtering and reporting with the option of exporting to different formats (pdf, rtf, xls, xml, ods, tif etc.)
Comparing expenses versus budget across fleets (office version)
Standard and tailored integration with third party ERP and finance systems (office version)
Benefits
Two-way budget tool between vessel and office
Sub-calculations, with comments for each account
Budget status reports
Filtering and multi-format reporting tool
Combine with K-Fleet Purchase for full expense control
Services and support
24/7 Technical support

Our 24/7 technical support team is there to help at any time, day or night, wherever your vessel is.

Conversions, retrofit and refit

We understand the importance of having the right parts, available in the right place, at the right time.

Training

Ensure that your crew is properly and thoroughly trained. This will reduce operational risk, downtime and maximise return on asset investment.