Marine Power Drives, K-Power Drives
K-Power Drives are designed to provide customers in the marine segment with fully integrated compact, reliable and cost effective drives solutions. Our cabinet built water cooled systems are designed to meet the specific requirements and harsh environment of merchant marine and offshore vessels.
We design and build marine low voltage drives, providing complete electrical engineering, commissioning and service worldwide. Our switchboards are widely adaptable for all types of merchant marine and offshore related vessels, qualified to apply for approval by all major classification societies worldwide.
The K-Power Drive is modularized and easy to configure to any customer requirement. We have prepared a range of pre-configured single drives for AC-hybrid, main propulsion and thruster applications. Based on the same standard modules, the DC CLEAN multidrive offers integrated solutions for hybrid and drilling applications. The K-Power Drive has all essential functions built in as standard to reduce the time for engineering, installation and commissioning.
The control principles have traditionally limited the actual possibilities for an intelligent and dynamic energy control system. By taking control of the whole power production process and introducing new components, Kongsberg Maritime has utilized all information available in the system and used it for creating a fully integrated dynamic energy management system.
The K-Power Drive is an essential part of this new generation energy management and is fully integrated into the KONGSBERG automation environment. Based on standardized control sections, the The K-Power Drive offers full integration of K-Thrust, PMS and EMS systems into the drive lineup. The result is a compact, cost-effective and reliable system with all essential functions co-tested in the factory.
Our drives use internationally recognized name brands of components, which ensures stable quality and simple maintenance during the lifetime of the vessel. Our switchboards are carefully assembled, inspected and tested to ensure customer satisfaction.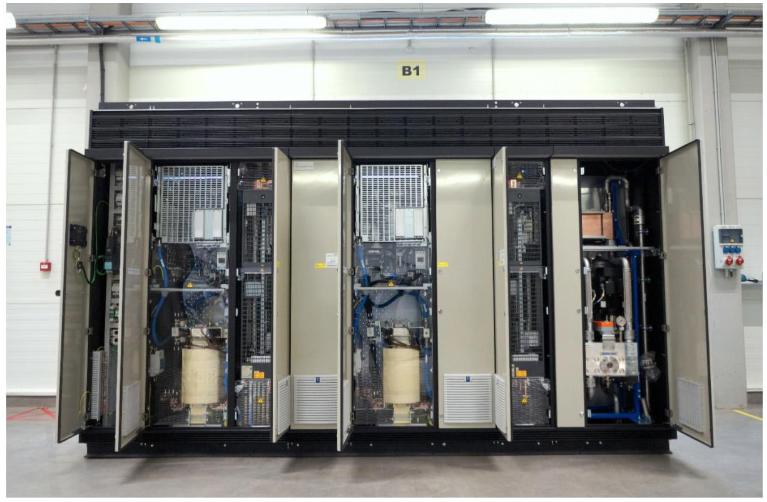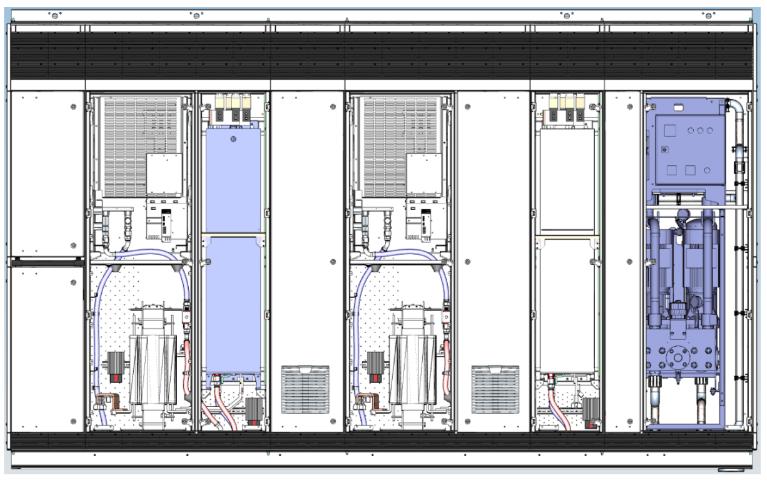 Applications
Thruster Drive
Grid Converter
Drilling Drive
DC CLEAN hybrid multidrive
General applications (pump, fan, winch)
Shaft Generator PTI/PTO
Optional System Components (cooling unit, breaking unit, control section, main breaker, motor control center)
Key Features
Same frame structure as the K-Power Switchboard
Rating 440 V, 690 V infeed
Active or diode front end
Single drive, multidrive on common DC bus, hybrid with battery in various applications
Cabinet size depending on rating: 400, 600, 800mm width, 800mm depth, 2200mm height
IP44 (water cooled) * Rated up to 5700 kW, 690 V
Extensive diagnosis and remote support
UPS to maintain control voltage for VFD, thruster controller and auxiliary control can be added
Compliant with IMO, SOLAS, Classification Societies, applicable (IEC) publications as well as flag states rules & regulations
Benefits
Fully integrated with into KONGSBERG automation environment (K-Thrust, K-Chief, PMS and EMS)
Water cooling for low heat dissipation into air and low noise level
Clean design with local functionality in common touch panel
Modular design making project adoption quick and easy
Based on the same structural elements as the AC switchboard
Thruster auxiliary MCC or MCB can be added in drive lineup to improve the redundancy group design
Assembly based on type approved, premium components
Low harmonic impact on the network
Services and support
24/7 Technical support

Our 24/7 technical support team is there to help at any time, day or night, wherever your vessel is.

Contact us:

Spares

We understand the importance of having the right parts, available in the right place, at the right time.

Training

Ensure that your crew is properly and thoroughly trained. This will reduce operational risk, downtime and maximise return on asset investment.