Towing winches (Tugs)
Our towing winches offer large line capacity with focus on pull and brake load and accurate spooling.
In full control of your towing operation
An Escort / Harbour tug will typically have a main winch on the foredeck and towing winch on the aft deck to enable it to carry out its main tasks efficiently: braking or steering the escorted vessel out of danger in case of technical failure, acting as an additional rudder for the assisted vessel, or general harbour assist and deep sea towing. Our towing winches cover pulls from 1 to 150 tonnes, with waterfall winches extending the pull range to 300 tonnes. All come with wheelhouse control and monitoring stations that display all the key data.
For other towing operations, we provide a wide range of winches of different configurations and sizes. They typically have a large line capacity and the focus is on pull and brake load and accurate spooling. Single drum, double drum and waterfall types are supplied to suit the requirements with a choice of hydraulic or electric drive and either on/off or adjustable force brakes. High torque motors plug into the gear case and pipes and valves have been replaced by valve blocks, reducing the number of components and risk of oil leakage. Power for hydraulic winches can be supplied either from engine PTOs or separate power packs. Higher rope speeds are now available in both directions.
Towing winches range from small single drum units up to 50 tonnes pull to the specialised anchor handling and towing winches with up to 600 tonnes pull.'
Key features
Robust construction
Flexible design
Towing winch systems for tugs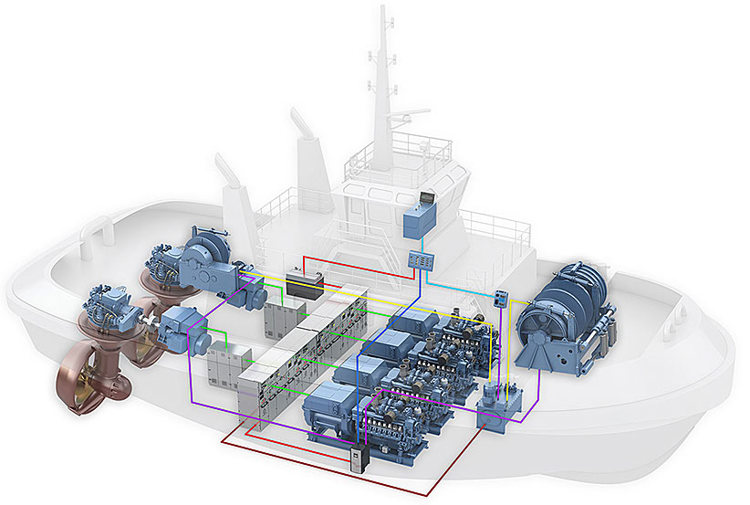 We have a portfolio of towing and escort winches developed specifically for tug operations.
The quality, robust construction and flexibility of these winches have made them firm favourites with major tug operators around the world. Furthermore, the equipment from our towing winch portfolio is well suitable for icebreakers operating in arctic conditions as well as to any vessel suitable for emergency towing operation, like coastal and multi-purpose vessels.
Services and support
24/7 Technical support

Our 24/7 technical support team is there to help at any time, day or night, wherever your vessel is.

Conversions, retrofit and refit

We understand the importance of having the right parts, available in the right place, at the right time.

Training

Ensure that your crew is properly and thoroughly trained. This will reduce operational risk, downtime and maximise return on asset investment.