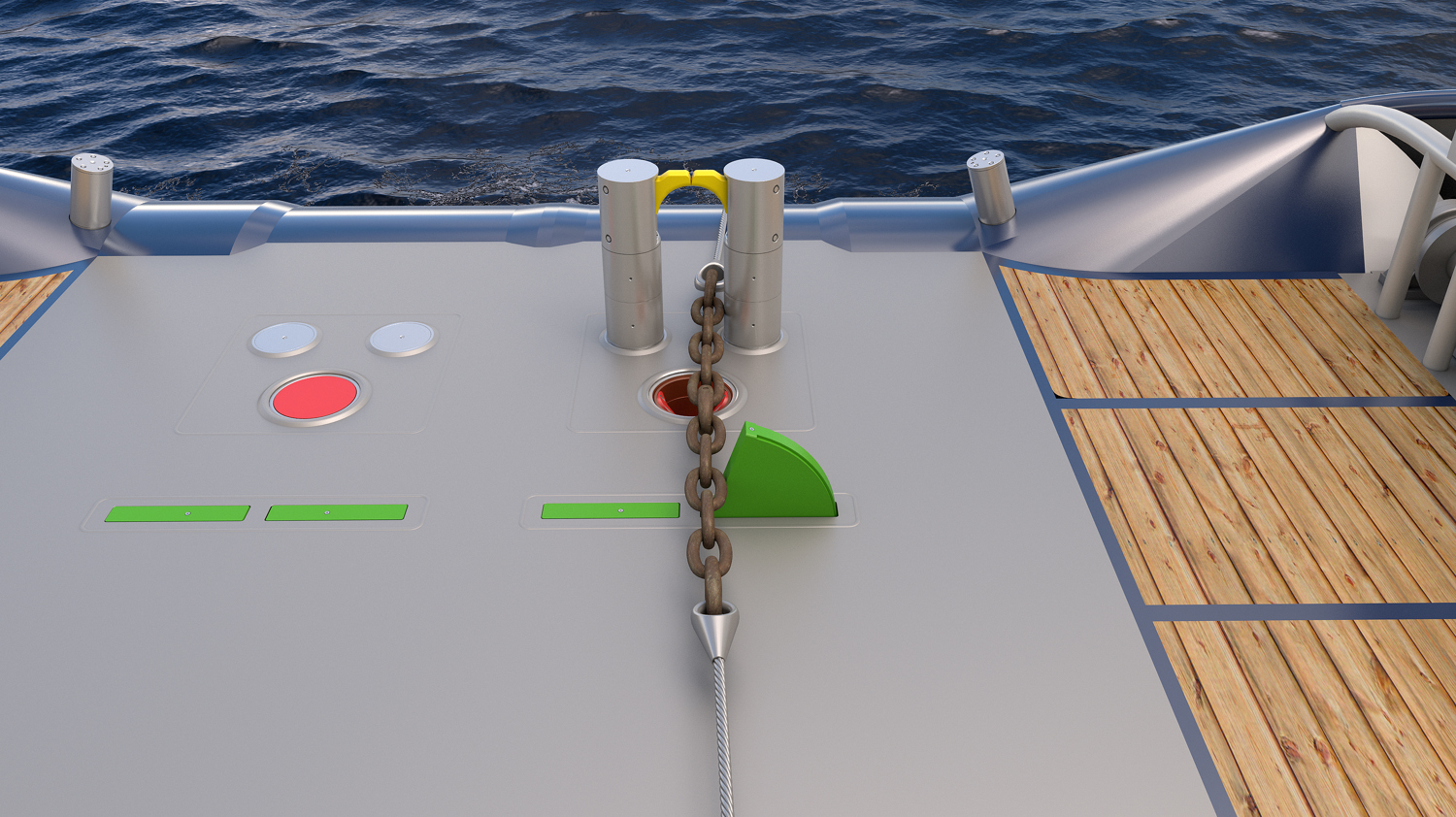 Centering device for anchor handling vessel
The centering device consist of a set of two arms which swings up and in towards each other. They are often combined in two sets, each set mounted on the same centreline as the shark jaw, between one and two metres in front of it.
THE CLAMPING FUNCTION
Automatic mooring with tension reg.
Chain sizes from 76 to 166 mm diameter will be held and controlled against accidental rotation when the tension is slackened off. No insert is required for holding chain
Centering device gripping chaintail while controlling torsional forces in wire
Centering device releasing torsional forces in wire while preventing it from rolling across deck
Torsional forces released,work area safe
Purpose 1
To assist in moving tugger wires to come within the grasping range of the shark jaw, eliminating the need for personnel to enter exposed deck. It can also move large chain and wire under low tension.
Purpose 2
To hold and control chain and wire from dangerous spinning when slackened off after mooring line is disconnected from the shark jaw.
Remote control
Operation of towing pins, centring device and shark jaw is remote controlled from the bridge reducing risk to deck crew by avoiding work on unsecured heavily loaded chains or wires. A portable remote control is available for use during service and maintenance work.
Services and support
24/7 Technical support

Our 24/7 technical support team is there to help at any time, day or night, wherever your vessel is.

Conversions, retrofit and refit

We understand the importance of having the right parts, available in the right place, at the right time.

Training

Ensure that your crew is properly and thoroughly trained. This will reduce operational risk, downtime and maximise return on asset investment.