GOAL 17: PARTNERSHIPS
Sharing knowledge and expertise in pursuit of sustainability
Revitalize the global partnership for sustainable development
Partnerships with deep collaboration are integral to our sustainability mission. For decades we have worked closely with technology and research institutes such as FFI, NTNU and SINTEF in Norway, as well as countless academic, scientific and commercial organisations all over the world.
By openly sharing knowledge and experience we can maximise progress on the deeply technical solutions that help our customers to operate within the SDGs and ultimately, reduce the global environmental impact of marine and offshore operations.
Autonomy
We work closely with the Norwegian maritime Authorities (NMA) and the Norwegian Coastal Administration (NCA) to collaborate on autonomous projects. Together we are creating a platform for future national legislation for autonomous ships that is also impacting the way IMO addresses the issue for global shipping.
Additionally, with our partner Wilhelmsen, we established Massterly, the world's first company set up to operate autonomous vessels. At the technical level, we work with countless partners to continue bringing innovative solutions to market, including the HullSkater robot, which is the result of our collaboration with marine paint manufacturer Jotun.
HullSkater is the first solution developed for proactive bio-fouling control on ships and offers the potential to reduce fuel costs by around US$3.6 million and CO2 emissions by 12.5% annually, on a typical vessel.
DIGITALISATION
It's a reflection of the importance of data to all marine operations no matter how diverse, that HullSkater uses KONGSBERG's Kognifai digital ecosystem as the basis of operations. The decision to pair the two innovations was easy, because Kognifai is the only completely open marine digital platform.
This was always the plan. We built Kognifai to enable deeper integration of data from KONGSBERG systems including vessel navigation and automation, complex digital twin simulations and countless efficiency enhancing solutions. At the same time, we opened the doors of our state-of-the-art infrastructure to enable other developers to create new and efficient operational solutions.
Today, Kognifai hosts xx applications from third party developers. The enabler is an extensive maritime partner program which invites OEMs, independent software developers and technology and service providers to collaborate in creating new business models and to accelerate digitalisation in the maritime domain.
"Technological development is crucial for creating a more sustainable society. Technology companies like KONGSBERG have a key role to play in solving the global and environmental climate challenges that the world faces."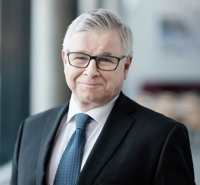 The climate is undergoing dramatic changes and provides humanity with an urgent challenge. All parts of the global community must participate. Climate change is a problem that must be dealt with, but the transition to a low-carbon economy also creates great opportunities for business.
For KONGSBERG, sustainable thinking is not an alternative way of thinking, but a prerequisite for sound operation over the coming decades. Our customers expect it, authorities and owners expect it, and employees – not least the coming generation in the labour market – expect it.
Sustainable operation will be necessary in order to obtain a "license to operate". The UN SDGs underpin the fabric of what we, as a society must achieve to secure our future. This is the only story. A story that will have a happy ending, but only if we all continue to innovate, collaborate and build respect for the planet we call home.