GOAL 8: DECENT WORK AND ECONOMIC GROWTH
Enabling safe and sustainable work at sea
Sustainable economic growth will require societies to create the conditions that allow people to have quality jobs
KONGSBERG solutions and technology enable value creation from the ocean floor right up into space.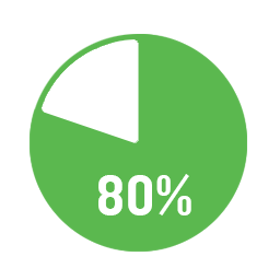 of our turnover is linked to the ocean and it's here where we are making a difference for not only the professionals who work at sea but for the millions of people who depend on it for their livelihoods.
In KONGSBERG, our sustainability initiative is broad and entails responsible business management, sustainable innovation, health, safety and environment for employees and corporate social responsibility in the supply chain. Enabling safety and efficiency on board ships, however, is our main motivator. Life at sea is tough and can sometimes be dangerous. It's our job to help employers provide decent working conditions and safety for seafarers, while also enabling economic growth.
Innovation is at the core of this work.
MARINE AND OFFSHORE OPERATIONS
AUTONOMY:
Even conservative estimates cite human error as being responsible for over 75% of accidents at sea. Autonomous systems, while providing a platform for optimising Capex and Opex, will dramatically reduce avoidable incidents thanks to the constant monitoring afforded by their sensor arrays.
DIGITALISATION:
Navigational safety and efficiency can be supplemented through digital communications with other vessels, agreeing routes beforehand to avoid any chance of collision or planning just in time arrival at port to reduce fuel and administration costs. Digital systems also reduce workload for crews by automating previously manual jobs, freeing up time to focus on safe operations.
OPERATIONAL TECHNOLOGY:
Providing complete situational awareness in a format that can be easily understood and acted upon requires deep integration of countless sub-systems, from radar and sonar to vessel control systems and power management. Our unique integrated vessel concepts are the pinnacle of integration technology and methodology, ensuring that all systems work in perfect harmony for the safest and most efficient operations possible. Fish stock sustainability: Commercial fisheries produce 90 million tonnes of food each year and have the potential to provide sustainable livelihoods for nearly 40 million people around the world. At KONGSBERG, we deliver the solutions to create sustainable fisheries. Our integrated fishery research vessel is energy optimised, efficient and environmentally friendly. We integrate the most advanced KONGSBERG designed hydroacoustic instrumentation and equipment for efficient collection of high-quality data from the entire marine ecosystem, enabling authorities to effectively manage their waters.
Safe working: Commercial fishing is one of the most dangerous jobs in the world, but KONGSBERG is helping to reduce the risk and ultimately make working on a deep-sea trawler much safer. We combine operational knowhow through data collection and analysis, and knowledge on equipment to optimise the design of our fishing vessels for both efficiency and safe working. Our bridge control systems are based on large displays providing easy to digest data and our unique fishing vessel aft deck operation enables synergy between sensors, the trawl winch and electrical winch. This reduces the need for human interaction, which in rough seas can be extremely hazardous.