GOAL 13: CLIMATE ACTION
Developing technology to beat humanity's biggest challenge
Climate Change is a global challenge that affects everyone, everywhere
Maritime transport emits around 940 million tonnes of CO2 annually and is responsible for about 2.5% of global greenhouse gas (GHG) emissions. There is no doubt that these must be eliminated or at the very least drastically reduced if we are to achieve our climate goals.
The largest single factor of the maritime world's contribution to climate change is fuel consumption. Burning heavy oil on ships produces massive amounts of CO2 as well as releasing significant quantities of harmful NOX and SOX into the atmosphere. By giving ship owners and operators the ability to become more responsible in their energy consumption and resulting GHG emissions, KONGSBERG solutions are already making a difference.
Why is Brand Testing Important?
Through tests, marketers understand how an audience feels toward their product and brand. It can also help businesses learn more about their customers and how to tailor their products to meet specific consumer needs.
It is the foundation of any new business. Brand testing helps businesses learn what to do when launching a new product, service, or brand.

Launching a new brand or product is risky because it requires significant time and money. The costs related to rebranding and establishing a brand leave no room for failure. DIGITALISATION
Fuel efficiency starts with measurement as we must know the status of a system to improve on it. Digital systems are becoming integral to this process. The data captured on board by a multitude of sensors can be managed and acted upon more effectively when it can be transferred, securely stored, analysed and presented digitally. This is why we built the cutting-edge Kognifai digital ecosystem. It acts as a single point of access and control for any kind of data. It allows faster, deeper insight and through this, more effective decision support that contributes to reduced fuel consumption.
DOF Subsea
In May 2019, KONGSBERG formed a partnership with DOF, SINTEF Ocean and NORCE, with the aim to reduce fuel consumption and greenhouse gas emissions for complex offshore operations, while streamlining fleet-wide maintenance. Enabled through sponsorship and support from Innovation Norway, the new partnership between four of Norway's most established and advanced maritime organisations will develop a sophisticated new Decision Support System (DSS) to improve the efficiency of offshore vessel operations.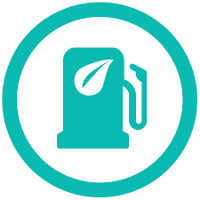 OPERATIONAL TECHNOLOGY
Contemporary standards driven by environmental regulations have changed the face of shipping, but considering that an average vessel's lifespan is 25-30 years, it will take decades before there are more 'modern' efficient ships than there are older, less environmentally friendly ships at sea. KONGSBERG operational technology already helps 30,000 ships to reduce their GHG emissions even without added digitalisation or deep integration. Going forward, we have made it easy to retrofit our systems, so that ships still living out their useful life can enjoy the economic benefits of using less fuel while reducing the impact they have on our planet.
SHIP DESIGN
Technology enables the optimisation of vessel operations for reduced fuel consumption, but a ship must be designed with efficiency at its core to truly realise the benefits. KONGSBERG ship designs help our customers to meet strict environmental targets through efficient hydrodynamics and extreme levels of seamless integration. From the concept and design phase, through equipment selection, procurement, systems engineering and integration, and production engineering, responsible energy consumption is inherent in any KONGSBERG designed ship.
PROPULSION
Most ships today use conventional single screw or twin-screw propulsion systems but some vessels, such as RoRo, RoPax ferries, Coast Guard, Ice Breakers, Research, Offshore Support, Yachts and Naval have a wider range of duties making them suitable for applying more innovative and sustainable propulsion systems. KONGSBERG has unique World Class capabilities to design and deliver hybrid propulsion systems for challenging and often contradicting requirements, which have already enabled the development of efficient new solutions including; Centre propeller combined with wing-azimuthing thrusters; Contra Rotating Propulsion with a centre shaft-line propeller in front of an azimuthing thruster and Triple screw with centre propeller and wing Promas.
POWER
KONGSBERG is committed to developing batteries charged by clean energy for safe and sustainable vessel power and we believe this technology will dramatically reduce GHGs from ships in the decades to come. We are also working on ways to adapt our existing diesel engines to offer more efficient and environmentally friendly operation by using alternative fuels such as ammonia, diverse bio-fuels and LNG. The most immediate impact will come through the transition from diesel to LNG, which is the cleanest of all fossil fuels. A ship running an LNG adapted Bergen engine can reduce CO2 emissions by 30%, whilst effective greenhouse gas emissions are reduced by 20%, NOx emissions are reduced by about 92%, and Sulphur Oxide emissions and particulates are reduced by 99%.
As shipping is experiencing an increasing pressure to decarbonize its operations, the number of potential future fuels is increasing. So, which machinery and fuel storage system will meet future demands?
ZERO-EMISSION
Kongsberg Maritime and Massterly (a Kongsberg Wilhelmsen joint venture) have signed contracts with the leading Norwegian grocery distributor ASKO to equip two new vessels with autonomous technology, and to manage their operations at sea. With Norwegian companies delivering around 60% of the investment, this is a major milestone for the growth of sustainable maritime operations in Norway. The fully electric ships will replace 2 million kilometres of truck transport, saving 5,000 tonnes of CO2 every year.
SOLUTIONS TOWARDS ZERO EMISSION SHIPPING
As shipping is experiencing an increasing pressure to decarbonize its operations, the number of potential future fuels is increasing. So, which machinery and fuel storage system will meet future demands?
This depends much on future global bunkering infrastructure, fuel availability, fuel pricing and the vessel's operational profile. No shipowner would risk being left without fuel or end up with stranded assets because the chosen machinery is dependent on a fuel that is no longer available. To stay compliant and remain competitive, a ship must be able to adapt to changes in technology as the energy transition evolves over the operational lifespan.
It's difficult to predict what the future will bring, but emissions will go down(1), and IMO has set a goal to reduce CO2 emissions from international shipping by at least 40% already by 2030 compared to 2008 level. To get the full picture, we listen to the experts, and according to DNV GL(1), LNG will gain a significant share until regulations tighten in 2030 and further in 2040. LNG is the cleanest fossil fuel, it is relatively economic, and the global LNG infrastructure is rapidly expanding, with other regions already well covered. Since 2006 KONGSBERG has been pioneering pure gas operated vessels within a variety of segments such as ferries, ROPAX, cargo, offshore, cruise and tugs. In 2015, Bergen gas engines were delivered to Nor Lines' MS Kvitbjørn, who sailed from China to Norway – the longest voyage ever undertaken by a vessel running solely on LNG.
These high-efficiency lean-burn gas engines offer significant emission reductions over comparable diesel engines. Due to efficiency and fuel composition, CO2 emissions are reduced by 30%, whilst effective greenhouse gas emissions are reduced by 20%, NOx emissions are reduced by about 92%, and Sulphur Oxide emissions and particulates are reduced by 99%.
Depending on the policies, DNV GL's assumption is that "bio-MGO2, eMGO3, bio-LNG4 and e-LNG5 will be used as drop-in fuels for existing ships, and bio-methanol, blue ammonia6 and e-ammonia7 will be used for newbuilds and some retrofits" in the transition period towards a zero emissions future. Any synthetic fuel must be produced on the basis of electricity from renewable, nuclear or carbon captured energy sources to be "green". It is our view that, until sufficient amounts of renewable energy is available, and green fuels are readily available along the coastlines, natural gas operated engines with advanced energy optimisation solutions, including batteries, represent the best option to reduce greenhouse gas emissions from ships. To cater for future changes in fuel supply, it must be possible to convert the gas engines to green fuels at a later stage.
Future proof power solutions
KONGSBERG is in the process of future proofing the Bergen range medium-speed engines, by further increasing the fuel flexibility. This is to make sure that they can run on and be adapted to various fuels throughout the transition towards carbon neutrality. The highly flexible modular engine architecture allows for easy adaptions of minor and major reconfigurations of the engine's combustion system. KONGSBERG is committed to give its customers across the maritime and power generation segments the assurance they need to proceed with the investments in a time of transition.
The maritime fuel of the future
Direct electrification through batteries is likely to become a good choice for short distances, such as for ferries and harbour tugs. For long haul transport however, ammonia is a good bet as the fuel of the future. It is a favourable fuel consisting of Nitrogen and Hydrogen only. Also, the existing large global production capacity/infrastructure will be scalable to the required volumes, with costs depending on future pricing of (green) hydrogen. Ammonia also has a relatively high energy density, a high CO2 emission reduction potential, reasonable expected investment costs, and can be implemented with minimal loss of cargo space. The toxicity of ammonia requires special precaution, but it is a commonly used chemical. There is broad experience in handling ammonia in the maritime sector, as a cargo in tankers, but also as a working medium in cooling/freezing machinery.
KONGSBERG is exploring several pathways towards ammonia fuelled engines, and is collaborating with other industry partners to find the best overall system solution. Both Otto and Diesel-principle engines hold promise as ammonia burning engines. KONGSBERG is working on systems for both types, ensuring that the engines are more fuel flexible going forward.
The diesel process is particularly robust towards fuel quality variation. Therefore, KONGSBERG is looking to develop a highly flexible dual-fuel diesel engine that can be rebuilt to burn ammonia, methanol, hydrogen and other synthetic fuels, in addition to being a host for hydrocarbons (gas, LPG etc). The project is a joint effort with other industry partners including relevant technical universities.
The programme opens for the possibility to develop retrofit solutions (conversion kits) for engines in operation. Successful conversion of the existing fleet will accelerate the overall transition to zero (carbon) emission fuels.
Continuing the development of a Hydrogen based combustion engine
For the power generation market, fuel storage space is less critical, and hydrogen is likely to be a preferred solution as a means of storing excess electrical energy in periods of over-production (sun shining and wind blowing). The stored hydrogen may be converted to electricity in times of shortage (darkness/cloudiness and no wind).
KONGSBERG has already operated its Bergen gas engines on fuel gases with hydrogen content of up to 60% in special applications and is currently engaging in European projects studying the effects of blending hydrogen in the fuel gas of standard natural gas operated engines. Pilot tests will be run in existing power plants. The re-configurability of the latest Bergen B36:45 gas engine series, allows for an evolution of the engines as requirements change.
Starting out from the current natural gas engine, a certain amount of hydrogen admixture can be allowed without any changes to the engine. To increase the hydrogen admixture while maintaining the performance levels, the engine software must be tuned. KONGSBERG is aiming to have a commercial retrofit solution that will accept a Hydrogen content of up to 60%, and that can be developed to 100% for new engines to come. This engine solution will be equally suitable for maritime applications.
DNV GL Maritime Forecast to 2050
Bio-MGO = Marine Gas Oil derived from biomass
eMGO = Marine Gas Oil based on green hydrogen and non-fossil carbon
Bio-LNG = LNG derived from biomass
E-LNG = LNG based on green hydrogen and non-fossil carbon
Blue ammonia = Ammonia based on natural gas, ideally with carbon capture