Well Seated For The Future
-- FROM THE FULL PICTURE MAGAZINE -- "K-Master consolidates the 5 – 6 meter bridge console into literally one operator chair."
Suppliers to the offshore industry are continuously looking to raise the safety bar in an already safety conscious industry. Kongsberg is no exception. Its new workstation for offshore service vessels (OSV) sets a new standard for integration of navigation, control and manoeuvring functions for the aft bridge. The unique access to all major control systems within easy reach from the seated operator ensures complete awareness in all situations. The K-Master workstation is considered to be the most advanced aft bridge system solution in the market, and Kongsberg once again plays a leading safety role, granting operational efficiency and reliability in demanding OSV environments.
Background
Kongsberg has long been involved with production of bridge systems according to the latest standards for nautical safety. The experience gained through the years has shown us the importance of functional integration and arrangement of control and monitoring systems for vessel machinery, navigation and manoeuvring.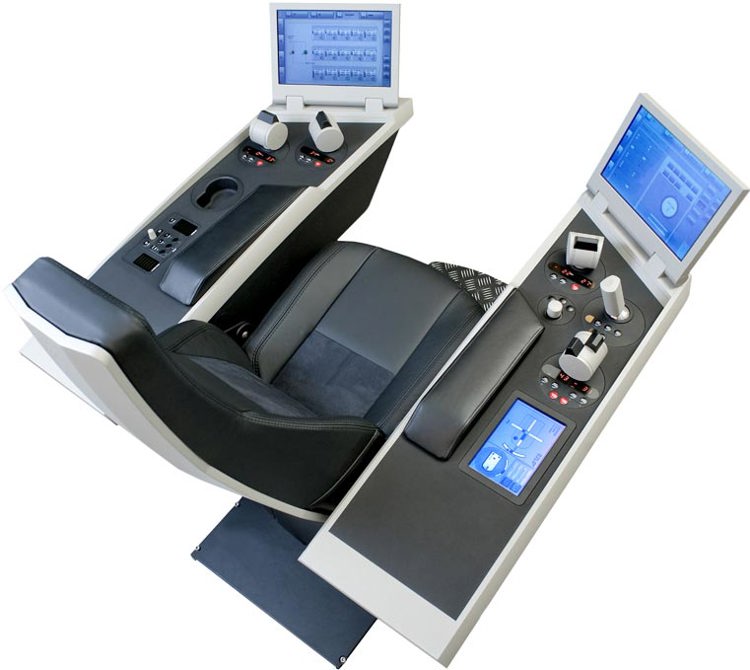 A particular safety aspect is the user interface and the intuitive and harmonised style, look and feel, across subsystems and functions. The K-Master workstation takes this to a new level by offering a common user interface to all functions available from the chair. This is particularly important for safe operation in stressful situations.
The K-Master workstation is designed to comply with the latest standards and regulations for OSV bridges and supports the important work undertaken by DNV and the industry to improve safety of operation.
The bridge system
OSVs have the special arrangement of a fore bridge and a fully operational aft bridge. While the fore bridge is fitted with all required functions for the ship's navigation, the aft bridge is used for ship handling and support when close to structures or performing special tasks like anchor handling, diving operation or construction work at sea.
Kongsberg provides a complete solution for both bridge areas. The K-Bridge product already provides a total solution for the forward bridge, compliant with rules and regulations for nautical safety. By introducing the new K-Master generation workstations for the aft bridge, Kongsberg now offers a complete and holistic solution for the whole bridge.
Workstation development
"Aft bridge operators are drowning in the amount of activity and flow of navigational and ship systems information. K-Master simplifies the processes while granting secure, optimal bridge awareness, and professional OSV operation," says Thor Hukkelås, chief engineer and project head for the K-Master workstation.
Kongsberg's new K-Master workstation is a complete and independent operating station designed to meet strict aft bridge ergonomic considerations regarding the arrangement of working places, the instrumentation and the operability of the equipment itself. Within easy reach of the operator, the K-Master workstation includes interactive interfaces for: DP, independent DP joystick, manual thrust control, alarm and monitoring /vessel automation, central bridge alarm system, chart radar, conning display and communication devices.
The true integration between the subsystems also makes it possible to provide functions across the subsystem boundaries, for instance functions for system wide mode control tailored to the vessel's different types of operation. Similar concepts can be used for presentation and/or operation of auxiliary equipment, such as deck lights, window wipers, navigation lights or search lights.
According to Hukkelås, K-Master fully meets the OSV demand for a flexible, multi-functional, integrated ship's bridge system. "K-Master consolidates the 5 – 6 meter bridge console into literally one operator chair, housing integrated multiple computer consoles in the arm rests. Total ship operation takes place from this chair, with main information displays close to the seated operator, reflecting the intense nature of ship operation on the aft bridge."
"K-Master combines many different engineering disciplines and products such as navigation, thruster control, automation and DP, into one highly scalable station tailored to operational needs. The compact design with external termination points provides significant potential for efficient and cost saving installation on board" says Hukkelås.
Launched at this year's leading global shipping exhibition, Nor-Shipping, K-Master introduces significant upgrades that range from the design, construction and production of new thruster levers and indicators, to new button panels, joystick and trackerball/ pointing device.
Simplicity is the art of technology
In lieu of mechanical knobs and switches, while enhancing appearance and cleaning, K-Master features touch control panels and multi-function split screens displaying chosen pop-up menus from a number of stored menus.
"K-Master represents a generation of automation equipment that combines simple and easy touch control with high-end features and vast amounts of rapid and accessible critical ship data. The use of mechanical switches in bridge applications are in decline and touch control technology is replacing them, except for critical operations," says Hukkelås. "The user interface concept combining information displays and user interaction touch panels enables operators to perform key operations on one screen, while viewing pertinent information on the other".
By using components from the common Kongsberg technology platform, K-Master is designed for optimal operational availability and favourable life cycle costs. It also ensures compatibility with other Kongsberg subsystems on board, reduces the spare parts inventory and facilitates better maintenance.
Bridge Awareness
K-Master is all about bridge awareness; the integration of local, global and technical information. More precise than ever before, operators will have the full overview of machinery and ship systems and specific sensor and support systems, in addition to situational information.
K-Master operators are at the center of a hub, supplied with exact, filtered information to make streamlined critical decisions when necessary. Simply, they know where the ship is at all times and are given the actual, required information dependent on the context they are in.
"K-Master lifts the focus over ship systems and focuses specifically on the OSV operation you are involved in. With two aft bridge K-Masters, one operator can concentrate on ship operation and the other operator on support. Basically we are navigating and safely operating a highly complex vessel in a highly complex environment at the touch of a fingertip," says Hukkelås. "K-Master is an Offshore Operations Optimizer."