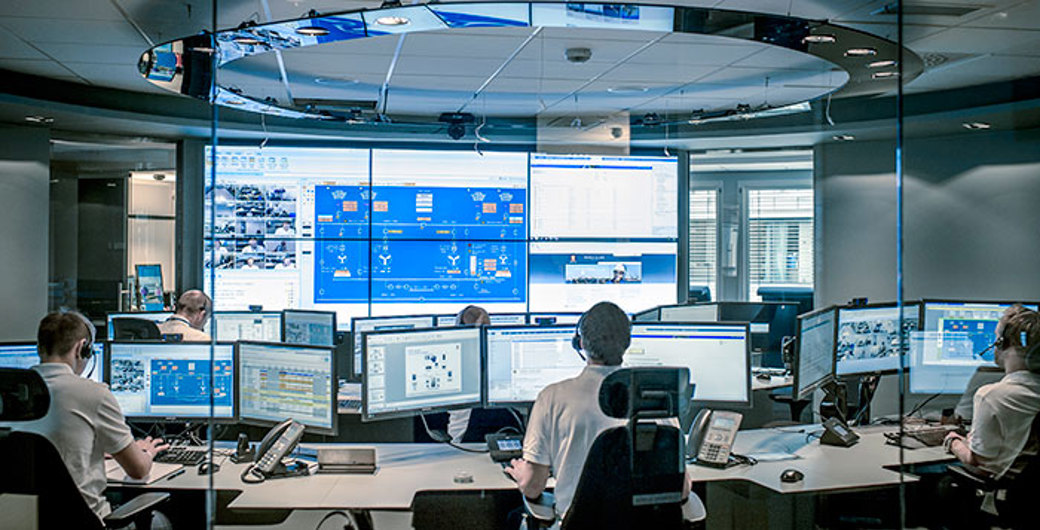 We follow the sun
Around the clock, around the world!
No matter the time of day, someone will always answer the phone at Kongsberg Maritime if you call for help. Three high-tech support centres in Europe, America and Asia provide this 24-hour service.
They are seated in a circle, surrounded by glass walls, screens, cameras and microphones. One of the screens on the wall displays a huge clock showing the time in different places around the world. In Kongsberg, it is half past ten on a Tuesday morning. A couple of hours have passed since the audio-visual hand-over meeting with Singapore. All the colleagues in Asia have now gone home, safe in the knowledge that Kongsberg has taken over the reins.
- If a customer rings during our working hours, the call will be routed to us. If the call comes after we have finished work, it will automatically be routed to New Orleans. When they have finished work in New Orleans, responsibility is passed on to Singapore. We simply follow the sun around the globe, explains Jørn Mastervik, who is the Director of Kongsberg Maritime's global customer support service.
Customised premises
Since the launch of this service in September, Kongsberg Maritime's customers have experienced a significant improvement in the way their enquiries are received and processed. Today, Kongsberg Maritime has equipment onboard 17,000 vessels worldwide. On a normal day, the company receives around 1,000 enquiries by email alone.
Each centre therefore has a desk to deal with all these enquiries, and distributes them to the correct problem solvers. These are seated in the inner circle, in what is known as the Virtual Collaboration Room.
"We simply follow the sun"
Jørn Matervik, Director Global Customer Support Service
-This room is the workplace for experts in all the major product groups delivered by Kongsberg Maritime. Irrespective of whether an enquiry relates to dynamic positioning or drilling, we have a person who can help. We can also link up to all our locations with both audio and video if we need extra expertise, explains Jørn Mastervik.
According to Oddvar Sætre Næss, who is the Manager of the centre itself, one of the employees had the following description of the new virtual workplace: -It's like sitting in an open landscape office, only that the person sitting next to you is actually sitting in Singapore.
Remote diagnosis
Moreover, the centre is fitted with a room where Kongsberg Maritime's technicians can connect directly to the customer's systems. As such, they can carry out remote diagnosis or provide advice and guidance during complex operations.
-When we are connected, we can see the same screen that the crew onboard the vessel sees. We are able to make simple changes to the system, explains Mr. Mastervik.
-If we receive enquiries which demand a significant amount of work, we put together a larger group which moves into one room dedicated to solving the problem. Once the problem has been solved, we tend to send a service engineer from one of Kongsberg Maritime's service offices worldwide to visit the vessel. Comprehensive system amendments will still have to be carried out on-board the actual vessel, as we always carry out thorough tests after any changes.
Impressed customers
After only a few weeks of operations, Kongsberg Maritime has been able to document a shorter response time for customer enquiries. Those customers who visited the service centre have been very impressed.
-The normal comments tend to be that they've never seen anything like it before. We've had visits from several of our major customers and they have all been extremely impressed by how far we are prepared to go to satisfy our customers.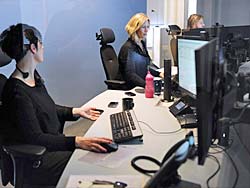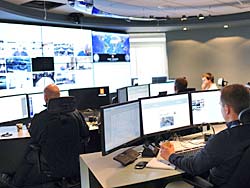 With the new service concept in place, Kongsberg Maritime is now equipped and ready to deal with the expected increase in the number of enquiries in the years to come.
-We expect to install Kongsberg Maritime's equipment on more than 600 new vessels each year. One of the reasons behind the new service centre is this increase and the number of enquiries it will generate. We are confident that we are now ready to deal with demand, concludes Mr. Mastervik.
The phone number is: +47 33 03 24 07
FOLLOW THE SUN
Kongsberg Maritime places stringent requirements on efficient customer support:
All mail shall be answered within 8 working hours
Phone calls shall be answered immediately, 24 hours a day
Service personnel shall be on site at the time requested by the customer in 98 percent of cases
Service assignments shall be completed first time around in 98 percent of cases
Kongsberg Maritime carried out around 13,500 customer support assignments in 2012. On a global scale, the organisation has more than 950 employees working with after sales and support.