The Industry's Best Bet
-- FROM THE FULL PICTURE MAGAZINE -- Nexus Floating Production sees great promise in the market for harsh environment FPSOs. A coalition including Samsung, APL and Kongsberg has started construction on what may be the oil industry's most sought-after floater.
"Simply put, APL saw an opportunity. Converting vessels into FPSOs on speculation is common. Practically none, however, were prepared for harsh environment. The Nexus 1 is just that. It is proven technology, prepared for different topside needs, from a strong group of vendors," says Anders Holm, the CEO of Nexus Floating Production (Nexus FP).APL created Nexus FP in mid-2006 on the back of a strong public offering. APL (now owned wholly by BW Offshore) still owns roughly half of Nexus FP. The company ordered its first FPSO, Nexus 1, from Samsung Heavy Industries in 2006, and another, Nexus 2, in summer 2007.
A newbuild FPSO with storage capacity of near 1 million barrels and production that can stretch up to and beyond 120,000 barrels per day, Nexus 1 qualifies as a top-tier FPSO. It is equipped with a moderately-sized complete topside process plant that can be easily expanded based on modular design and dedicated areas prepared for future topside expansion.
"If you look at the market, prices are only increasing. We are willing to make an investment in order to join the first movers in this market," says Holm. As FPSO scarcity starts to nip at the heels of oil companies, the courting of Nexus 1 will begin in earnest.
Industrial partnership
"The co-operation with Samsung is fundamental for us," says Holm. The alignment of Samsung and APL creates a strong industrial collaboration. Nexus FP's approach has been to act quickly, win competitive contracts with these key partners and turn out a proven product for the harsh environment market.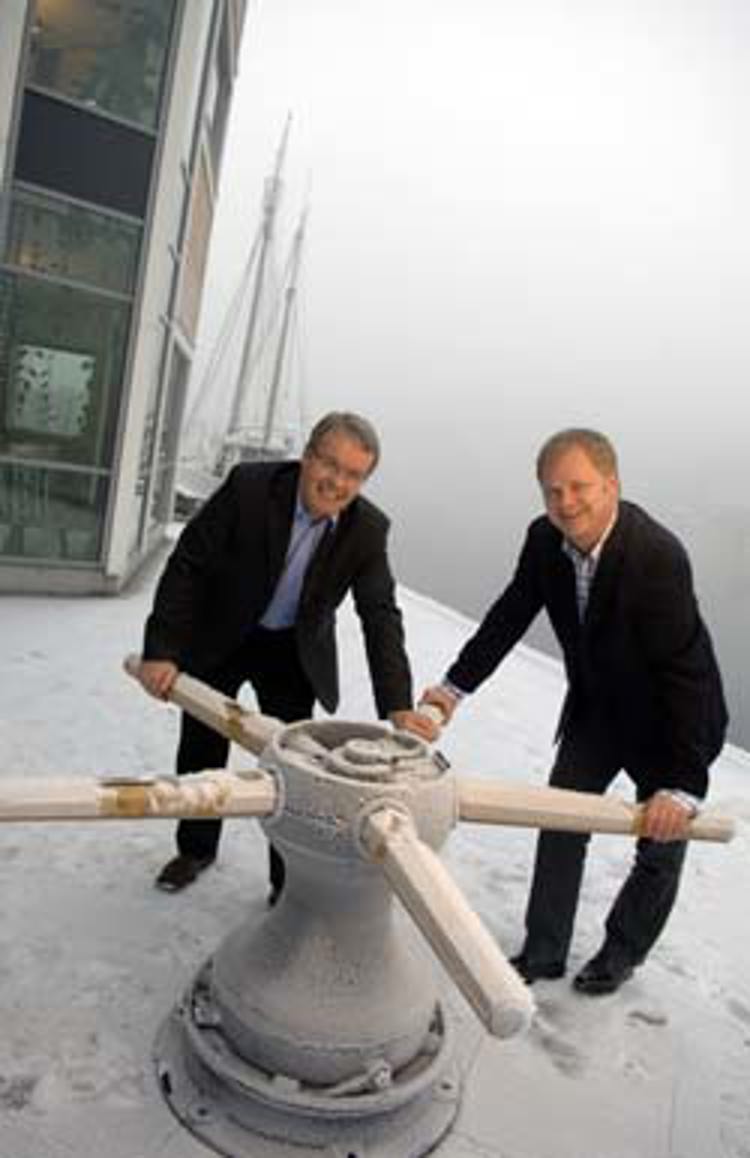 Kongsberg, with contracts to Samsung and APL, is responsible for tying the whole facility together: One control environment for three systems – hull, topside and turret. "The control package with Kongsberg through Samsung was technically the best choice, and reasonably priced. We can tell potential customers that the whole vessel is integrated in a Kongsberg environment, and that brand recognition has real value for them," says Holm.
Nexus 1 will be ready for operation in harsh environment. It has a double-bottom, double-side hull design, a raised bow and stern, continuous green-water protection along its sides and a high freeboard; the design life is based on 20-year operation in Norwegian Sea environmental conditions (100-year wave heights of 16.5 meters). Samsung is as experienced as a yard gets at this kind of hull.
With APL on the ownership side, it is no surprise that the FPSO's turret is state-of-the-art. The disconnectable turret mooring, located forward to aid weather-vaning, will allow for operation in areas prone to iceberg or hurricane activity. Nexus 1 will be fully self-propelled with two independent propulsion systems, as well as thruster-assist to ensure heading during offloading.
The topsides facilities are being engineered to handle a typical mid-size oil field with associated gas and water: 80,000 barrels of oil per day, 60,000 barrels of water and 1.5 MMscm of gas. The topside steel and utility systems are prepared, however, to add modules for gas, water and oil processing. All told, Nexus 1's topsides capacities can be doubled without structural interventions.
Finally, management agreements with APL cover construction supervision, marketing and operation of Nexus 1. Since BW Offshore purchased APL, the mother company's marketing skills have also been brought to bear on Nexus 1.
As the market ripens
Because Nexus FP acted fast in a rising market, it has lower project costs than its competitors. And the company will have an FPSO prepared for operations in harsh environment conditions when the number of these kinds of projects far outpaces the number of units available.
A couple interesting graphs demonstrate Nexus FP's price advantage. Both in terms of hull and topsides, Nexus FP has been able to realize significantly lower costs than its peers, in recent years and in current new orders. The charts also demonstrate, particularly in hull prices, a sharp upward trend that will further impact FPSO prices.
A leading analyst estimated over 110 floating production projects worldwide over the next six years. Of these the vast majority will be produced using an FPSO, and several dozen of them are in harsh environment areas. The supply of appropriate FPSOs simply does not match up to demand over the next five years.
"In the North Sea, we see more and more smaller oil companies, particularly on the UK side, that are both eager to produce known reservoirs and interested in a solution whereby they lease an FPSO from a dedicated contracting partner," says Holm.
There are a number of increasingly compelling reasons for oil companies to lease an FPSO. Shorter field life means a leased FPSO generates less residual value risk. The smaller oil companies looking to produce small and remote developments focus their capital on exploration, not production infrastructure. Finally, many of these companies do not have – and do not want – the large organisational structure associated with operator-owned FPSOs.
Nexus FP, APL and BW Offshore are co-operating to address growing interest in the market for the Nexus FP floater. Several placement studies for field developments in harsh environment have been completed; prospects in Norway and the UK, as well as iceberg- or hurricane-prone regions like Canada, the Gulf of Mexico and Australia (where disconnecting is a must), are the most interested.
"We have a flexible solution with respect to topsides, so there are a number of projects where we might win because we have good timing," says Holm.
The Harsh Environment Generic FPSO
The Nexus FP strategy is to get a generic harsh environment FPSO to market…fast.
Meets requirements of the most demanding operational conditions and regulatory regimes
Designed for rapid deployment and sequential field development strategies
State-of-the-art disconnectable turret mooring technology delivered by APL
Large storage capacity enables operation in remote areas
Hull and utility systems prepared for topside expansion
Topside prepared for additional gas, water and oil processing (even GTL, heavy oil, etc.)
Topsides capacity can be doubled