The Gulf of Mexico is my office
ALWAYS PREPARED: Jessica Neveu has always liked working with her hands. This comes to good use in her job as a service engineer for Kongsberg Maritime.

"Man, this is great," says Jessica. "Imagine having this as your office! Today, it's here and tomorrow it might be somewhere completely different."
We are onboard the Anchor Handling Vessel, Vanguard, which is docked for upgrading. Jessica overlooks the Port of Mobile, Alabama. She is wearing blue work trousers, complete with a jacket that has a large, bright red and yellow K lighting up the back. It's a normal day at work.
Working in the Gulf of Mexico
As a DP Hardware service engineer with Kongsberg Maritime in New Orleans, Jessica travels frequently in the entire Gulf of Mexico region. She often has to set off at short notice, and she doesn't always know how long she will be gone. The length of the job depends on whether or not she has to travel offshore. If that is the case, she risks remaining on board for a week or more. While some assignments are scheduled upgrades, others are more ad-hoc, when something is not going according to plan. In any case, the Service Office in New Orleans is available 24/7.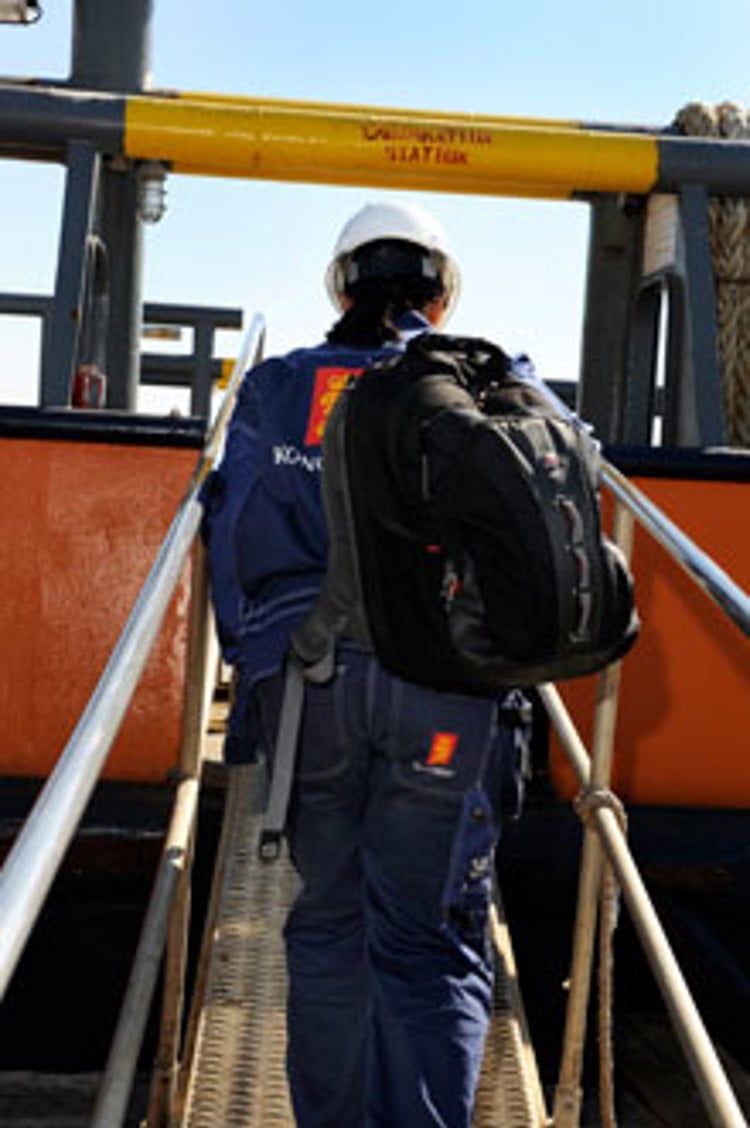 The job onboard the Vanguard is a scheduled one and Jessica has driven a couple of hours from New Orleans to Mobile in order to complete the hardware side of the upgrade of Kongsberg Maritime's K-Pos Dynamic Positioning system, which is installed on the vessel. For anchor handling vessels, it is crucial to maintain a stable position and drive a specific route away from the rig in order to position the rig's anchors. For these tasks, the DP system from Kongsberg Maritime is vital. Only the final details remain before sea trial, and a couple of colleagues from Kongsberg Maritime are already present when the young lady steps onboard the Vanguard. She greets the captain politely before getting the status from her colleagues.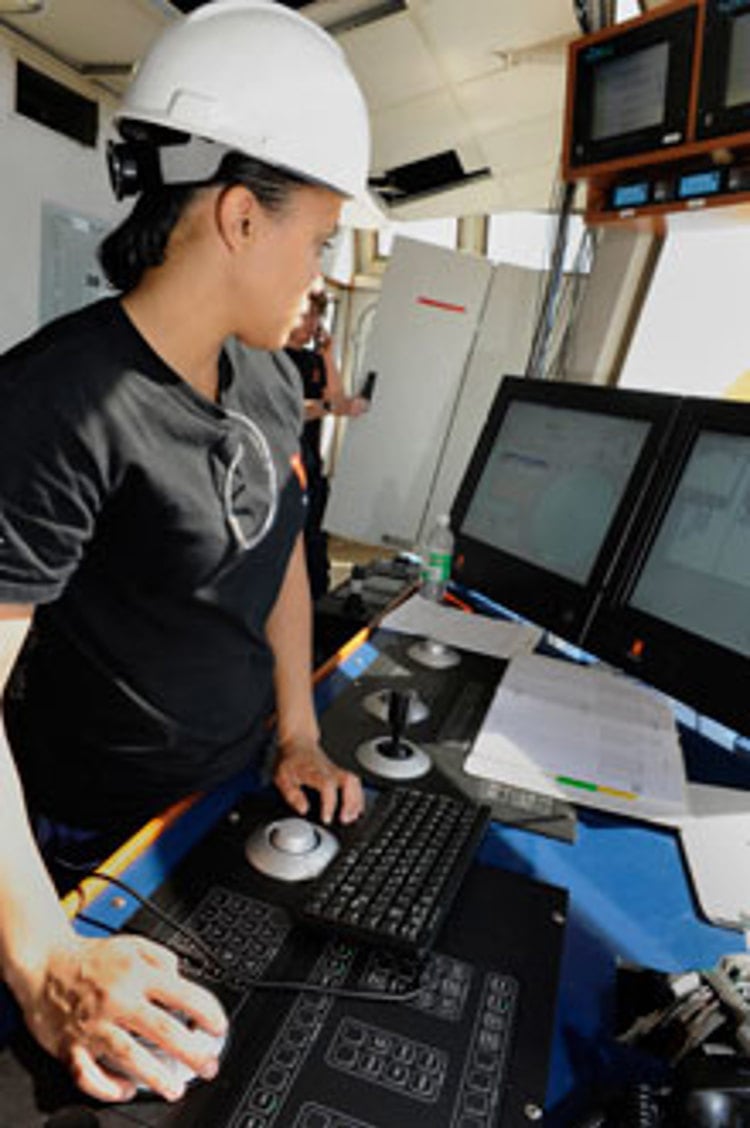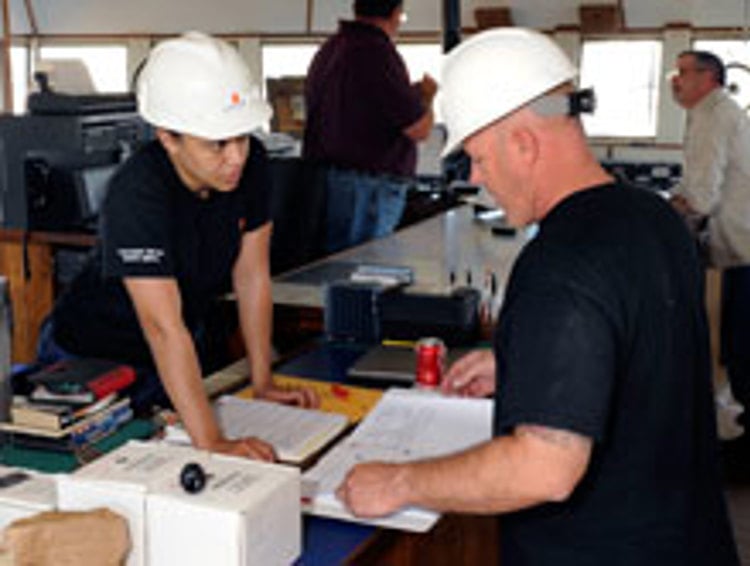 One big family
Jessica likes to have the full overview, and no one onboard doubts her knowledge or authority. She inspects the Vanguard to check that all electrical signals are functioning properly. An, "Oh crap," escapes her mouth from time to time while she, deeply concentrated, scrolls binders, attaches covers, chats with the captain and crew onboard and puts her head into the control cabinet to check that everything is in place. She opens the Gyro box to ensure that it sends the correct signals in order to set the ship's position. She crawls down in the tiny crawl space under the wheelhouse to prepare the ends of the signal wires. This may not be every young woman's dream, but Jessica is not for a moment in doubt that this is the right job for her.
"I love this job and I love Kongsberg Maritime. Honestly, I'm not just saying that. My work is so varied and I get to work with my hands in a fun environment. It's like working in one big family. You can ask anyone who works here about anything and you are really taken care of," she says.
Thrown in at the deep end
Jessica began at Kongsberg Maritime in March 2011, but despite the short experience she is already responsible for training her newly employed colleague, Sampson, who is also onboard the Vanguard. Kongsberg Maritime in New Orleans is growing rapidly. At its establishment in 2003 the office only had 9 employees. In 2011 they had grown to 81, and they expect continued strong growth in 2012. The office performs about 140 services per month, which is approximately the same number as in Norway. With such a high demand, new employees tend to get thrown in at the deep end.
"This is my fourth commissioning. During the first one, I was in training, on the second one I was with a colleague, and after that I did everything myself. When I came onboard, nothing was working and everything was complete chaos, so it's good to have colleagues you can call," she says.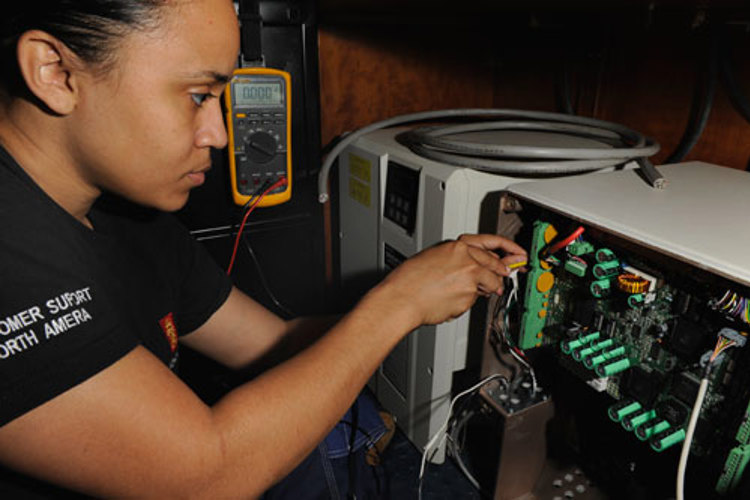 Self-declared control freak
Jessica has always liked working with her hands. Despite the fact that she has a younger brother, she was always the one who was asked to fix or assemble things, such as her father's grill. She loves gadgets and her phone is never far away. Any query which can't be answered, and she jumps online to Google it. Her friends use words like loyal, fun, reserved, adventurous and sporty to describe her. Colleagues say she is intelligent and confident. Jessica describes herself as focused and a little bit of a control freak. To this we can add down to earth and competent. All these features come in handy as a woman in a male-dominated profession and the only woman on the DP hardware team in New Orleans.
"I considered for a long time whether to take the job. Some might be a bit surprised when they see me coming onboard, but I have not had any negative reactions, and why should I? The most important thing is to show that you are confident and sure of yourself," says Jessica, underlining that the job may not be for everyone.
"You should probably be a special kind of person. You have to enjoy being around people, but you also have to be able to stand in the line of fire. It can be a stressful job. I've been yelled at, but you can't take it personally. You just have to shake it off and move on. We have to represent the company in the best possible way, so it's important to maintain a professional distance to what you do. I suppose I have a slightly different mindset to many women, but even if you have to be tough in this job it's important for me not to lose my feminine side completely. On the other hand, I don't want to be seen just as a woman, but as a competent service engineer. It's a balancing act," she explains.
A true 'New Orleanian'
As the daughter of lawyer parents, it was not given that she would become a service engineer. When her parents met, they both lived in Washington. A few years later they were married and Jessica was born. Since her father was from New Orleans, this was a natural place to move. Although Jessica has lived in New Orleans since she was 8 months old, her friends say she can't call herself a true 'New Orleanian'. Jessica strongly disagrees.
"People from New Orleans are weird like that. They are very protective of their city and local roots," she explains. Once Jessica finished high school, she started her engineering studies at the University of Saint Louis, Missouri, but later switched to psychology. After completing her Bachelor's degree, she moved back in with her parents in New Orleans. Then came Hurricane Katrina and turned the city upside down. The hurricane caused the city's levee system to fail, resulting in the worst natural disaster in the history of New Orleans.
"My parents' house was completely flooded, so we had to move away for a year. I went to California because we had relatives there, and got a job in customer service. Such a disaster does something to people. I guess it provides a stronger sense of community. On the other hand, we have learned to take everything with a grain of salt during hurricane seasons. Most of the time it's no problem, but Katrina was different. We were fortunate to be able to put the house back in order. Not everyone had the resources to do so, and some haven't even been able to move back," she says.
Feared moving north of the Arctic Circle
After moving back to New Orleans in 2006, Jessica resumed her engineering studies and supported herself as a basketball coach. It was not until she went to a job fair in the New Orleans Superdome that she became aware of Kongsberg Maritime.
"I talked to several interesting companies. What particularly impressed me by KONGSBERG was the feeling I got from the representatives from the New Orleans office. I hadn't checked on the map where Kongsberg was located, so at first I was a little worried about having to move north of the Arctic Circle. It was the first thing that came to my mind. Luckily, that was not the case," she says.
Jessica leaves us in no doubt that she loves the job. Nevertheless, she has made plans for the future.
"I want to pursue my MBA while continuing to work. My hope is to one day use my experience in this job to become a project manager," she says.
On the road again
It's the weekend in New Orleans and Jessica is off work, at least almost. As a service engineer, part of your job involves being on call at regular intervals. This is Jessica's weekend, and her plans change quickly as she gets called out to work. Sunday morning she is on the phone from her car on her way to a job in Fourchon, which is usually a two and a half hour drive, but Jessica's stuck in traffic. She has no idea what kind of vessel she is going onboard or how long the job will take.
"I may be back tonight, or it may take longer. One of the levers on the thrusters is not working so I have to go down there and do some troubleshooting."
That's life for a service engineer. For Jessica, it's another normal day at the 'office'.