The Coast Guard
-- FROM THE FULL PICTURE MAGAZINE -- Supervising, rescuing and providing assistance at sea 24 hours a day, 365 days a year along the entire Swedish coastline requires the latest, most reliable equipment. That's why the Swedish Coast Guard recently renewed its fleet.
With the 3,218 kilometre Swedish coastline as its workplace, the Swedish Coast Guard undertakes a wide variety of tasks in order to secure a healthy and safe environment. When the Baltic Sea is covered with ice during winter, it is the Coast Guard that comes to the rescue of vessels trapped in the floating ice rafts. And in the case of oil spills, the Coast Guard is responsible for cleaning up. In addition, it fights fires, monitors the coastal environment and oversees the speed limit for private vessels. Considering the fact that it controls approximately 40% of the Baltic Sea, the Swedish Coast Guard has a lot on its hands.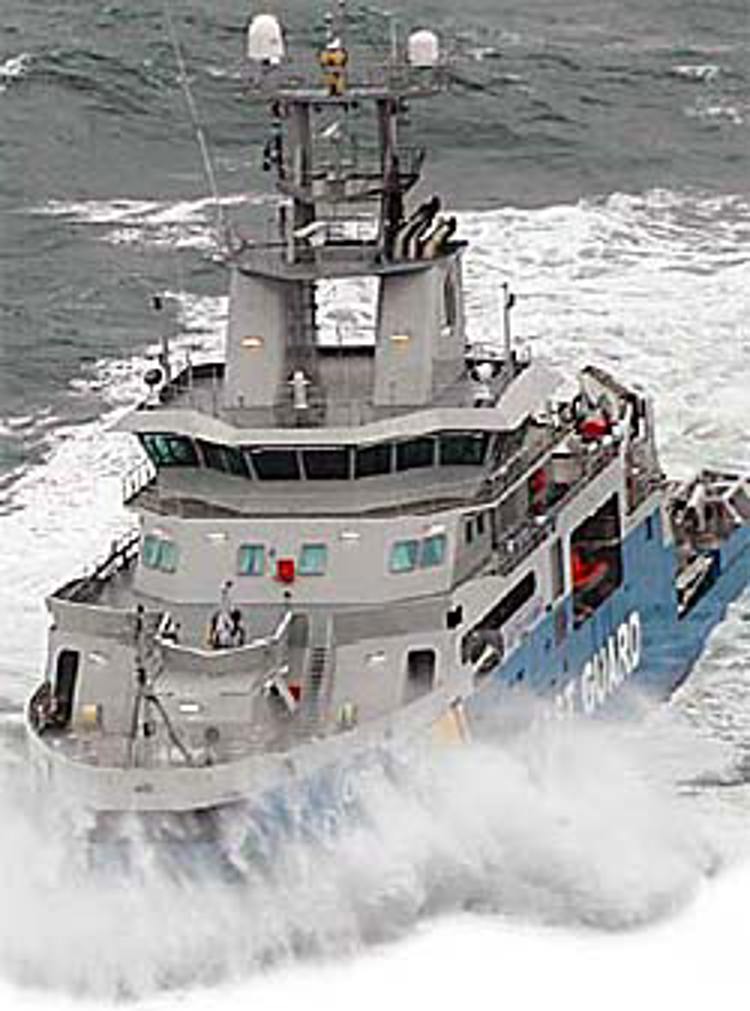 "Our main responsibilities are to ensure a cleaner, safer and more sustainable environment at sea," explains Åke Dagnevik, Newbuilding Director at the Swedish Coast Guard. "To do this, we perform a number of tasks mainly for the merchant fleet, but we also deal with private vessels, ensuring speed limits and alcohol limits are upheld. In short, we rescue, help and protect at sea, so we are involved in anything that happens along the Swedish coastline."
Greater risks
The Swedish Coast Guard is a civilian authority under the jurisdiction of the Ministry of Defence. Their overall goals are decided by the Swedish Parliament, while the government makes decisions on more detailed aspects. The Swedish Coast Guard started up in 1638, with two beach riders working to prevent smuggling and wrecks. Today the Coast Guard owns a fleet of modern vessels that patrol year-round.
"The situation in the Baltic Sea has changed a lot over the years. After the fall of the Soviet Union, traffic increased, especially by Russian tankers since the Russians have increased their oil and gas business. The risk of oil spills and of other accidents has increased and Sweden has to take responsibility for its part of these waters. Consequently, the Swedish government decided to improve our fleet with larger vessels capable of handling larger situations," explains Dagnevik.
New combination vessels
As a result of this decision, the Coast Guard recently ordered the replacement of four of its older vessels with brand new, environmental ships, which will be built at the Peene Werft in Wolgast, Germany. The goal is to place one in each of the Coast Guard's regions. The first of these four vessels is scheduled for delivery in April 2011, with the rest following at four month intervals. The entire delivery will be completed during 2012.
These newbuildings are so-called combination vessels; in addition to environmental protection, they will be involved in all the regular tasks of the Coast Guard, such as sea traffic monitoring, border control, fishery and customs control at sea. They are advanced environmental protection vessels and can recover and store up to 250 m³ of oil in their own tanks. They are also equipped for sea rescue in all kinds of weather and have the possibility of fighting fires both at sea and in harbours.
"Our existing vessels are already 30 years old, and are therefore not functioning optimally. The newbuildings will enable us to manage our tasks better by assisting in our daily operations along the coast, and undertaking environmental tasks. They are better and more modern and will generally have increased capabilities of cleaning up oil after a spill. They also have better and more modern equipment for surveillance," explains Dagnevik.
In addition to replacing four of the older vessels, the Coast Guard recently added three combination vessels to its fleet. Two of these were completed by May 2009, and the last one was completed in June this year. Like the prospective newbuildings, these too are capable of handling large volumes of oil, and are equipped with improved functionality for towing and fire-fighting at sea. Additionally, they are specially adapted for assisting in chemical spills, which is a new feature to the fleet.
Full Picture delivery
Kongsberg Maritime was first chosen as a vendor for the three new vessels that have already been completed. This co-operation proved so successful that, when the Coast Guard looked for suppliers for its four scheduled newbuildings, Kongsberg Maritime was chosen once again. Both contracts include a wide variety of the products in Kongsberg Maritime's extensive portfolio. "We are thrilled to have been chosen for this delivery. These vessels are highly advanced and among the best of their kind," says sales manager in Kongsberg Maritime, Ståle Furuberg.
"The Swedish Coast Guard is an important reference for us because its poses very strict technical demands on its equipment, especially with regards to the ability of sharing information across different systems. The Swedish Coast Guard has chosen an integrated solution that enables information exchange between the various systems onboard. This fits very well into our own philosophy of providing the Full Picture."
All seven vessels will include Kongsberg Maritime's K-Bridge Integrated Bridge System. This is designed specifically for easy operation to allow maximum time for observation and decision making, something that will greatly improve the working conditions for staff onboard. The vessels are also fitted with the K-Chief marine automation system for monitoring and control.
"These modern systems monitor everything onboard the vessel. I know what it's like to be on the bridge not knowing what to do. If we can get a system like this to remain stable, this will mean a lot for the comfort and working conditions of the crew," says Dagnevik. The delivery from Kongsberg Maritime also covers a range of other systems, such as Dynamic Positioning to keep the vessels stable during the clean up of oil spills, cJoy joystick control system, Seatex DPS, K-Thrust thruster control, Mission Recorder, EM-3002D Multi-Beam Echo Sounder and MRU.
"This is the first time that we have installed a fully integrated system. Experience has taught us that it is an advantage to use the same vendor for different systems. That way, you ensure efficient communication," says Dagnevik. "We chose Kongsberg Maritime because it has a good reputation in the market, and has the funds necessary to invest in new technology. The company is also open to discussions regarding its solutions and our demands."
Multibeam
A completely new feature for the Coast Guard on all seven of its new ships is the use of multibeam echo sounders. Kongsberg Maritime's EM-3002D Multi-Beam Echo Sounder is installed onboard all of the newbuildings already in operation.
"The use of multibeam echo sounders is a completely new concept for us," says Dagnevik. "They will be a great help when searching for containers and oil and have already assisted in locating containers with poisonous gases, a task previously performed by divers and ROVs. With the new mutibeams from Kongsberg Maritime, we can perform these searches a lot more efficiently."
Construction across borders
The complexity of this Full Picture Delivery by Kongsberg Maritime has required the involvement of several diverse departments and locations. During the newbuilding project last year, the project management was run from Norway, while the commissioning was done by Kongsberg Martitime's office in Poland.
"Both of these deliveries involve many different parts of our company. The assistance from our Polish office for the delivery last year proved highly efficient since they are located closer to the construction site. Consequently, they are likely to become part of the second contract as well," says Ståle Furuberg.
The Coast Guard is very pleased with this solution. "The commissioning engineers in Poland proved highly competent with good knowledge of the project, and they did an excellent job with our three newbuildings," Dagnevik says.
With three new vessels and four more scheduled for construction, the Swedish Coast Guard is well equipped to provide a safe environment along the Swedish coastline, and Dagnevik has great confidence in the new and modern facilities onboard the vessels.
"With the introduction of such a large amount of new vessels, we phase out a great deal of problems, but we also get some new challenges, such as more modern electronics that will require a lot of training of our staff. However, we hope to meet these challenges so that we can keep these vessels operating for another 30 years."
Facts
The Swedish Coast Guard works for: A cleaner sea - The Coast Guard is on permanent standby for environmental protection and prevents environmental crime at sea via environmental surveillance.Increased safety at sea - The Coast Guard works to enhance people's safety, is responsible for border control at sea and is on permanent standby for search and rescue. Sustainable future fishing - The Coast Guard monitors fisheries at sea.
During 2008, the Swedish Coast Guard's operations included:
35 oil response operations and one chemical response operation
269 search and rescue missions
315 oil spill observations that led to 166 preliminary investigations
138 diving assignments
Extensive national and international cooperation
Contributing to limiting crime and increasing safety at sea