Offshore Vessels Go Green
-- FROM THE FULL PICTURE MAGAZINE -- Oil majors are fuelling the push for offshore service vessels with the CLEAN DESIGN class notation, and port authorities are adding further incentives by offering reductions in fees for ships with low emissions.
Over a decade ago, Oslo-based Det Norske Veritas (DNV), one of the world's four largest ship classification companies, created the so-called CLEAN and CLEAN DESIGN voluntary environmental class notations as a way to award owners and operators who choose to design and operate their ships in an environmentally sustainable manner. The aim is to reduce the emissions from each vessel so that the overall environmental burden from shipping is reduced.
Now more than 650 ships sailing around the world carry the DNV CLEAN or CLEAN DESIGN notation, in addition to another 450 newbuilds, bringing the total to over 1,100. Roughly half of these are offshore vessels.
"One of the reasons there are so many offshore vessels with CLEAN or CLEAN DESIGN is that major oil companies are requiring that offshore vessels have these notations to charter them," says Atle Grønlie, Senior Approval Engineer at DNV.
Port fee reductions
Port authorities are also catching on to the clean ship trend. Many ports, including Amsterdam, Rotterdam, Oslo, Hamburg, Bremerhaven and Vancouver, are offering a reduction in port fees for vessels that can prove they have low emissions, Grønlie explains.
Spain has also recently issued a 'Service Instruction', in which substantial deductions in port fees can be granted to vessels that produce reduced amounts of residues due to their environmental management system, their design, the equipment on board, and their operational conditions.
CLEAN DESIGN, which applies in principle to all types of vessels, reduces a ship's environmental impact from air emissions, sea discharges and accidental damage to its hull.
This protective design covers systems for preventing accidents and limiting their consequences, including fuel tank protection from grounding damage; handling of cargo, sewage, bilge, garbage, ballast water and fuel oil; environmentally friendly antifouling; combustion machinery emissions; use of refrigerants; and Inventory of Hazardous Materials for crew awareness and recycling of the ship.
CLEAN versus CLEAN DESIGN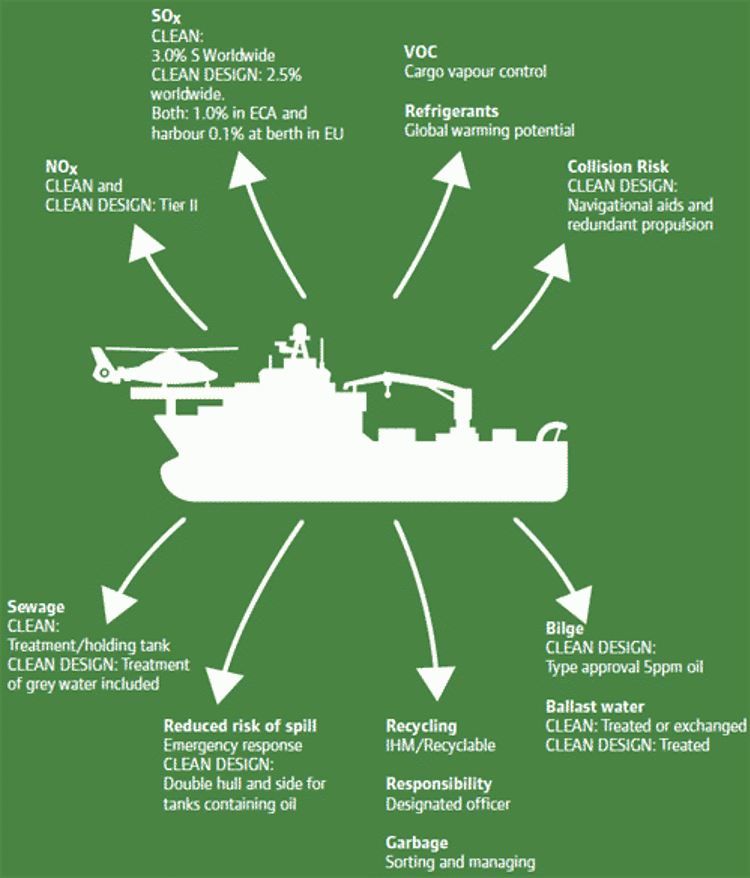 The CLEAN notation sets limits on nitrogen oxide and sulphur oxide emissions from ship exhausts identical to the levels stipulated in Annex VI of the International Convention for the Prevention of Pollution from Ships (MARPOL), which entered into force in 2005.
Ships that have the DNV Class notation CLEAN DESIGN have more stringent levels for emissions to the air and discharges to the sea than what either the International Maritime Organisation (IMO) or most flag states require. The CLEAN DESIGN notation must comply with additional requirements compared with the CLEAN notation, including design requirements for avoiding and limiting the consequences from accidents.
Examples of additional requirements for CLEAN DESIGN versus CLEAN are:
Double hull protection of oil tanks
Navigational aids
Alternative propulsion
Inventory of hazardous materials / 'Recyclable' notation
Compliance with the Ballast Water Convention
Stricter requirements for discharge of bilge water
Water lubrication or bio-degradable lubrication in stern tube
Maximum sulphur content in fuel oil 2.5 percent worldwide
Sewage treatment plant
Stricter requirement for the leakage of greenhouse gases
New criteria
The DNV rules for CLEAN DESIGN will be upgraded with new criteria from July 1 2011. The main changes will be:
The class notation no longer requires that the vessel holds the Class Notation E0 or OPP-F
Sewage: All grey water shall be treated in addition to black water
IHM/Recyclable: Compulsory only for CLEAN DESIGN
Stern tube lubrication: Only water lubrication or bio-degradable lubrication
Sulphur content: 2.5 percent sulphur worldwide
Bilge water and sludge: Type Approval by DNV of the 5 ppm oil water separator and minimum capacity of the bilge water tanks
Garbage: Food waste not to be discharged into the sewage treatment plant
Double hull protection: Oil tanks with capacity below 10 m3 can be located in the double bottom provided that the total capacity of these unprotected tanks will be less than 40 m3
Cold Ironing: Added optional requirements to electrical shore side connections as alternative to low sulphur in port
Solstad and climate-neutral ships
Solstad Offshore ASA, one of Norway's largest suppliers of offshore vessels, says 18 of its 48 fully and joint owned vessels meet the CLEAN DESIGN notation as well as the two vessels it currently has under construction.
"We are using only CLEAN DESIGN as this is the most stringent regulation. It's anticipated that the market will demand CLEAN DESIGN vessels in the future," says Tor Inge Dale, Environmental Engineer at Solstad Shipping AS, the operating company for Solstad Offshore.
Although the notation is very positive in terms of reducing the impact of shipping on the environment there is too little focus on actual energy efficiency in CLEAN DESIGN today. "The DNV CLEAN and CLEAN DESIGN notations (or any other regulation) do not require the vessel to be operated in the most energy efficient and environmental way," Dale says.
To ensure that the use of energy and fuel is kept to a minimum, the company launched the Solstad Green Operations (SGO) campaign, which can reduce the fleet's fuel consumption by as much as 20 percent.
Solstad also aims to be the first shipping company to provide climate-neutral services, meaning emissions are reduced to a minimum through SGO, they are documented and published and the remaining CO2 emissions are compensated for through the purchase of emission credits.
"Several major clients are very interested in this arrangement. We're currently working on different potential contracts, although no firm contract has been signed yet," says Dale. The arrangement will cover one or more vessels per contract/client and will cover compensation for engine carbon emissions to the air," he explains.
"The focus must be on how to operate with a minimum of energy. Solar power is not relevant as it gives too little power. Heat recovery and LNG engines may be the future," concludes Dale.
Kongsberg Initiatives to Make a Cleaner DP Ship
GreenDP®
Kongsberg has developed a unique dynamic positioning (DP) control system (GreenDP® control), which reduces fuel consumption, and hence also CO2 emissions, by as much as 20 percent. The GreenDP® control secures the vessel, allowing it to stay within a specified area of operation. This new approach is based on forecasting the vessel's motion, rather than acting on present conditions, using a method called 'nonlinear model predictive control', which optimises the predicted vessel offset against the use of thrusters. By doing so, small and short-term disturbances that do not force the vessel out of its operational boundary are 'filtered out'. This allows for very smooth control, dramatically lowering peak loads and significantly reducing the wear and tear on thrusters, and is part of KONGSBERG's Green Ship Strategy.
NOx reductions
Some modern DP vessels are equipped with catalysts to reduce NOx emissions. Due to operational requirements (DP class 2 and 3), more thrusters and generators must be running than what is necessary for actual weather conditions. Class 3 operations requiring switchboards to be isolated from each other are especially demanding. The vessel must be able to handle the worst-case single failure, typically the loss of one switchboard.
Under normal weather conditions, this means that diesel generators often run at very low loads. As a consequence, exhaust temperatures become so low that the catalysts do not work. NOx reductions can be achieved by running one switchboard on higher loads and others at lower or idle loads. KONGSBERG has developed a special control strategy, which minimises NOx by optimising the combined fuel consumption and NOx emissions. By only minimising NOx emissions, fuel consumption will be too high. Experience shows that a reduction in NOx emssions of more than 45 percent can be achieved. The reduction will come at the expense of 5 percent higher fuel consumption.