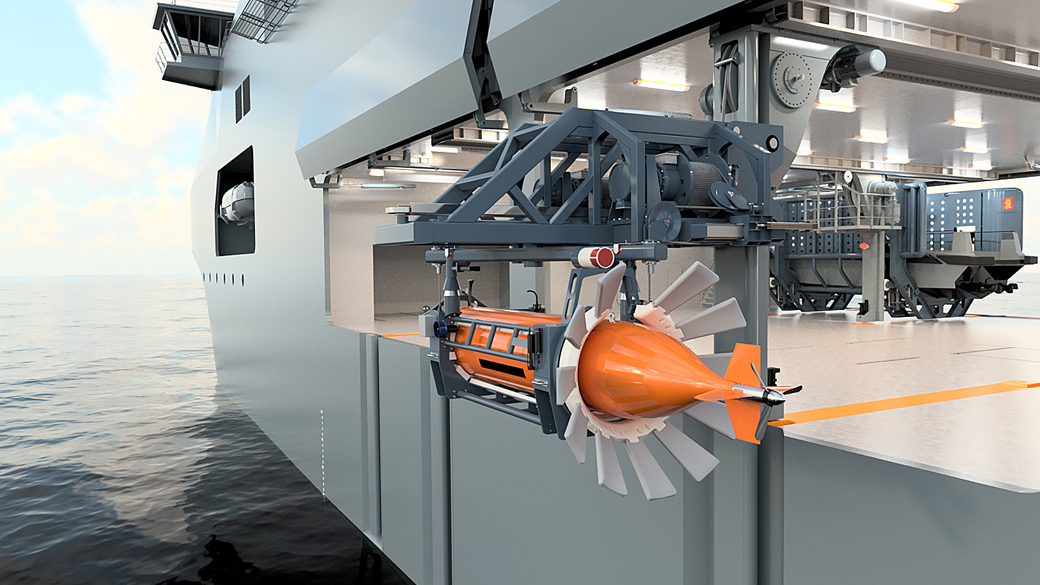 How naval vessels can manage and deploy an array of assets in double time
Modern naval vessels must be able to quickly deploy and retrieve an array of marine robots, such as AUVs, underwater ROVs, and USVs, as well as handle manned craft and cargo. Kongsberg Maritime's new Mission Bay Handling System is specially designed to help naval vessels achieve this while incorporating traditional mission bay tasks
Navies are rapidly adjusting to a new way of sea warfare in which marine robots such as unmanned surface vehicles (USVs) and autonomous underwater vehicles (AUVs) will play vital roles. Some navies are even experimenting with dedicated brigades that focus on marine robotics. To help meet this challenge, Kongsberg Maritime developed its new Mission Bay Handling System (MBH System).
"Navies want platforms that can easily be transformed to meet the mission requirements; so, the days of ships that are dedicated to a small range of tasks are over"
The MBH System uses a frame and overhead crane mechanism, combined with standalone cargo handling solutions, to deploy and retrieve a suite of assets, including USVs, AUVs, and manned craft, quickly and safely. The MBH System is suited to a range of navy ships and can be adapted to the size of a vessel's mission bay.
"Navies want platforms that can easily be transformed to meet the mission requirements; so, the days of ships that are dedicated to a small range of tasks are over," says Robert Breivik, Kongsberg's Senior Sales Manager – Naval. "Areas such as underwater surveillance and the monitoring of seabed utility assets like pipelines and cables, is an urgent requirement. Modern ships need to be multi-role, and that means carrying a growing suite of newer, high-tech in-sea assets," Breivik says.
Deploying those assets in a way that's quick, safe, and effective is at the heart of the thinking behind the MBH System.
For over 30 years, Kongsberg Maritime has been developing advanced handling systems for subsea equipment, especially science vessels. That focus on robust, secure, and cost-effective solutions can now be put to work for navies.
"Through our extensive experience from a lot of similar systems we have developed for oceanographic and research ships, this crane is not only very capable, but it gives navies options. It can handle cargo in standard shipping containers, and switch to deploying subsea and surface craft, quickly and safely," adds Breivik. The MBH System can be retrofitted to older vessel
There are three main elements in the Marine Bay Handling System:
First, the Frame-based System is an interchangeable rail system that is fixed to the deck above the mission bay. Marine robots and daughter crafts are suspended from the rails and can be easily moved from their storage spaces inside the mission bay.
The overhead system has a standardised interface with the ship, which comprises the rails and an 'interface unit' suspended from the rails and connected to a range of tools. These tools are all interchangeable, and it is easy to change the handling tools without altering the core of the handling system.
The MBH System comes with either a single or dual rail system. The single rail has a load capacity of six tonnes while the dual rail system has a 12-tonne capacity.
Second, the Crane-based System is an overhead, multi-purpose hangar crane. It can handle 10' and 20' ISO containers up to 15 tonnes for general cargo. The crane can rotate 360 degrees, and it has a telescopic boom that extends to the water level.
The ceiling mounted cargo handling crane can lift 20' ISO containers and features two lifting winches and telescope for increased flexibility and reach. This crane can also be used to deploy and retrieve 'daughter' craft of up to 10 tonnes with personnel onboard. The crane system can handle containers up to 15 tonnes
The third element of the handling system is a wide range of Auxiliary Equipment that complements the two main handling systems (Frame-based and Crane-based). There is a Deck Skid System, which is 100% electric, modular, and adaptable. This allows the easy movement of ISO containers, pallets, or boat cradles inside the mission bay. Further, KM MBH System portfolio also includes containerised launch and recovery systems, cargo handling crane for containers, and an overhead auxiliary crane for lighter loads.
Kongsberg Maritime is also one of the world's leading developers of AUV and underwater ROV technology. The HUGIN AUV is already one of the best known and most capable types of AUV available to navies worldwide. With that experience, Kongsberg Maritime has now developed a system that allows naval vessels to deploy and retrieve such vital sea assets quickly and safely.