Major Investment in High Tech Factory
The Middle Kingdom: In order to gain proximity to the vast shipyards in Asia, Kongsberg Maritime has built a new 25,000 square metre high-tech factory in Zhenjiang in China.
he throb of heavy machines. Workers concentrating on their jobs. Workshop Manager Lang Yuan Yuan keeps a watchful eye over production of steel plates for the switchboards. The premises are wonderful and we are very happy with the new machines," she confirms with a smile. Secretary Yang Lei Lei translates from Chinese to English.
Lang is one of few young women working in the workshop halls. She really enjoys her job. "We are all colleagues and good friends," she adds.
A fitting celebration
In the middle of August, Kongsberg Maritime China Jiangsu (KMCJ) and Kongsberg Maritime China Zhenjiang (KMCZ) held the official opening ceremony for their new plant in Zhenjiang. In the 25,000 square metres of workshops and offices, production has now started of switchboards, bridge consoles, engine room consoles, cabinets, transformers and a range of sensors for the maritime market. When we visited the new plant at the end of August 2011, some of the production facilities were still not occupied. The office building smells new. The two large and proud lions standing guard at the entrance are still adorned with red bows.
"The past month or so has been extremely hectic," confirms Dagfinn Müller, Deputy General Manager for KMCZ. He is very happy to see all the pieces of the jigsaw finally coming into place.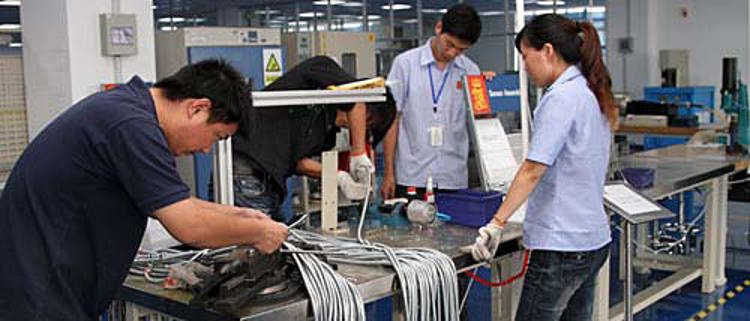 The official opening ceremony was a very fitting occasion, attended by customers, KONGSBERG and the Chinese authorities.Now the new employees have to make a start on daily working life.
Major shipyards
KMCJ was founded in 2009 and is a whollyowned subsidiary of Kongsberg Maritime, while KMCZ is a joint venture, founded in 2008. Plant Manager is Hongshun Wu. Investments in the new plant in Zhenjiang now total around NOK 90 million, according to Managing Director of Kongsberg Maritime in China, Kjetil Lund. As an equipment supplier to the shipbuilding industry, it is essential for Kongsberg Maritime to have facilities close to the major shipyards in China. China is the third largest shipping nation in the world. CEO of KONGSBERG Walter Qvam held a speech during the opening ceremony in the middle of August and described the new plant as a significant milestone for Kongsberg Maritime.
Kjetil Lund continues: "Our presence in China is an important move for the market throughout Asia. Our new plant will also allow us to manufacture for sales to important nations such as Korea and Singapore.
If we want to penetrate the Chinese market, we have to show that our contracts with the Chinese shipyards generate added value in China." Dagfinn Müller goes on to add that a good knowledge of the company's business partners is essential.
"Networking is all important. And that requires local representation," he confirms.
High tech
We leave the warm, humid air outdoors and move into one of the halls. Indoors, we are no longer in China. We could be anywhere in the world. The KONGSBERG blue floor is highly polished. The premises are air-conditioned. Before moving into the new premises, KMCJ had production in rented buildings.
"The correct temperature and air humidity are of great importance when producing top quality, high-tech sensors," explains Håvard Johnsen, General Manager of KMCJ. Every day, apart from Sunday, the plant is fully operational from 07.00 to 24.00. Production includes temperature, pressure and radar sensors for marine applications.
Håvard Johnsen explains: "These are the fingertips, the feelers, for the control system. A control system will not work without the correct input."
While showing us around, Håvard Johnsen is stopped by colleagues who ask questions about production. There is a genuinely pleasant atmosphere among the workers. The lines of communication are clearly open.

Mechanical production
A large part of the value of a sensor is made up of mechanical parts. To date, these mechanical parts have been manufactured by subcontractors. With the foundation of KMCJ, the company was able to set up a modern CNC machining plant (automated cutting machines).
"We have attempted for several years to purchase mechanical parts from subcontractors in China and other parts of the world, with mixed experience. We have now proven that moving mechanical production back in-house was the right decision to make. Not only can we ensure the correct quality for the parts we use in our own production, we can also supply our plant in Norway with high-quality parts at reduced prices. This is a service we believe can be valuable for a number of business units in KONGSBERG which make use of mechanical parts in their products. All they have to do is get in touch," confirms Håvard Johnsen.
The plant also manufactures critical CTS systems which measure gas volumes in tanks for LNG vessels (liquefied natural gas)."This equipment has to deal with extreme micrometre tolerances," explains Håvard Johnsen.
Recruitment challenges
The new premises now provide employment for around 300 persons. This number is set to increase by 50 in the space of one year. The majority of employees work in production. Most are men, while the female employees mainly work in administration.
Currently, a number of major corporations are building new premises and setting up shop in this part of China. As a result, and as in many other parts of the world, there will be strong competition to find the best employees. To be recognised as an attractive employer on the labour market, it is important to provide both competitive terms and good development opportunities. Such opportunities and an interest in working for a major international corporation attracted Nevin Ni to apply for the position as Manager of the Product Support Department.
"We work as a team and cooperate worldwide. As such, we get the best from both the Chinese and Norwegian cultures," explains Nevin Ni, who provides an important link between the product department in Norway and production in China."We hold video conferences every second week to make sure we keep communications open," he explains.
KONGSBERG's maritime and oil and gas related business is in a period of growth. The interim reports show that Kongsberg Maritime achieved a growth in turnover and result when compared with the previous year, and an increase in order reserve. According to CEO Walter Qvam, KONGSBERG now has a stronger position within the maritime market after the financial crisis. KMCJ Director Håvard Johnsen is proud to play a part in the development of Kongsberg Maritime in China.
"We confronted the financial crisis head on and were able to execute our plans. This is very characteristic for KONGSBERG and is a clear sign of the level of confidence and strong market position the Group has achieved," he confirms.
Value generation
As with any other KONGSBERG plant or office, anywhere in the world, safety at work is all important. And with the new, modern equipment, the workers at the new plant can enjoy even better working conditions than before.
"One of the most important tasks I have here is to develop a KONGSBERG culture among the workers. This culture forms the very backbone for the Group and is decisive in ensuring high quality and creating a sustainable and healthy development," confirms Håvard Johnsen, Director at KMCJ.
Dagfinn Müller concludes: "It's great to see that our workers have a better workplace and improved working conditions."