Improve environmental performance, and reduce operational costs
-- FROM THE FULL PICTURE MAGAZINE -- The environment touches all aspects of shipowners' operations. Fortunately, Kongsberg's integrated ship systems are giving shipowners the tools to monitor, control and improve their environmental performance, and reduce their operational costs.
Today, the environment dominates the headlines. And while the talk rages on, some companies and some industries are quietly and assuredly making improvements, introducing cleaner technologies and contributing to more efficient operations. Kongsberg is among these.
To our customers and end users in the shipping industry, environmental performance has a hard side, in terms of costs and savings, and a soft side, in terms of operational goals and brand values. Kongsberg Maritime, as a supplier of integrated ship systems, wants to play a crucial role in the optimal operation of ships, improving fuel efficiency and reducing emissions. The President of Kongsberg Maritime, Torfinn Kildal, is determined that Kongsberg can make a difference.
"In line with our environmental policy, we are developing a concept for optimal vessel performance that takes into account both machinery onboard the ship as well as the way the vessel is navigated, to ensure less consumption of fuel and lower emissions," says Kildal.
"A traditional way to monitor ship performance is by adjusting the ship optimally on its first test run, when the hull is clean and the machinery is new and well-tuned. This performance becomes a yardstick to measure how the ship performs at its best. If the ship moves too far away from this standard, you know that something is wrong. We want to bring this some steps forward by more sophisticated instrumentation, monitoring, operator guidance and automatic control where feasible".
Vessel Performance
Efforts to make ship operations more environmentally-friendly occur at numerous levels, many of which intersect with elements in the control and automations systems supplied by Kongsberg. With first-hand access to data, Kongsberg's integrated systems are ideally positioned to monitor both overall vessel performance, and performance of specific sub-systems.
The Kongsberg Maritime approach to vessel performance combines a holistic perspective, in line with its integrated "Full Picture" systems, with specific areas for improvement. These parts of the whole include hull diagnostics and performance, engine diagnostics and performance, power performance, cargo/ballast management, route planning and speed profile optimisation. Each of these parts contributes to a complete vessel performance picture, which forms the basis for meaningful adjustments by officers and operators.
Kongsberg works carefully with customers, partners and suppliers to develop and test solutions that contribute to shared environmental gains. "We are looking for the most environmentally-friendly solutions possible in the short- and long-term. Collaboration is a must. There are several products that we are looking at in co-operation with other companies," says Vice President of Merchant Automation, Morten Hasås.
Most of these collaborations are already in place, and some have already resulted in new functionality at the pilot phase. The basic vessel performance package will be made available to our customers during the fall this year with add-ons released on a continuous basis.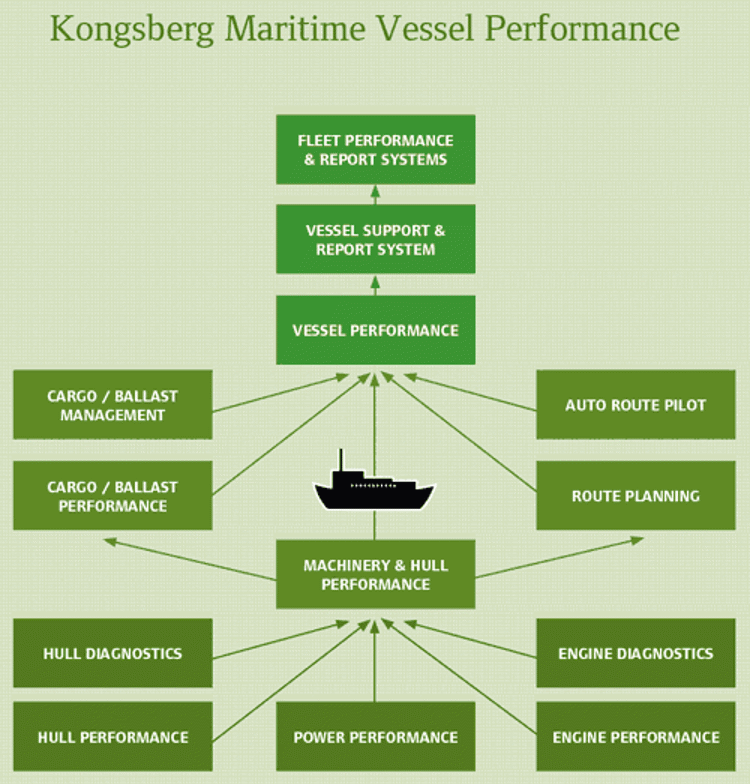 It's the Combination that Counts
Collaboration with the Austrian technology group AVL has resulted in a sensor that can be installed permanently inside engine cylinders. This is being incorporated in Kongsberg's machinery automation system, giving officers and operators a permanent, real-time source of information on engine performance. For more about this, read the article eA Crystal Clear Solution" on page eight of this magazine.
With Lodic, a specialist in 3-D vessel modelling, Kongsberg has developed a unique solution to manage loading and unloading operations. The system, already tested onboard a vessel, undertakes calculations to ensure optimal loading of cargoes, ballast and unloading. This will be able to access information on the hull status and route to find the ideal draft and trim conditions for the voyage, which in turn improves fuel efficiency and safety.
Given Kongsberg's traditional strength in navigation systems, it is no surprise that the company also addresses weather routing and the autopilot from an environmental perspective. Kongsberg is working together with the navigation service supplier Jeppesen Marine to utilise weather forecasts in route planning. Through accurate 3-D vessel modelling, the system will advise the mariners on optimal trim and cruising speed to arrive at the destination at the desired time of arrival with forecasted environmental conditions.
Finally, Kongsberg is busily incorporating these new data inputs into vessels' overall management and reporting systems via its Fleetmaster solution. This includes work on an electronic log-book, which will provide a common platform for studying vessel performance between officers, operators and – potentially – third-parties, such as classification, port state and flag state inspectors.
With the product range available today, Kongsberg can provide the "The Full Picture" by delivering integrated ship systems. Hasås explains that incorporating the green element into the company's entire product range is one of their main goals. "A green profile throughout our product range adds value to our integrated solutions and provides valid arguments for customers to choose our products for all of their needs," he concludes.