Predictive maintenance solution provides piece of mind for heavy lifting
When it comes to the installation or decommissioning of offshore structures, Allseas both literally and metaphorically does all the heavy lifting. But what policy does the company adopt to ensure the most cost-effective and least disruptive repair or replacement of its vessels' thrusters?
Among Kongsberg Maritime's Health Management portfolio of condition monitoring applications and services is a predictive maintenance enhancement logically named Thruster Remaining Useful Life (RUL). This uses an advanced digital twin of a thruster which is then deployed to accurately predict the wear patterns of crucial components within the thruster unit. This was recently put into operation on the largest heavy-lift vessel in the world – Allseas' Pioneering Spirit.
Even the most cursory glance at Allseas' core activities reveals the grand scale of its endeavours. The company specializes in the installation of offshore pipelines, the collection of river waste, deep-sea polymetallic nodule collection for use in renewable energy technologies, and heavy lifting, wherein entire offshore structures can be installed or removed in a single lift using Allseas' own purpose-built motion compensation system.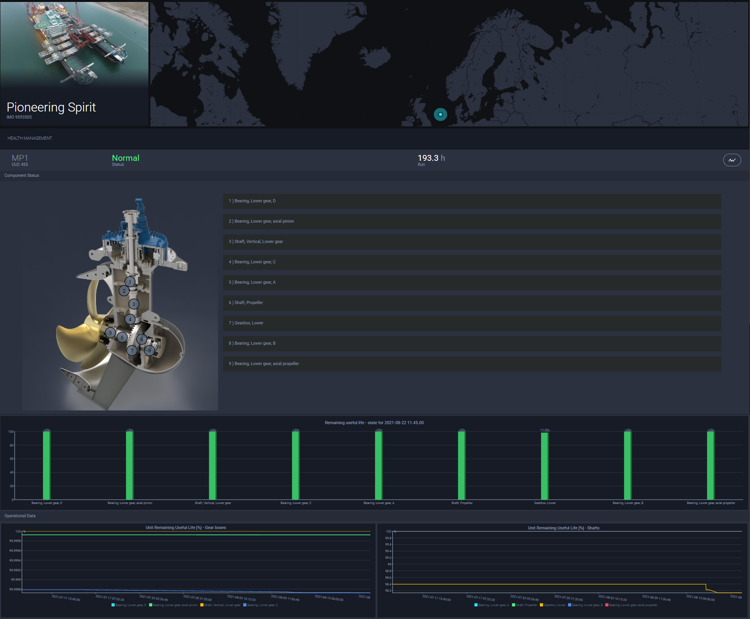 One of the company's key assets, again designed in-house, exemplifies Allseas' commitment to the tasks at hand. Pioneering Spirit is quite simply the largest construction vessel in the world; a record-breaker not only in terms of its size, but also for carrying out the heaviest single-lift installation ever – and in the fastest time – when it successfully lowered Equinor's 22,000-tonne Johan Sverdrup DP topside onto its jacket off the coast of Norway in June 2018.
At 382m in length and 124m in width, the vessel's considerable dimensions befit the monumental duties it was designed to undertake. Necessarily substantial and robust, it nevertheless has to combine its structural heft with precise manoeuvrability as it shifts back and forth around offshore platforms. It stands to reason therefore that the thrusters upon which the vessel depends for its propulsion undergo no end of wear and tear. Pioneering Spirit is fitted with 12 Kongsberg Maritime UUC 455 thrusters designed for underwater mounting – just part of a comprehensive and integrated KONGSBERG equipment package which also includes a K-Chief 700 marine automation system; a K-Bridge integrated bridge system; a K-IMS information management system; a K-Pos dynamic positioning system; a K-Thrust thruster control system; a MetaPower 600 engine monitoring system; and an HP LARS launch and recovery system for HUGIN AUVs (autonomous underwater vehicles).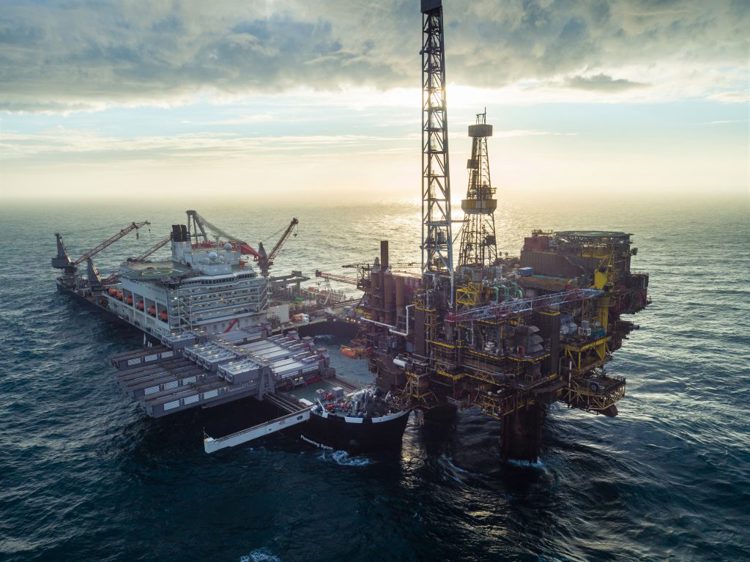 Given the vessel's size, the nature of the work it undertakes and the turbulent sea states it has to endure, often for hours on end and even in polar regions, it's little surprise that Pioneering Spirit's thruster shaft bearings were incurring premature wear. The vessel is surveyed every five years, during which process the thrusters receive their scheduled inspection. However, in order to minimise service disruption it is understandably important to determine beforehand if any components will need to be replaced during the vessel's off-hire period.
Smart solution
The knock-on effects of premature critical component failure in one of Pioneering Spirit's thrusters could be considerable. Propulsion and station-keeping would inevitably be compromised, which in turn could prove costly if the charter had to be suspended because the thruster needed to be repaired or replaced. ('Partial inefficiency [resulting] in a total cessation of hire,' to paraphrase Steamship Mutual's The Traps and Perils of Off-Hire Clauses.)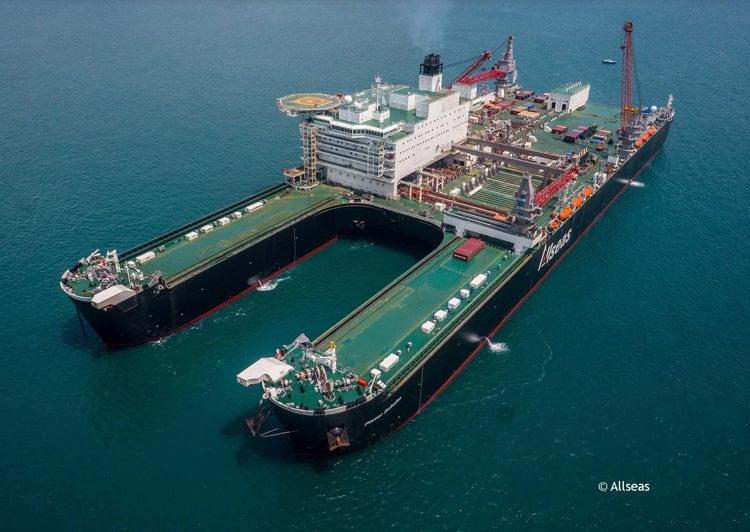 Clearly, a smart solution was required if Allseas was going to be able to iron out uncertainties by taking a proactive, pre-emptive approach to the planning and execution of maintenance intervals. Kongsberg Maritime's Thruster Remaining Useful Life (RUL) offering was the solution.
The digital twin of the thruster used by Thruster RUL predicts the remaining lifetime of these vital components, and the K-IMS installation on board Pioneering Spirit transfers this from the vessel to KONGSBERG's Kognifai cloud platform, where it can be viewed in the Health Management customer portal.
Deeper understanding
The Thruster RUL was installed on Pioneering Spirit in March 2021. Over and above the onboard data infrastructure hardware – the internet router and edge connectivity PC – each thruster needed to be fitted with a torquemeter, edge computing device and some peripheral apparatus for the relevant data to be gathered. Thus equipped, the Thruster RUL enables Allseas' shore team to remotely monitor the thruster data, which is constantly updated, via the Health Management customer portal.
The operational and commercial advantages conferred by this overview are self-evident. If and when any premature component wear is predicted, shore managers can use this to schedule a maintenance interval at the most advantageous time, based on proximity to service personnel and the shortest possible repair or replacement duration. In another scenario, if for example a component is predicted to wear out during a time frame just beyond the next scheduled five-year survey, the company could make best use of the time the vessel is off-hire by replacing the component in advance while planned maintenance is under way.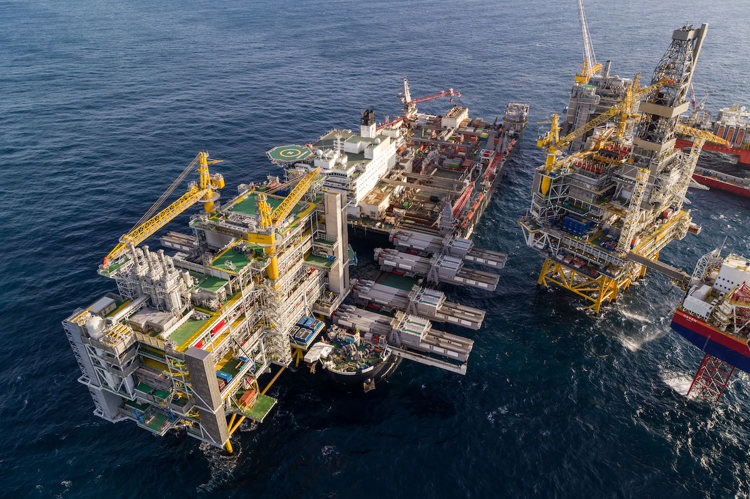 At the time of writing, the Thruster RUL has been deployed on Pioneering Spirit for eight months. Naturally, predictive maintenance solutions need much longer than that to prove their worth. "It is maybe too early to say whether we have experienced operational improvements, but our initial experience is very positive," says Martin Dubbeldam, Technical Superintendent, Allseas Engineering BV. "We are very happy with the new capability the Thruster RUL gives us in terms of gaining a deeper understanding of the condition of our critical machinery. Thanks to the data we have received via this application, we have been able to classify certain operational conditions which have a particularly deleterious effect upon expected bearing life. The accumulation of this comprehensive and quantifiable data, and the recommendations which the RUL issues off the back of it, have already allowed us to optimise our working practices for efficiency and sustainability."
As Pioneering Spirit continues on its missions, almost incidentally setting new records for large-scale offshore installations en route, the Thruster RUL takes its place among the myriad digital applications which are already acting as harbingers of a more responsible, dynamic and practical operational realm. "We see the deployment of such applications, remotely accessible through initiatives like Kongsberg Maritime's Health Management customer portal, as a consequential step towards genuinely intelligent maintenance planning and the normalisation of sustainability as a fundamental principle across the entire marine industry," Technical Superintendent Martin Dubbeldam concludes. "The more we can predict about wear and tear upon essential components, and the quicker we can access this data, the better for us, our customers and marine environments alike."