Get SMART. Go Supersonic - Aker Floating Production
-- FROM THE FULL PICTURE MAGAZINE -- The Aker Floating Production executive teamThe Aker Floating Production executive team (from left: Mikkel Martens, Executive Vice President and Commercial and Operation Director; Svein Olsen, President &CEO; and Arne Hygen Tørnqvist, Executive Vice President, Technical Director and Deputy CEO.Strictly speaking a new kid on the FPSO block, Aker Floating Production boasts some of the most experienced players in the business. These veterans are applying all of their collected wisdom in their SMART FPSOs, and demonstrating what can be done.
Arne Tørnkvist, one of the triumvirate that started up Aker Floating Production, likes to cite the adjective Reliance Industries, which has contracted the first SMART FPSO, uses to describe the speed of the project: Supersonic. A quick look at the company's, and this project's, timeline would be appropriately followed by a discreet…boom.
1st quarter 2006: Aker Floating Production (Aker FP) established; Svein Olsen is CEO
April 2006: Aker FP raises USD 150 million in a private placement, and purchases three tankers for conversion
June 2006: Aker FP signs contract with Jurong to convert FPSO Aker Smart 1
July 2006: Aker FP orders the process separation module. Aker FP also places orders for long-lead items (such as generators)
January 2007: Aker FP signs a LOI with Reliance with order to proceed
February 2007: Conversion of Aker Smart 1 begins at Jurong Shipyard
May 2007: Reliance Industries contracts first FPSO Aker Smart 1 for operations in India
2nd Quarter 2008: First oil (projected)
Fast? Actually, it's astonishing. Supersonic. Smart 1 will be pulling up oil at a time when most builders would still be languishing in engineering. This speed is itself a value for the customer. If Smart 1 is quicker to first-oil by one year, and it pulls 60,000 barrels a day at a conservative value of USD 60 per barrel, well, anyone can do the math.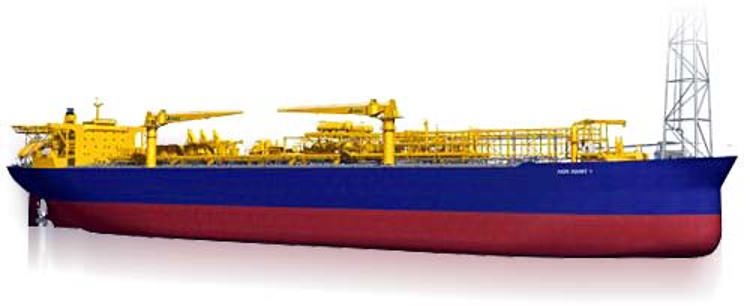 Aker FP has made the schedule possible by turning conventional FPSO thinking on its head. While many builders start with an eye on a specific oil field, Aker FP started with an eye on the market. They started their engineering based on specifications that would match the needs of a broad number of customers and fields. Smart 1 began life as a generic middle-tier FPSO suited for benign waters. Check out Aker FP's SMART specifications.
Olsen, Tørnkvist and the third member of the triumvirate, Mikkel Martens, made their reputations developing the concept of the generic FPSO. With Aker Smart 1 (and Smart 2 & 3, which will immediately follow it), the trio have arguably perfected it. Along with the generic specifications, the smart concept is fully modular. Skids for Smart 1 are coming from fabrication yards from Norway to the Middle East, Malaysia, Thailand, Batam and Singapore (see map).
A contracting strategy based on tight partnerships is the final link to the smart concept. From day one, Aker FP was determined to exploit the engineering capacities of key suppliers around each individual module. Rather than dictating to suppliers, Aker FP has asked them to do what they do best, and engineer the solution that fits. On top of this all-star team of suppliers, Aker FP's role is as manager of risks and interfaces.
Reliance's demands for Smart 1 were on the high side. Aker FP simply added additional process units to the modular design – problem solved. It's the kind of plug and play thinking they're keen to show off. Another key to winning the Reliance contract was Aker FP's ability to deliver the entire subsea infrastructure as part of one package. Through sister company Aker Kvaerner Subsea, they're providing the subsea, and, through Aker Borgestad, the operations – all from one supplier.
So many aspects of the Smart concept are brand new, and they're best explained by the men behind it themselves. Here are their comments on the Smart philosophy, the FPSO market, contracting, the oil market, technology and partnerships.
On standardization
Tørnkvist: "We don't sit around by ourselves deciding how everything will look like. We go to main suppliers and we see where the centre of gravity of their main portfolio is, so to speak. Then we make a concept based on what is already standard in the business. We are quite flexible about what we really want to have. We see what the customer wants, build a spec, talk to suppliers and find a good match."
Olsen: "The specification isn't designed to be perfect, but 80 to 90 per cent fit for purpose. Good enough. We build in flexibility. We prepare certain standards, and then the customer can add on."
On managing suppliers
Olsen: "We trust our suppliers. And they provide performance guarantees. If they don't deliver, they'll be out next time. Many buyers don't work this way. Say they want a crane. They make a crane committee. They bring in 10 guys making specifications. By the time they're done, the supplier can no longer take the operating risk. The documentation requirements have tripled. Costs and delivery times triple."
Martens: "Take the helideck for Smart 1. We're having it fabricated in Malaysia. Another company called us saying they have a better solution: lightweight, high-tech aluminium. Now, why do we need a lightweight helideck on an FPSO? We have all we need to hold up the weight. And we got a heli-deck for one-third the price."
On Aker FP's expanded role
Olsen: "[For Reliance] We're supplying all these components, christmas trees, controls, risers, infield flow lines, subsea manifold, delivery and installation along with installation of the FPSO. Previously oil companies took that risk. Now we're taking that risk. We're making a one-stop-shop."
Olsen: "We take the risk of not being paid before first oil almost. If [the FPSO] is there and subsea is delayed, it's our risk. Buy by having sufficient control, Aker Kvaerner Subsea as part of our system, we have more control. With this spirit of co-operation, one-stop shopping will make us attractive. It's a competitive edge."
On the oil majors
Olsen: "We're not going for the big oil majors. We leave that to our competitors. We say no to many oil majors. We stick to large independents. There is so much demand coming up in this area."
Olsen: "Increasingly, we're going to be pushing the oil companies. They will need to come to the contracting industry to find solutions, new conceptual ideas, rather than inventing things themselves, as they've done up to now. Contractors will get more important. As the lack of resources worsens, oil companies will focus on finding oil and building reserves. They'll leave it to contractors to own and operate. This will lead to new commercial structures."
On relationships
Martens: "It's important to work with people you know. You will always run into problems, and then it's good to know who's good at what. You work with people you trust."
Olsen: "And contractors can trust us. We're not undermining them with countless benchmarkings. We bring them in as part of the bidding team. If we win, they'll get the contract. It creates loyalty."
Tørnkvist: "We've been around a long time and we haven't exploited the market when it was tough for yards and suppliers. We've worked with Jurong for many years. Let me tell you, not many companies could have gotten two slots with them last year. We did. We have behaved over the years. That's created strong ties."
On Kongsberg Maritime
Olsen: "I've always liked Kongsberg, even way back when I was with Tentech. You have so much in Kongsberg. I've always been impressed. When we were working on Petrojarl, we were the first to put the production turret inside the ship. In that starting phase, Kongsberg took part in the design of the turret."
Martens: "It's important with an international network. We've ordered many man-hours from Kongsberg during commissioning and start-up in Singapore. It's great that there is a strong local presence to cover this."
On the FPSO market
Olsen: "We believe benign areas will make the biggest contribution to new oil. And if you look at all the drilling programmes going on, it's here [middle tier projects of large independents on large fields] you're going to need new FPSOs. These guys are putting out 400 or 500,000 dollars a day to drill. They want their money back. The only way to do that is produce oil, and fast. We're just entering a long cycle of strong opportunities for FPSOs, as a result of drilling activities."
Olsen: "I don't think [the statistics for new FPSOs coming online next year] is feasible. It's a constraint in the market. We're doing well in this market. Some owners might have thought they'd want something else, but this is available. And they'll get it one year earlier, so they'll think twice."
Martens: "This is our offer. We have the FPSO, we have the slot at the yard, we have fabrication capacity, we have suppliers in place, so we can deliver with the shortest possible delivery time."
Smart specifications
Aker FP collected data on FPSO specifications from 30-40 oil companies, compared it with the kinds of field characteristics where Aker FP see the greatest contribution to future oil and developed its generic "smart" specifications. Aker FP calls it flexibility by design.
Here are some of the results:
Oil production capacity: 60,000 barrels/day up to 120,000
Water production: 50,000 barrels/day up to 100,000
Gas production: up to 6 million m3/day
Crude temp.: 20 to 90º C
Mooring: Spread, with option for turret mooring
Riser balcony capacity: 12 risers/umbilicals (extends to 30)
The War Room
It's all well and good talking about supersonic project speeds in the board room; it's another for the project manager on-site at the yard. The man assigned with the task of keeping the Smart 1 project up to speed is Håvard Garseth, Aker Floating Production's project manager. We met him at the Jurong Shipyard in December.
"We use the metaphor of being an army and attacking all critical activities," says Garseth. The army metaphor meets reality in the concrete, or – to be more precise - steel form of the "war room". The war room is a couple containers shackled together quayside at Jurong. Inside leaders from Jurong, Aker FP, Reliance and other key players hammer out critical issues at a lightning meeting every morning.
"Supersonic project management is about creativity and stamina. You can't delay solutions. We focus on outstanding issues, bring these to everyone's attention, concentrate on them, and move forward. Move to the next issue," says Garseth.
Garseth has combined responsibility for modules arriving from Dubai, Thailand, Batam, Malaysia, Norway and close by in Singapore, as well as the mooring and installation work going on at the same time at the field offshore India.
"Kongsberg has participated strongly in the engineering side of control and electro work. It's been a good and close relationship," concludes Garseth.
Focus: Interfaces
If anyone in Aker FP understands the challenges of supplying a supersonic project, Arild Hellem is the guy. He has responsibility for the interfaces on Smart 1.
"This goes so fast. We hop over the normal FEED phase and go straight from drawings to fabrication. For Kongsberg Maritime to do its job, they need to get into each organisation producing modules and get the input they need to complete their work and hand off this information to people in fabrication, operation and commissioning," says Hellem.
Hellem recognizes that he is asking all of his suppliers to go further, faster, than they might usually go on a project. Similar projects are often completed with five or six times as many purchasers and package engineers on a schedule two to three times longer.
"In Kongsberg Maritime, we've gotten attention from the right people. That's been a critical question for many suppliers – getting enough people with the right skills. Our partners in Kongsberg Maritime are listening and picking up the slack where they need to. And all of our suppliers are gaining vital experience, which may play off into work on Smart 2," says Hellem.
Hellem recognizes that what they are doing is a kind of extreme sport version of FPSO production: "We're a young company with tremendous experience. We can dare to do things differently. And we can move at great speed."
All at the same time
Smart 1 will be turret-moored to the seabed, so it needs no DP nor navigation systems. Aside from these two, Kongsberg Maritime's delivery to Smart 1 is a "full picture" delivery. It includes:
A process control system
A fire and gas system
Emergency shutdown
Process shutdown
Power management system
Vessel control system (ballast, cargo, ventilation and utility)
Information management system
For Kongsberg Maritime's Project Manager Halvard Sagdahl, the Smart 1 project has been a unique professional challenge. "What's special on this project is that we're doing engineering, production and installation all at the same time." Imagine assembling a bicycle while you're riding it.
To cut time between production and commissioning, Sagdahl's team has finalised as much as possible off-site in Singapore, so that the final product can be dropped in last-minute.
"This isn't your usual customer-vendor relationship. We work as a team across the board. Everybody is pro-active on a project like this," says Sagdahl. Kongsberg Maritime is involved in process module construction worldwide, putting special stress on logistics, coordination and project finance.
"We're putting up extra manpower, either our own or through sub-suppliers, wherever it's needed. We're dedicated to Aker FP's project goals, and we will, as a part of the team, ensure that we meet the targets and make it a success," concludes Sagdahl.