ELegant solution unveiled
Our new Elegance range of compact ice-class pods brings a truly graceful approach to propulsion.
Graceful approach
We have emerged from a closely guarded four-year research and development project with a completely new podded propulsion system, designed to meet a customer demand for additional competition in the electric propulsion segment.

ELegance Pod system
Having evaluated the operational data from the 50 Mermaid units currently in service, followed by extensive computational fluid dynamics (CFD) and testing at our hydrodynamic research facility in Kristinehamn, Sweden, we have been able to develop a new series of compact ice-class pods for the 1.5MW to 7MW power range.
The new ELegance range of pods – one with an open propeller, the other ducted – complements and completes our existing portfolio of mechanical and electric propulsion systems. They are being marketed towards the cruise and passenger ferry segments, and expedition-type vessels in particular. But they are also suited to other applications such as rigs, tugs and workboats.
"For many years we have seen a gap in the podded propulsion market for smaller units up to 7MW – a power output that is significantly less than the our Mermaid system and more comparable with conventional thruster ranges. Now, with an electrification process-taking place across the marine industry, we found the time was right to move ahead."
- Per Nahnfeldt, General Manager Product – Electric Propulsion, Kongsberg Maritime
"We started developing the concept in 2014, taking performance statistics from the Mermaids and analysing an enormous amount of real-time condition monitoring data to design a reliable, hydrodynamically-efficient pod, knowing the podded propulsion is proven to be very efficient. These new pods complement our broad product portfolio and sit well with our range of frequency drives. We can now provide a complete electric propulsion package."
A wealth of experience
Both pod types build on the experience gained from the Mermaid's more than four million operational hours and data from our range of market-leading mechanical thruster products and refined to incorporate the latest in permanent magnet (PM) motor technology.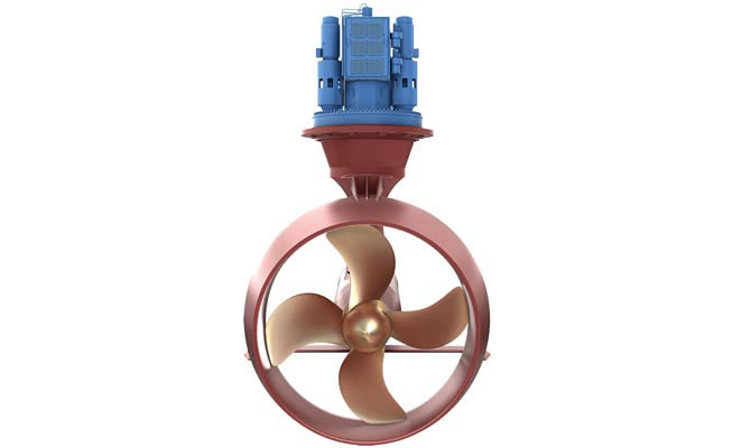 Pod ducted front elevation
"The use of PMs provides a high motor efficiency over all speed ranges,"says Per. "The PM technology and the motor fitting in the casing, inherited from the Mermaid range, allowed us to create a sleek, slimline pod, which adds significantly to hydrodynamic efficiency."
The pods are delivered in a system with our Active Front End Converters, either fed from a conventional 690V system or through transformers on a medium voltage distribution system, such as our SAVe Step solution. Our different SAVe electric systems are designed to fit a various range of vessels, giving an enhanced diesel-electric performance optimised for each shipowner's use.
Through a complete system package, we perform the system integration between all its products to ensure that the new pod, the electrical system, the engines and the automation system work together.
An innovative concept
The high hydrodynamic efficiency of these new pods cannot be underplayed, given the detailed research, CFD analysis and model testing that has gone into the design.
For instance, the pods feature a 'twin tail' concept to improve efficiency and significantly reduce cavitation-induced noise and vibration, while a new integrated hull-fitting interface allows a compact head-box to be used, minimising drag and further improving hull efficiency.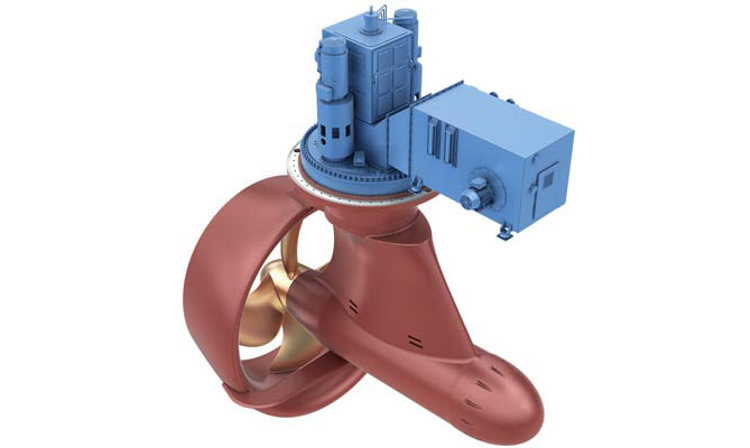 Pod ducted rear qtr elevation
The pods have also been designed to meet 1A Super and Polar Code 6 ice-class requirements for operations in the Baltic and Arctic sea areas. Having officially unveiled the ELegance range in Hamburg, at the SMM 2018 trade show, We are now building a 4.6MW unit at its Rauma facility and is in discussions with shipowners to install the pod in a pilot project.
"We have worked tirelessly to develop a pod that balances system performance and efficiency with unique hydrodynamic advantages. We have achieved that objective with ELegance," Per says.