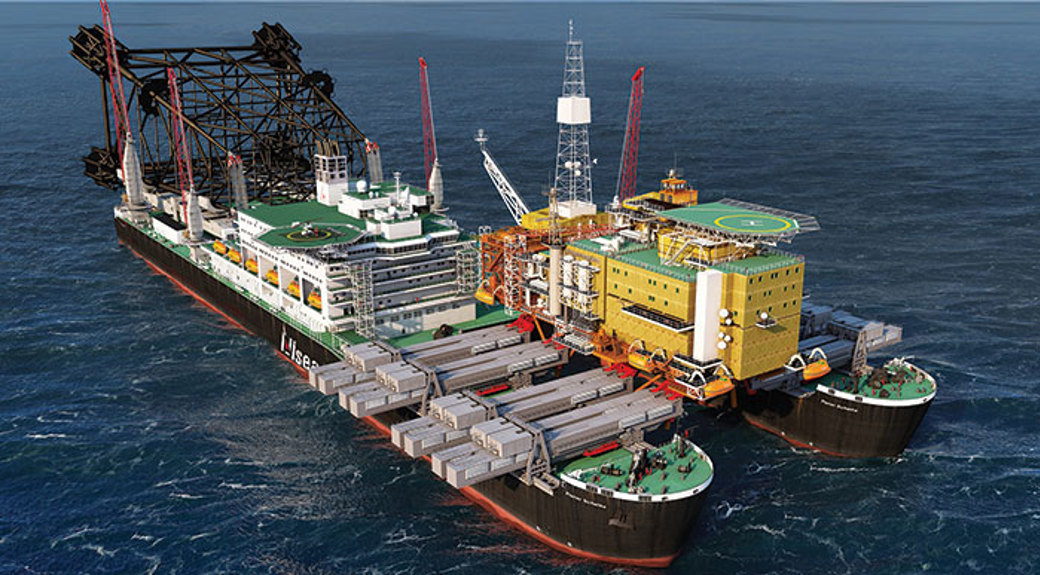 ALLSEAS GROUP Giant ambition
Pioneering Spirit doesn't just install or remove offshore installations; it also takes your breath away.
The gigantic, double-hulled, dynamically positioned platform installation, decommissioning and pipelay vessel looks like it is straight out of a science fiction film. With vital statistics of 382m in length (477m if you include its tilting lift beam and stinger), a width of 124m, deadweight of 415,000t, and total installed power of 95,000 kW, Pioneering Spirit looms over everything else on the water with a spine-tingling sense of majesty.
Or, if you happen to be an uneconomical topside facility, replace the word majesty with dread.
Opportunity on the horizon
Built at South Korea's Daewoo yard over a four year period and inaugurated in Rotterdam this February, Pioneering Spirit is a demonstration not only of power, but also of foresight. Allseas is already a global leader in offshore pipeline installation and subsea construction and now, thanks to a combination of ageing offshore installations and weak oil prices, it will use Pioneering Spirit to consolidate its position as the go-to expert in decommissioning.
Its early success with contracts demonstrates Allseas' acumen. The vessel will perform its first decommissioning 'pincer movement' around the Yme jack-up production rig in the North Sea this year, encircling the facility in the 59m wide 'mouth' between its hulls and lifting off the 13,000 tonne topside in, if all goes according to schedule, well under a minute. In theory this should be 'easy' for a vessel with a world beating topside lift capacity of 48,000 tonnes. The fact that it can do all this without the need for jacking down the rig results not only in safer, simpler operations, but also significant cost savings for the client.
Something that, in today's volatile energy climate, will be a key selling point.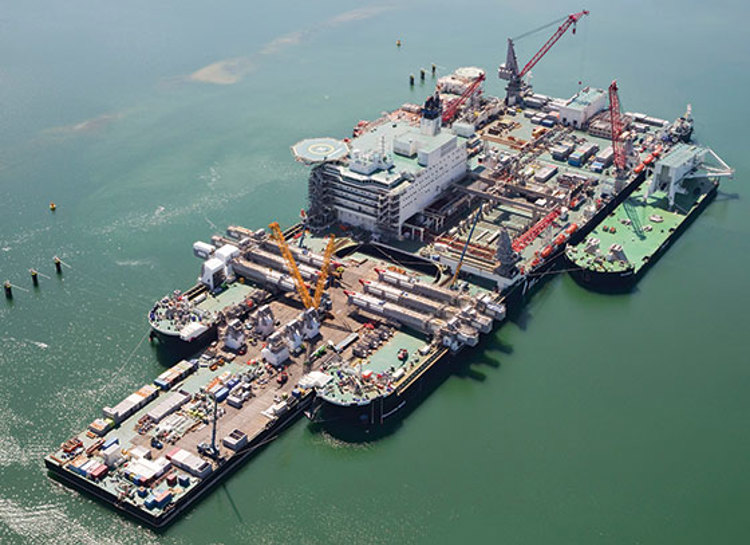 Full Picture potential
Despite the ship's colossal scale, the nature of such complex operations requires control and nimbleness that belies its bulk.
Enter Kongsberg Maritime.
KONGSBERG has been working alongside Allseas since the initiation of the project, signing a contract to deliver an advanced Class 3, fully redundant DP system back in 2008. KONGSBERG products now span the entire vessel.
"The Pioneering Spirit's multi-faceted role within installation, decommissioning and pipelay meant that it required the most comprehensive, reliable and feature rich DP and manoeuvring system available," comments Jon Fredrik Lehn-Pedersen, Vice President Drilling, OIV & IMS at Kongsberg Maritime."
"A vessel of this scale and capacity has never been built before, so we had to use all our project management experience, technological expertise and operational understanding to devise a state-of-the-art system that was perfectly suited to its exacting requirements.
"It's been an exciting challenge and one we've tackled using the very epitome of a Full Picture solution."
The team's integrated Dynamic Positioning and manoeuvring concept for Allseas' flagship relies on a distributed and open system design, employing a fully backed-up system-wide standardised communication network. This integrates with the K-Pos Dynamic Positioning, K-Thrust thruster control, K-Bridge Navigation and K-Chief machinery automation systems, creating a complete solution with remarkable positioning and manoeuvring capabilities – custom made for the vessel's uniquely demanding duties.
Pioneering Spirit's versatility and operational security is enhanced by two fully equipped and redundant KONGSBERG Navigation bridges - both forward and aft in the vessel, occupying separate fire zones – complete with Multi Function Displays. In addition, the K-Bridge system utilises new Radar Transceiver interface technology enabling long cable runs (500m) and is delivered with innovative features such as the ability to combine radar images from multiple radar transceivers and display them as a single composite picture. This eliminates blind spots and provides a 360-degree view around the vessel. Talk about the Full Picture!
Never stand still
"For such a ground-breaking vessel, we needed a ground-breaking solution," explains Gerard Stenfert, Allseas E&I lead engineer. "The operational capabilities of Pioneering Spirit are enormous and thus require quality control systems that are second to none.
"The vessel will undertake complex operations, in some of the most demanding marine environments there are, so the level of trust we require in its systems is absolute.
"Allseas has a good working relationship with Kongsberg Maritime, and excellent experience of KONGSBERG technology, so the partnership was an obvious choice to help us bring this innovative new offshore concept to market."
Although, at the time of writing, Pioneering Spirit was yet to commence operations, Allseas has already shown its conviction to break fresh boundaries by announcing a new, even larger singlelift platform installation and decommissioning vessel, due for delivery in 2020. This new goliath, with a width of 160m, will boast a topside lift capacity of 72,000 tonnes, some 50% greater than that of Pioneering Spirit. This will enable it to install giant topsides worldwide, while also removing the platform topsides in the North Sea that are beyond the capability of its existing sister vessel.
If you think this all sounds like a dream, you'd be forgiven. But remember, Allseas has a habit of making dreams come true.