Ahead of the pack
Generating real value for our customers with integrated solutions tailored to their individual needs
Serving the tug market
As a world leading company, we are passionate about the quality of its products and the global services and training we offer to support them.
Our comprehensive range of equipment for tugs ranges from individual items of equipment through to complete systems. It's a market that is adapting to the challenges of the 21st century - the tug of the future will be more capable and efficient, with lower emissions and modern technology.
We are pioneering this new generation of vessels, working with owners, yards and designers to meet their needs both now and in the future.
We are, quite literally, driving change.
Thrusting Ahead
Ship sizes are increasing, so tugs need to be ever more agile. Our US-series range of azimuth thrusters are well-proven and efficient as well as being supported by our global service organisation and thruster exchange pool.
They are the propulsion product of choice for many operators, with 10,000 units in service and many more on the way. Available in 12 sizes with a power range per unit up to 5000kW, their high thrust cuts fuel consumption and emissions.
The range is being extended, with an L drive version of the US thruster range which will bring even more compactness and efficiency. In addition, the AZ PM azimuthing permanent magnet thruster is a new product for the tug market, with a larger size version currently under development.
New technology
Hybrid solution with dual input propeller
The Hybrid Mechanical/Electric TUG with Diesel or LNG Engines, with variable engine RPM for less fuel consumption and emissions, less noise and vibration. With or without Batteries and/or auxiliary genset. With dual input, PTI/PTO.
Our hybrid solution is able to give variable speed on our main propulsion engines. For a more flexible operational profile. So it can operate with optimum engine speed or run only battery for idle. Ideal solution for a versatile fleet/tug. Well suited if you do not have well-defined tasks when building your vessel. Can be optimised for any operational profile. Includes duel input propeller, no need for additional reduction gearbox. Space and cost savings.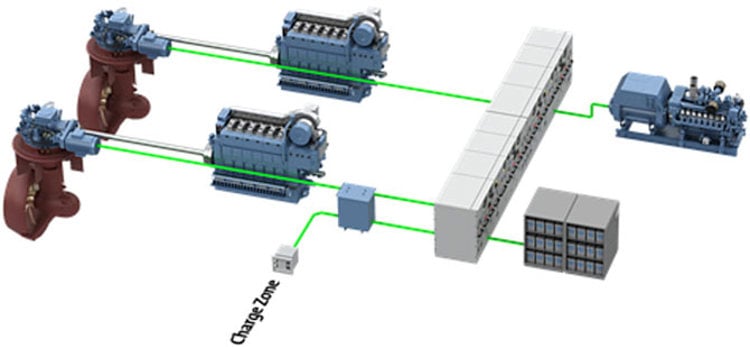 Integrated heavy duty slipping clutch
The new FiFi clutch integrated in the upper gearbox of the US series thrusters gives a cost-effective firefighting tug, combining full control of tug speed and position-keeping with full fire monitoring output.
Permanent magnet thrusters
Our permanent magnet technology for thrusters is well-proven and ideal for the high-end market
2 - 4% higher efficiency than comparable Thruster run by an induction machine
Higher bollard pull/diameter
Lower maintenance cost
No gears and low noise
| | AZ-PM 1900 | AZ-PM 2600 |
| --- | --- | --- |
| Power (kW) | 500 - 1100 | 1100 - 2600 |
| THruster (kN) | 191 kN at 0 knot | 411 kN at 0 knot |
| RPM | 239 | 187 |
| Propeller Dia. (mm) | 1900 | 2600 |
| Propeller type | Monobloc / FP | Monobloc / FP |
| Direction of rotation | CW / CCW | CW / CCW |
| Drive | AFE or 12-pulse drive | AFE or 12-pulse drive |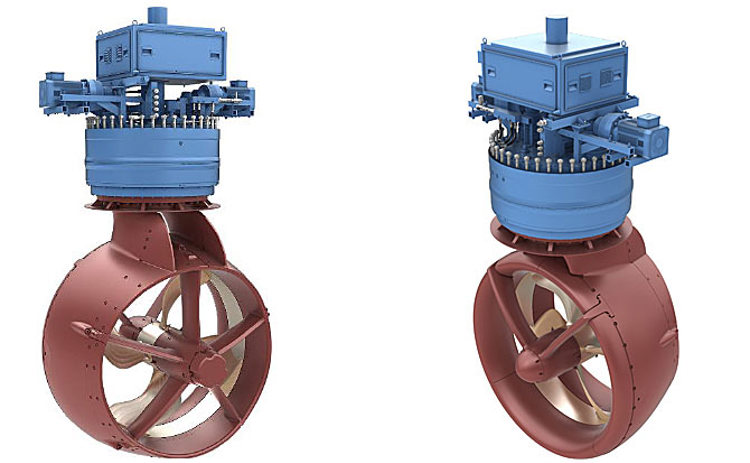 Permanent magnet motor for winches
Excellent dynamic response
Compact in size
No additional dynamic brakes or clutches
Fully stepless speed control
Reduces oil on deck
Powering your Business
An engine is at the heart of any tug, and our comprehensive portfolio covers all relevant output powers and includes medium and high-speed engines for liquid or gas fuels.
Our gas engines use the established lean burn combustion system for LNG or CNG fuel, with reduced CO2 emissions, very low NOx and negligible particulates. More than 700 have been delivered to date, and a new high speed gas model is being introduced based on the 4000-series diesel.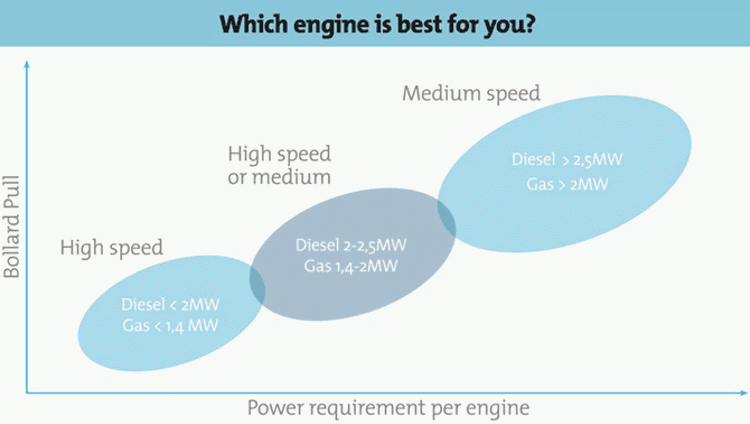 Here's to hybrid
Tugs need to be powerful, and that power has to be sent efficiently from the engines to the propellers.
Hybrid systems combine diesel or gas engines with batteries, increasing choice for our customers. Our extensive experience in power systems architecture and portfolio of equipment we offer allows us to advise a tug's owners on the best way to achieving the optimum balance between capital and operating costs.
Fuel efficiency and reduction of emissions are critical factors in the tug industry, and our energy management systems allow these to be assessed and calculated, helping to improve local air quality and health.
Any winch way
Tug operation is a complex and challenging business. Performance demands are strict and operators rightly demand precise control. To achieve this, we have integrated next generation motor technology into our tug escort winch range.
We offer both hydraulic and electrically driven winches. Our product line has recently been updated with escort and towing units benefiting from our permanent magnet (PM) motor technology, which provides very high torque at low speeds and a smaller footprint.
Our winch products caters for a wide range of different configurations and sizes matched to the particular requirements of towing operations. We also focus heavily on safety, with an optional quick release system available that reacts in just three seconds in all operational conditions.