Key to the sonar's suitability for vessels with limited space is an ingenious modification which sites all transceiver electronics within the transducer, negating the need for a transceiver cabinet while also reducing noise and simplifying installation. Only a single ethernet cable runs from the computer in the bridge to the power supply and the hull unit, which is sufficiently small that it can be placed on an installation trunk with an 8in diameter.
The computer itself contains no fan or any other moving parts, so it will perform without hindrance in humid environments. Additionally, both the computer and hull unit can also operate on DC power – a godsend for small fishing vessels without an onboard 3-phase power system.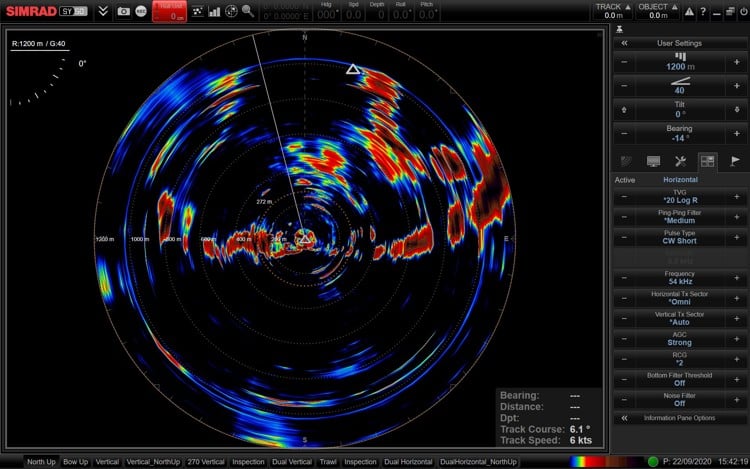 Uniquely for such a small and competitively-priced sonar, the high-resolution SY50 offers 256 individual receiver and transmitter channels as well as encompassing features normally only found on larger items. These include single-ping transmission, giving a simultaneous horizontal and vertical pulse; FM transmission; and full beam stabilisation by internal sensor with electronic pitch and roll compensation, plus the option of connection to an external MRU (motion reference unit).
With a standard operating frequency of 57kHz, the SY50 nevertheless allows users to choose any frequency between 54 and 60kHz, adjustable in 0.5kHz increments, which gives a potential operating range of up to 2,000m (depending on acoustic conditions). Similarly, the transducer's omnidirectional sonar beams can be electronically moved in 1° steps from +10° to -60°, enabling users to automatically track fish shoals and survey the entire water volume surrounding the vessel.
This principle of adaptability is also reflected in the system's physical characteristics, by which the height of the trunk and the length of the transducer shaft can be calibrated to suit the dimensions of the host vessel. The transducer can be lowered to 40cm or 60cm beneath the hull.
Sharing its familiar and well-proven Winson operating software with all other products in the Simrad range, the SY50 provides a clear and simple user interface, available in almost 20 languages. A compact operating panel can be easily and unobtrusively installed on the control deck of a vessel's bridge, communicating with the computer via a single USB cable. Users have the ability to set up and save their own settings, while the system also allows for sonar data to be stored and recalled.
"It's very satisfying for us to offer such high-end functionality on such a compact sonar, and at such an affordable price," says Mads Diedrik Dahl, Vice President Fishery Sales, Kongsberg Maritime. "We wanted to issue a product that would provide new possibilities for budget-conscious crew on smaller leisure or fishing vessels who have traditionally tended to miss out on more sophisticated sonar features, and with the SY50 we think we've achieved that goal."
The Simrad SY50 will be available for installation from June/July 2021.
For further information, please contact