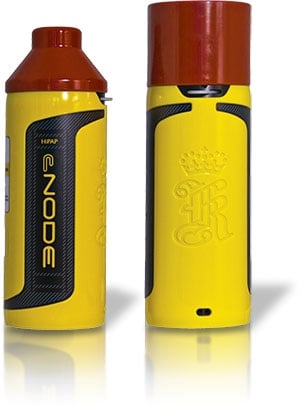 Following on from the end of 2015 launch of its new generation underwater positioning system, HiPAP 502, Kongsberg Maritime is introducing a new range of mini medium frequency subsea transponders. With a smaller form factor, improved operational functionality and design, and the use of modern materials the new cNODE MiniS family supersedes the KONGSBERG Mini SSBL transponders (MST) range, which was first available in 2002.
Expanding the well-established cNODE portfolio, the cNODE MiniS 34-180 and cNODE MiniS 34-40V are the smallest transponders for use with HiPAP, cPAP and µPAP underwater positioning systems, and are ideal for accurate Remotely Operated Vehicle (ROV) positioning operations. Both new cNODE MiniS transponders are depth rated to 4000 m and offer a diverse range of applications.
cNODE MiniS 34-180 and cNODE MiniS 34-40V operate on HiPAP/HPR 400 channels with over 500 Cymbal channels. The advanced Cymbal protocol features uniqueness coding, new filtering and processing techniques. It offers a number of benefits including better angular accuracy, improved range specification, higher position update and telemetry rate and longer endurance between battery charges.
Compatible with SSBL and LBL positioning configurations, other technical features of the new cNODE MiniS family that help to make it one of the most advanced range of underwater transponders available today include an internal rechargeable Li-Ion battery that can be charged from empty to 100% in under an hour and the ability to charge from a ROV's on board 24v supply. Also included is an advanced internal tilt sensor working up to ±90°, which can alert operators should the transponder lose optimal positioning on the sea-bed.
"The new cNODE MiniS transponders will give operators improved position data over previous generation small form transponders and we look forward to industry acceptance for their accuracy, reliability and enhanced functionality," said Morten Berntsen, Sales Director Subsea Kongsberg Maritime. "Despite being even smaller, cNODE MiniS transponders offer improvements across the board, positioning them as the most advanced compact subsea transponders for use with KONGSBERG and other manufacturers' subsea positioning systems available today."