The training objectives for the crew before embarking for the sea trials were numerous, ranging from thorough system understanding to inertial navigation and advanced mission planning. "Language barriers made the training challenging", says chief AUV instructor Stian Hopmark, "luckily, this was compensated for by the students having an extraordinary interest in the subjects and willingness to learn". Hopmark says a variety of training methods were required to overcome cultural barriers, but he was confident that they would overcome. "Acquiring the world's most advanced AUV is a matter of national pride, and the students proved they were up for the task".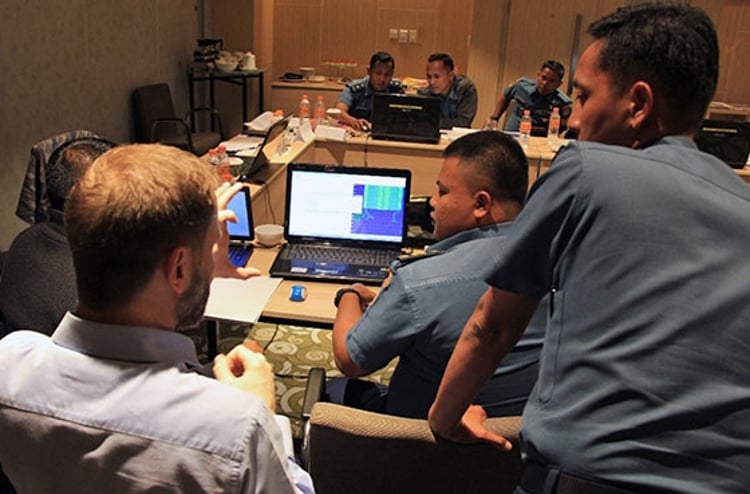 Implementing a new system, which requires tight cooperation between the ops-room, bridge personnel and aft-deck operators is demanding, even for a disciplined organisation like the Indonesian Navy. Hence, the training also provided the crews with valuable experience and a basis for developing their own procedures and concept of operations.
OCEA SA, the French shipbuilder that built and delivered the two survey ships has stated that they are very pleased with Kongsberg Maritime's efforts during the training. "Both crews have gained a lot of experience and feedback on their AUV HUGIN system, in a very high level of expertise provided by the Kongsberg Team. Goals of operator training have been reached above expectations," says Mr Julien Lagadec, OCEAs representative in Jakarta.
The Head of Delegate from the Indonesian Navy, Colonel Budi, states that he looks forward to a close cooperation between the Navy and Kongsberg Maritime to further develop the skills and knowledge gained during the training. "We are in many ways pioneers using such advanced survey equipment in South Asia. This is just the start", colonel Budi says.